A protester stands in front of the Central Elections Commission with a sign, 'Your elections are a face."
---
Will the Russian Opposition Make it to the September Parliamentary Elections?
Local Russian election officials announced the canceling of elections in Barvikha, a prestigious suburb of Moscow where top government officials and business people make their homes. Opposition activists working for the Anti-Corruption Fund (FBK) founded by Alexey Navalny, a key opposition leader, had got themselves on the ballot there and then cried foul when they saw the gross abuses typical of Russian elections. A local businesswoman from the ruling United Russia party appeared to bus in dozens of Tajik labor migrants registered at her home to dilute the protest vote.
The activists obtained a meeting with Ella Pamfilova, a liberal public figure and the former ombudswoman for human rightsrecently proposed by President Vladimir Putin to head the much-maligned Central Elections Commission, replacing Vladimir Churov who had become a laughing-stock even for government supporters when he presided over follies like the "99 percent vote" for Putin in Chechnya.
Failing the First Election Test
But she didn't move fast enough to stop continuing outrages in Barvikha, and four of the activists led by the FBK's Georgy Alburov issued a video statement explaining their withdrawal from the ballot and calling for Pamfilova to step down. They may have failed to keep their powder dry given the long haul needed for many likely worse battles leading up to the September parliamentary elections – the Barvikha election was only about early voting for town council seats.
For her part, Pamfilova was unnecessarily nasty denouncing the activists as "illiterate little boys" for pointing out election regulations that indeed she appeared to be unfamiliar with, not exactly leaving her liberal reputation in tatters, but perhaps it wasn't the shining thing imagined to start with.
Pamfilova had once claimed to have saved Golos, the independent election-monitoring group from the damning "foreign agent" status, although this proved ineffective; this week the group paid a record whopping fine of more than $18,000 for refusing to put this scarlet letter on their literature and web site. Earlier this month she denounced the lawyers of Ukrainian pilot Nadiya Savchenko for criticizing the unfair Russian justice system even as they sought to make appeals with it.
Now Pamfilova has said she "would resign" if she "couldn't make" decent elections and is calling for video cameras at voting locations – which has already been done and is not really deterrence to the fraud that takes place before elections or beyond the cameras.
Pamfilova has made her bed as have Navalny and others now picketing in front of the Central Elections Commission calling for Pamfilova's ouster. Is there any chance that the September elections may become more open, with many more people allowed to run in them and Putin demonstrably calling for "fresh blood" in politics that he even indicates is vital to "prevent bloodshed" in feared popular unrest?
Bogged Down in Bolotnaya
For that to happen, more opposition people or hitherto untested activists will have to make their campaign runs tests in places like Barvikha and weather the endless capacity for local and federal politicians, police and intelligence agents and their proxies to engage in a wide variety of democracy-thwarting techniques from legal literalisms to dirty tricks to violence. In his recent marathon call-in show, Putin allowed as a non-ruling-party candidate might have a chance – but only underscored that they better be like the communists in Irkutsk, essentially loyal to the Kremlin, with only correctives and not "color revolutions," the Kremlin's greatest bugbear.
The non-system opposition is running out of people, in the war of attrition that began with the anti-Putin "white ribbon" demonstrations of 2011, brutally suppressed by the crackdown on the Bolotnaya Square – which investigators continue even today, five years on, with fresh arrests such as of Ivan Nepomnyashchy and Maksim Panfilov adding to the 30-plus defendants already tried. Some leave Russia, some retreat to personal lives, some are coopted.
Maksim Panfilov, arrested by riot police at the Bolotnaya demonstration on May 6, 2012
While Ukraine has its Maidan Square where people gave their lives in the attacks by deadly Berkut riot police, and continue their revolution even with some obvious setbacks in corruption and disarray in the ruling coalition, for reform-minded Russians there has only been Bolotnaya, whose name means "swamp" in Russian and where activists are still bogged down. The opposition has not been able to mount marches as big since then, even with some significant anti-war demonstrations and the memorial for slain opposition leader Boris Nemtsov.
Meanwhile, police have only gained new privileges – the right to shoot on demand, even women, and Putin has now launched a refurbished National Guard led by his former bodyguard and the commander of the Internal Troops – one business end of which can be found in Chechnya in the form of strongman Ruslan Kadyrov's "personal army" – whose officers have been arrested for Nemtsov's murder.
Deadly Limits
The assassination of Nemtsov, the charismatic former first deputy prime minister who had published exposes of both Putin's crony corruption in the Sochi Olympics and the brutalities of Russia's not-so-secret war in Ukraine has thrown a chill over all opposition work in Russia, of course. The inherent message absorbed by anyone stepping out to challenge Putin isn't just that any loud critic can take a hit – as they might just as easily have their road fixed in Omsk instead if they get on national TV – but that certain types of advocacy of solutions to the Putin problem – like supporting sanctions against Russia and human rights legislation like the Magnitsky List may prove deadly.
Boris Nemtsov passing out leaflets for the Spring opposition march against the war and economic crisis, days before his murder.
When Nemtsov was
murdered steps from the Kremlin on the eve of the anti-war march he was to lead
on February 27, 2015, few tied his death to official fears about the future parliamentary
elections, although that may well have been a more real motive than his
off-hand comments about Kadyrov on Facebook read by only a few thousands
friends. By that time, the independent radio station Ekho Moskvy had removed
both Nemtsov and Navalny as regular (and high-traffic) guest bloggers under pressure from the state
censor's threats of closure although hours before his death, Nemtsov was a
guest on an Ekho Moskvy talk show talking about the planned march.
Since then, the space for
independent media has only shrunk further by a thousand little cuts and
compromises like Novaya Gazeta publishing an obvious false theory of the
downing of MH17 – or big assaults like a demonstrative
search of the offices of Oneksim, owned by Mikhail Prokhorov, publisher of
the independent wire service RBC, whose
editor has taken an early sabbatical.
When most people get their news from state
TV, where the opposition's access comes only in the form of state-sponsored ridicule and hate, and where approved provocateurs like Vladimir Zhirinovsky are only getting more airtime
lately, it's hard to conceive of any known opposition figures gathering enough
positive official press to win elections. While they can and do make heavy use
of social media, notably Facebook and Twitter as Vkontakte becomes more
controlled or their own websites are blocked, this is at risk of being lost at
any time due to new state laws restricting the Internet and has never worked as
it once did in places like Egypt to turn out significant numbers of people to
the streets.
"Managing" Democracy
The capacity for "managing
democracy" is enormous now and even habituated and the will to resist weak
especially because of the economic crisis – people depend on state jobs or
government welfare or office space. All
the political parties are subsidized by the government, ostensibly to
prevent undue donor influence but in reality a key feature of state cooptation.
Thus not only United Russia but the Communist Party of the Russian Federation,
Just Russia, Liberal Democratic Party of Russia, and even Yabloko all receive
state funding, although Yabloko did not obtain a seat in the 2011 parliamentary
elections.
And now there is the added
incentive of the Kremlin to make liberals bear the brunt of the possible
failure of any reforms or worsening of the crisis. That may have been the
motive for the re-installation
of Aleksei Kudrin as an economic advisor (and for that matter, Pamfilova as
elections chief).
The Russian "state machine,"
as more than one victim has dubbed it continues to succeed impressively at
cooptation, but it still has three other main ways to crush its enemies (after cooptation
or buy-outs or forced emigration don't work):
1) Vilification in the state media and by Kremlin-controlled
social media accounts as well as hacking and leaking of correspondence. This
garden-variety of harassment and ridicule of dissidents has become so
ubiquitous that even when Westerners who can indignantly cry they aren't
Kremlin trolls indulge in it, it seems acceptable. If an opposition figure
doesn't set himself up for ridicule with thoughtless comments about keeping the
Crimea or squabbling with his fellow oppositionists for leadership of tiny,
divided parties, the state will finish the job.
This isn't just about a
conservative condemnation in Izvestiya, but involves the FSB or state security,
in collusion with state TV, pretending to be "muck-raking reporters" and stalking
and harassing opposition people. In December 2011, NTV broke into the offices
of Golos, and director Grigory Melkonyants set the standard for how to deal
with such bad-faith "journalism," repeating
over and over, "You are Surkov's propaganda," referring to Kremlin "grey
cardinal" Vladislav Surkov who was assigned to "managing" civic movements. In
2014, State TV also showed up demanding
to know why former prime minister Mikhail Kasyanov and businessman Dmitry
Zimin were visiting the offices of Ludmila Alexeyeva, chair of the Moscow Helsinki
Group in an unsuccessful attempt to portray her as a "foreign agent." NTV isn't
beyond even taking video statements supporters of Navalny made and twisting
them to make them seem like denunciations and its exposes seem inevitably to
lead to prosecution, as "Anatomy
of Protest" led to sentences for Leonid Razvozzhayev and Sergei Udaltsov in
connection with the anti-Putin protests.
State TV fulfills the
function of the secret police as well when it makes or accepts clandestine
tapes of critics of the regime at home or abroad and then tendentiously
broadcasts them at prime-time. Navalny
was filmed meeting an EU diplomat to imply falsely he was getting paid to
expose corruption. Recently, state media reached a new low in its crudest propaganda
and reiterated
claims Navalny
is an agent for both CIA and MI6 recruited by William Browder, CEO of
Hermitage Capital Management and crusader on behalf of justice for his lawyer, Sergei
Magnitsky, who was murdered in prison – even outrageously trying to pin
Magnitsky's death on Browder.
Given that most people get
their news from such state TV programming, it's easy for the Kremlin to own the
mindshare. But just in case, it also uses proxies to do things like take
out huge billboard space or hang banners denouncing the most well-known
figures like Navalny and the late Valeriya Novodvorskaya or journalists like
Yevgeniya Albats as "fifth columnists," or to enable Kadyrov to have his
"million Muslim marches" carry posters vilifying them. By blocking or hacking
into opposition web sites or email and leaking their correspondence on social
media, where it might be less seen than on state TV but still reach key
influencers, the Kremlin can ensure even more life-ruination.
This kind of public
embarrassment is what happened to Kasyanov, now leader of the Parnas opposition
party and Natalya Pelevina, a member of Parnas' federal council. Their intimate meetings and conversations were filmed in secret and put in
a scandalous special program on NTV, and if that weren't enough, their party's
site and Pelevina's email were hacked and disseminated through social networks.
The scandal led to the deputy chair of Parnas, Ilya Yashin, calling on Kasyanov
to step down from the party's top list position, but he refused, saying that
one shouldn't cave to Kremlin provocations. Yashin himself then withdrew from the primaries.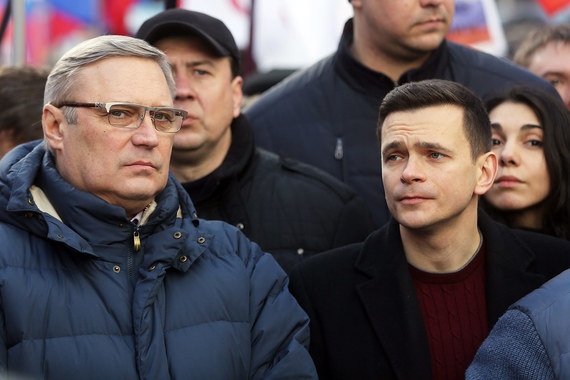 Mikhail Kasyanov (L) and Ilya Yashin (R)
2) Trumped-up criminal cases or selective prosecution to keep opposition
people tied up in court or even under house arrest or forced to sign pledges
not to leave town or even imprisoned. After Pelevina's personal life was
exposed, she was
searched and interrogated once again in an effort to try to pin on her
Bolotnaya-related advocacy funded by the US National Endowment for Democracy. Andrei
Balin, a Parnas activist in Samara organizing an appearance there of Kasyanov was
thrown in jail for 3 days in connection to an old case involving his
caricature of Putin using a swastika. Dozens of other political prisoners can
be found on lists maintained by Memorial Society with none of the recognition
such figures had in the Soviet era.
Navalny has fended off a
number of attempts to try him on every conceivable charge made to appear that
this internationally-famous whistleblower is himself corrupt, including the Kirovoles
case involving a lumber deal, the suspended sentence for which Navalny is still
serving. The trial was delayed only long enough to allow him to run in the 2013
mayoral elections and win 30% of the vote in Moscow – part of the "managed
democracy" method of lending legitimacy to highly-tainted ballots.
They also
include a mail-order fraud case involving the French firm Yves Rocher which
actually had no claims against Navalny or his brother, Oleg, his partner – and
Oleg's sentence of 3.5 years in this case seemed to be a classic case of taking
family members uninvolved in politics as hostages to put pressure on those who
are. Navalny's Party of Progress failed to get registered although some
individual candidates have tried to run in local elections.
Some opposition or human
rights and environmental activists have fled Russia rather than risk the
heavily-biased Russian criminal justice system, so the process need only be
threatened to achieve its goal of elimination. Ilya Ponomarev, an expert on
Internet business and the only member of parliament to vote against the
annexation of Crimea, found himself in just such a case related to lecture and
seminar fees he was paid under contract in a project once touted by
then-president Dmitry Medvedev, the Skolkovo Foundation for Innovation.
Staff
members of Navalny's fund have fled abroad when faced with sudden criminal
charges that appear to be opportunistically applied to silence his work in
exposing official corruption – which has only been vindicated by the Panama
Papers. Sergei Guriyev, a respected economist and rector of the New Economics School
now at the Instituts d'études politiques in Paris left
Russia due to a hostile investigation of the "experts' case" in which a
group of law and economics professors commissioned by then-president Dmitry
Medvedev had examined the legality of the case against business and former
political prisoner Mikhail Khodorkovsky.
The added benefit for the
regime of these fabricated cases that can drag on for years – some of which
involve refusal to register under the onerous "foreign agents" law if an
activist ever received a grant from abroad – is that the person is unable to
run in elections as they have an actual or suspended criminal case on their
record, or they are defamed as having bad character from administrative cases.
One man, Andrei Pivovarov, a 34-year-old economist from St. Petersburg, managed to overcome obstacles to run in the Kostroma local elections last year
from Parnas then found himself embroiled
in serious criminal allegations. He tried to check with police the persons
who signed his petitions to get on the ballot who appeared to have deliberately
put false information to invalidate his lists. The police wound up accusing him
as well as a police officer of unauthorized use of a police data base and he is
now on trial.
3. Physical attacks ranging from cake-throwing or
hurling indelible green disinfectant to light or brutal beatings — even to
murder. When the first two methods
don't work – and they didn't for people like Boris Nemtsov and Pskov legislator
Lev Shlosberg who was the first to warn that Russian airborne troops had left
their barracks in his region to invade the Crimean peninsula in February 2014 –
the regime either looks the other way or tacitly encourages extreme movements
like Anti-Maidan or the radical Russian Orthodox or bikers' groups to harass and
beat liberal demonstrators or outspoken gays and minorities. Shlosberg was
hospitalized in 2014 after a brutal beating by persons never identified because
he persisted in talking about Russian soldiers killed in Ukraine.
Chechen
police threw cakes and eggs at Kasyanov earlier this year when he made public
speeches in his campaign for the elections, and Kadyrov posted
an Instagram clip of a clandestine surveillance tape made of him and journalist
Vladimir Kara-Murza, Jr. in Brussels with a sniper scope superimposed.
Kara-Murza was seriously poisoned in May 2015 and nearly died, in an attack
that appeared to be directly related to his work organizing educational
lectures for Open Russia, the movement founded by Khodorkovsky. Though he made
a recovery after a long illness and returned to Russia, he, like others in the
hardy but small opposition remain extraordinarily vulnerable.
Assassinations seem to be
reserved for those who resist all three methods – Nemtsov was subject to
short-term detentions for demonstrations and his cell phone conversations disparaging
other opposition figures were leaked and his poster as a "fifth columnist" put
on bus shelters in Simferopol yet he persisted. Not everyone has that endurance
nor should they be expected to.
Symbolic Actions and Self-Preoccupation
Decades ago, the Czech poet-turned-president
Vaclav Havel and his colleagues in their dissident movement called Charter '77
used to complain that these idealistic writers and sociologists had to turn
from articulating their dream of civil society and a better world in eloquent
protests to issuing dull chronicles of beatings and jailings, speaking only
about themselves. Russian human rights activists and independent politicians
have begun to complain about the same self-preoccupation, although this hasn't
stopped them from taking daring actions that they believe will help expose the
flaws of the system dramatically, even as it makes them victims and appears to
marginalize them.
The emblematic figure for
this kind of protest is Pavel Pavlensky, who has sewn his lips together, nailed his
scrotum to Red Square, and set
on fire the doors of the Lubyanka – the historic and present home of
Russia's secret police – all to make a point about Russia in case anyone still
thinks Putin is progressive and a force for world peace. For his trouble he has
spent
a time in the notorious Serbsky Institute for Forensic Psychiatry and ultimately
declared sane, and is now awaiting trial in Butyrka Prison on charges of
"vandalism" motivated by "hatred of the authorities," to face some years in a
labor colony – like the Pussy Riot singers and Bolotnaya protesters before him
as well as obscure young users of Vkontakte who thoughtlessly post Ukrainian,
Nazi, or ISIS symbols on their pages.
Symbolic actions and political
victimhood are topics that tend to bore the Western media quickly – hundreds of
solo pickets have been staged by the Kremlin without any news coverage — and
even embassy cable writers who work for governments who want to keep up "constructive
engagement." Yet for many it is all that is left to try to tell the story once
again of Russian oppression. Perhaps some new figures who are not of the
"system opposition" or "non-system opposition" – non-non-system opposition? –
or regional politicians like Galina Shirshina, former mayor of Petrozavodsk
forced out by the United Party-dominated legislature in Karelia or Emiliya
Slabunova, a Yabloko deputy in the Karelian legislative assembly could run in
the parliamentary elections although they have not indicated they will do so.
Yet for all the effort both
the opposition and the government will put in to these elections, the State
Duma at the end of the day is only beholden to Kremlin directives, and Putin's cynical
plan is only to open it up a bit so it can share the blame for economic
hardships or failures. It is unlikely given the three classic methods for
control and suppression outlined here that anything like a Maidan or even a
Tulip Revolution as in Kyrgyzstan might appear, yet young people do keep
appearing with that hope.
Keeping Western Attention
What made it possible for
Havel in his day to go from political prisoner to president was first, a
determination to live "as if" he were free in a "normal political life," then a weakening
of the outside suppression from the Kremlin, coupled with real solidarity and dedication
from the West in opposing it. In the Russian situation, where the Kremlin's "outside
pressure" is on the inside, only a division and weakening of the force
ministries – which some think is in fact indicated by Putin's
effort to create a National Guard and top investigator Aleksandr Bastrykin's
call
for even more punitive control over society – might create an opportunity
for change as it did in August 1991. It's important to remember, however, that
the forces that were strengthening before August 1991 weren't the police, but civil
society nyeformaly movements and a nascent business class. Now the situation is
the reverse.
Internal change cannot be
effectively initiated from outside but what does have to end is Western
timidity in challenging the Kremlin's growing aggression at home and abroad.
Given the antipathy some Westerners have for the existing opposition as well as
their fears that extremists far worse than they might make bold use of an opening
mean reform is likely to be postponed once again.