A protester arrested on June 12, 2017 | RBC
Update:
The previous issue is here.
Recent Analysis and Translations:
Novaya Gazeta on Threats of Retribution Against Journalists from Chechen Clergy over Articles on Persecution of LGBT
The Grief Factory: How Regime Supporters Are Choreographed to Mourn on Demand
Novaya Gazeta Reports Point-Blank Execution of Chechen 'Attackers' at Odds with Official Account of 'Clash' with National Guards
'Hybrid Cyberwars': Are the Russian Hackers' Arrests About American or Internal Russian issues?
UPDATES BELOW
---
Alexey Navalny And Hundreds Of Protesters Arrested Across Russia
Russian opposition leader Alexey Navalny was arrested today as he was leaving his home on his way to attend an unauthorized protest. 
Protests have also taken place in St. Petersberg and several other Russian cities. 
The BBC reports that Alexey Navalny was given permission to protest, but at the last minute he and the other protest organizers switched location of the protest without receiving permission:
Mr Navalny was earlier granted permission to hold a rally at Sakharova Avenue but changed the location – without permission – on the eve of the demonstration to Tverskaya Street, near the Kremlin.

One of the groups participating in the Moscow rally, which is over government plans to demolish Soviet-era apartment blocks in the city, said it would hold its protest on Sakharova Avenue as planned.

Permission was granted for demonstrations in 169 locations across the country, some of which are being broadcast live on the Navalny Live YouTube channel.

The protests coincide with a series of official events – including festivals, concerts and military enactments – due to take place across the country to mark Russia Day, the national holiday dedicated to the 1990 declaration of sovereignty.
BBC News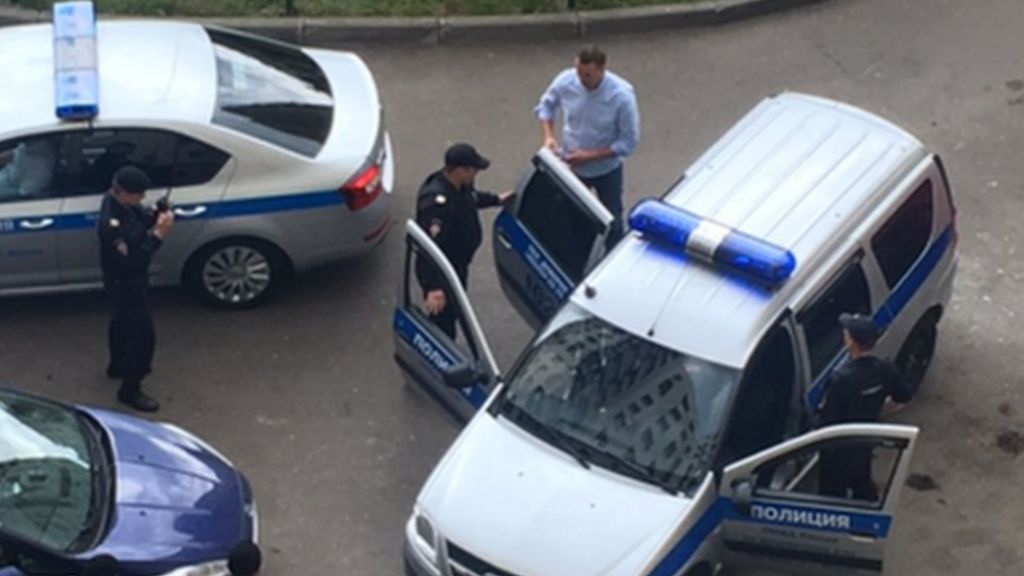 Set as default press image
Putin critic Alexei Navalny 'detained' before Moscow protest – BBC News
Russian opposition leader Alexei Navalny has been detained at home ahead of a planned unauthorised protest in Moscow, his wife says. "Alexei has been arrested in the entrance to our block of flats," Yuliya Navalnaya wrote on Twitter, adding "our plans haven't changed". Mr Navalny earlier called on supporters to attend anti-corruption rallies across Russia.
Jun 12, 2017 18:37 (GMT)
Earlier there were reports of several hundred people having been arrested in Moscow and St. Petersburg. CNN reports:
Around 250 people were arrested at the opposition rallies in Russia's capital and second city on Monday according to OVD — an independent group monitoring arrests.

OVD reported that 121 people had been arrested in Moscow and 137 in St. Petersburg.

Hours earlier, authorities had declared that the planned rally in the Russian capital was illegal.

"We warn that any attempts to hold an illegal event on the Tverskaya Street, Moscow is a direct violation of the law," the Prosecutor General said in a statement.

"Law enforcement agencies will be forced to take all necessary measures to stop provocations, mass unrest or any actions leading to a violation of public security, creating conditions for threatening the life and health of citizens."
CNN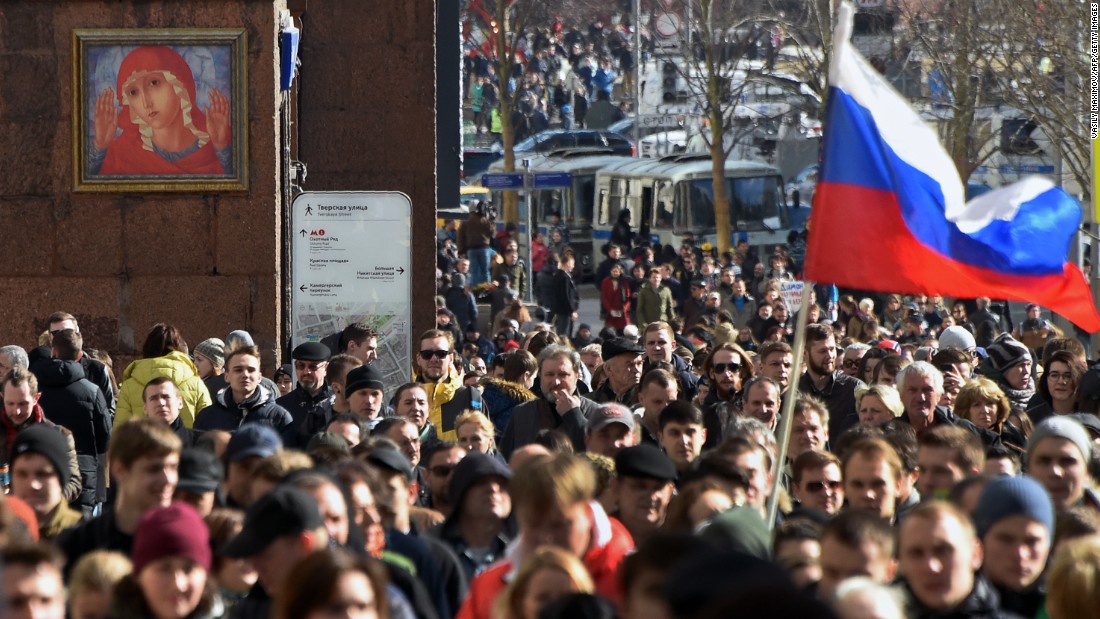 Set as default press image
Russia protests: Activist Navalny detained, wife tweets
Navalny's wife, Yulia, reported the news of his detention at his home in the Russian capital on his official Twitter feed. She also posted a picture on his Twitter feed which shows police officers at the scene. Meanwhile Navalny's YouTube channel, which had been broadcasting live to more than 50,000 people as protests across Russia got underway, lost light and sound.
Jun 12, 2017 18:41 (GMT)
There are now reports that as many as 750 or more have been arrested. 
There are unverified reports that suggest that many times that number have now been detained.
Oliver Carroll, managing editor of The Moscow Times, is also reporting that there have been at least 900 arrests so far:
There are also several videos that show police brutality. In this video, police officers can be seen beating protesters or bystanders with clubs:
— James Miller