Russian T-72 tanks with separatist markings near Novoazovsk on September 11, 2014, six days after Minsk ceasefire is signed. Screenshot from YouTube video.
Yesterday's liveblog can be found here. An archive of our liveblogs can be found here. For an overview and analysis of this developing story see our latest podcast.
Please help The Interpreter to continue providing this valuable information service by making a donation towards our costs.

View Ukraine: April, 2014 in a larger map
For links to individual updates click on the timestamps.
For the latest summary of evidence surrounding the shooting down of flight MH17 see our separate article: Evidence Review: Who Shot Down MH17?
Below we will be making regular updates so check back often.
---
While attention centres on diplomatic efforts and political reform, shelling has continued in separatist-held Donetsk today, despite the ceasefire.
The BBC's Paul Adams reports mortar bombardment and gunfire in the west of the city:
Donetsk news site 62.ua published photos of the aftermath of shelling today in the Kievsky district in the north of the city, to the south-east of the government-held airport.
Several residential buildings were severely damaged by artillery shells: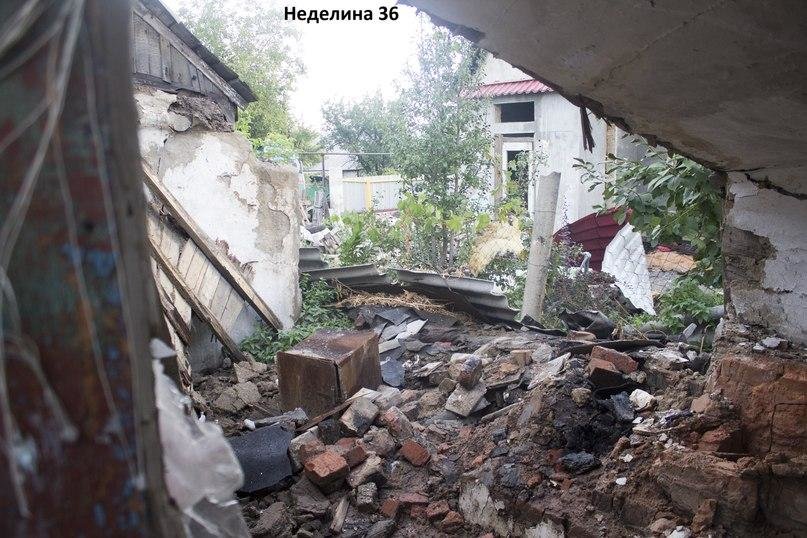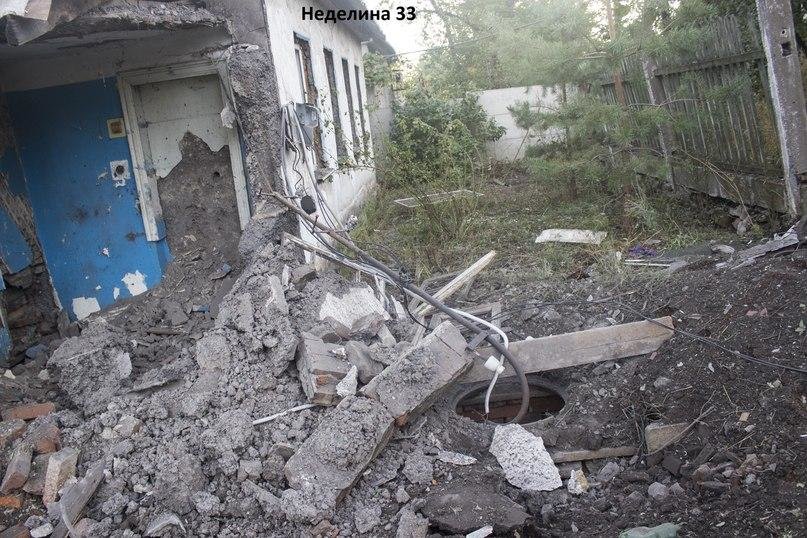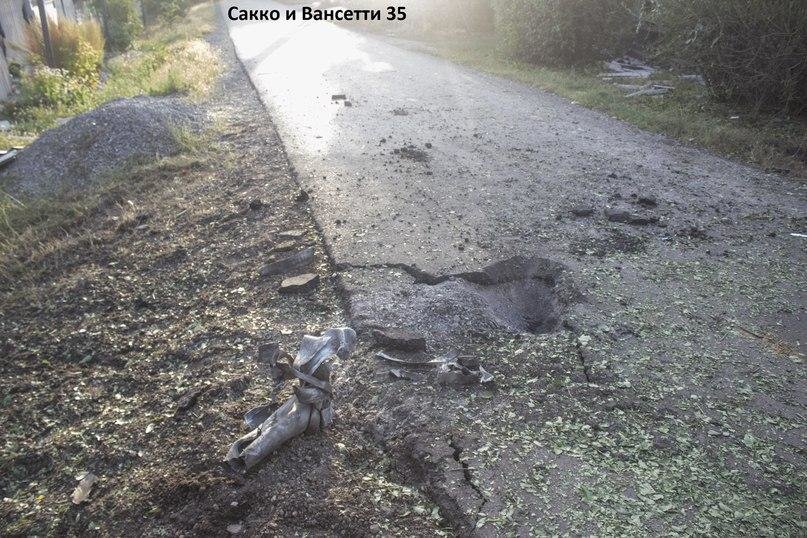 Fortunately, 62.ua reports, there were no casualties.
Dmytro Tymchuk of Information Resistance wrote on his Facebook page that he had received reports that Donetsk Airport was attacked 4 times last night, once with Grads, once with mortars and twice with heavy artillery.
He also reported that there had been attacks on Ukrainian positions near Peski, immediately to the west of the airport and Artyoma, further to the north of the city. 
Meanwhile UNN reports that Andrei Lysenko, the spokesman for the Ukrainian National Security and Defence Council, has told reporters that separatist fighters in the Donetsk area had, during the ceasefire, accidentally shelled their allies.
Lysenko said (translated by The Interpreter):
"In the last 24 hours, a failed bombardment was recorded, which fell on a housing estate where part of the Vostok battalion was stationed. Several dozen people were killed. We have this information, but we cannot yet give the exact number."

 
Of course, if what Lysenko says is true, then the possibility remains that this might not have been an accident but an incident of infighting between separatist groups. The Vostok battalion has had public confrontations before with the leadership of the self-proclaimed Donetsk People's Republic.   
Poroshenko – Special Status For Donbass Is Decentralisation, Not A Threat To Sovereignty
The press office of the Ukrainian President, Petro Poroshenko, has published a report of the president's comments today at the start of the Yalta European Strategy (YES) meeting in Kiev.
Poroshenko stresses that the legislation he plans to introduce on the special status for the Donetsk and Lugansk regions will not compromise Ukraine's sovereignty or territorial integrity. Instead, he insists that the move is part of a wider decentralisation of the Ukrainian state. Over-centralisation has been a acute problem in former Soviet states, so the aim is laudable. However the details of the plan, and the feasibility of its implementation in regions still occupied by Russian-backed separatist fighters, have yet to be seen.
The report says:
"I'd like to assure everyone who is worried about the content and essence of the law on special status of several districts of Donetsk and Luhansk regions that there is no danger for territorial integrity, sovereignty and independence of Ukraine," the Head of State said in the course of the discussion at the 11th annual Yalta meeting.

According to him, local communities will receive the authority in the issues of their own regions. They will decide what language to use, what cultural holidays to celebrate, how to spend money from the local budget for the bigger share of funds will remain in it. "To create a reasonable model of decentralization of power, Ukrainian experts studied the experience of other countries, particularly Poland," Petro Poroshenko noted.

At the same time, the President emphasized, nationwide issues will be resolved at the highest level. "The main issues of the state – international policy, security, strategic items and vectors of development – will be in the hands of central government," he said.

"Early local elections are necessary to build dialogue with local communities of Luhansk and Donetsk regions. It is the only way to resolve the crisis. We need people with whom we can talk and they must represent Donetsk and Luhansk residents. I am confident that the government must be formed not with a machine gun, but with a voting ballot," the President stressed.
The president said that Ukraine cannot be reunited by military means alone:
"We must understand that there is no military solution to the given crisis. We must keep Ukraine united. For this end, we must carry out decentralization."
This echoes comments he made in response to a question from Vice's Simon Ostrovsky in Mariupol on September 8, when Poroshenko said that:
"We should be responsible and understand that it is impossible just to win the conflict by only military means. The more we increase the pressure, the more Russian troops there are on our territory." 
Poroshenko's comments in Mariupol, and those of the governor of Donetsk, Serhei Taruta, can be seen in the video below.
Opening the YES meeting today, speaking alongside Presidents Poroshenko and Ilves of Estonia, the President of the European Parliament, Martin Schulz, reiterated this point:
First, there is no military solution to the crisis. All sides are well advised to restrain themselves and abstain from warmongering and inflammatory rhetoric. History teaches us that too often conjured-up spirits can easily run out of control. In the words of Martin Luther King, "the old law of an eye for an eye leaves everybody blind". Thus, all parties and the international community must do everything in their power to prevent the situation from spiraling completely out of control. There is only one solution and that is a political solution in full respect of Ukraine's territorial integrity and sovereignty.

Second, like it or not, there will be no political solution without Russia. We have no choice but to keep on talking to Russia while making it very clear that there will be no return to "business as usual" with Moscow before a sustainable solution to the crisis is found. The trilateral talk on trade and gas is one important channel of communication; also to ensure that we have no bad surprises this winter.

The sanctions the EU agreed on the eighth of September and coming into force today give a clear signal: We Europeans are united on this and we are serious about this.

We are so serious about this that we are even willing to accept the negative consequences of sanctions for our own economy. I am convinced that it was a wise decision by our foreign ministers to decide on sanctions but to put them on hold until today to allow the ceasefire agreed in Minsk last Friday to be implemented.

We welcome the ceasefire hoping that it will create the space for a political settlement. And I can only commend you, President Poroshenko, for your resolve to do everything to end this conflict.

Let's hope that all parties are fully sincere and that words do translate into actions. For the moment, there is reason to be cautiously optimistic: It has been widely reported that Russia started withdrawing its troops from Eastern Ukraine. A large number of captured Ukrainian servicemen have been freed. It would be an encouraging sign if Russia would now use its influence on the rebels to force them to lay down their weapons. Even more so, because these rebels continue to shell Ukrainian troops and residential areas.

As a powerful player and Security Council member Russia has a key role and responsibility in de-escalating this crisis and ensuring that international law is again respected.

Third, the European Union is in to support Ukraine for the long-run. I have made Kyiv my first destination and my first official visit in my second mandate as President of the European Parliament, to show our solidarity with the Ukrainian people. The European Parliament stands by your side in this difficult time. As we have done in the past.
EU Sanctions Come Into Effect
New EU sanctions against Russia, announced on September 8, have come into effect today.
The additions to the sanctions lists were published in the official journal of the European Union this morning.
Chief among the extensive new measures is a ban on the export of services and deep-water drilling equipment to Russia's oil industry.
The document notes that:
It shall be prohibited to provide, directly or indirectly, the following associated services necessary for deep water oil exploration and production, arctic oil exploration and production, or shale oil projects in Russia: 

(i) drilling, (ii) well testing, (iii) logging and completion services, (iv) supply of specialised floating vessels.  
Access to European financial markets will be restricted for three key Russian oil companies: Rosneft, Transneft and the oil division of Gazprom, Gazprom Neft. The strategically vital gas operations of that company are, however, not targeted in this round of sanctions.
Russia's state owned banks will also be barred from obtaining loans with a maturity over one month.
The BBC reports that:
The EU has also added another 24 names to a list of Russian officials and rebel leaders in Ukraine who are subject to visa bans and asset freezes.

Most of the new names are pro-Russian separatist leaders in Donetsk region and prominent Russian MPs.

Among the most influential are: Sergei Chemezov, an ex-KGB associate of President Vladimir Putin who now runs a big arms firm, Rostec; nationalist leader and MP Vladimir Zhirinovsky; 76th Airborne Division Gen Alexei Naumets; Donetsk separatist leader Alexander Zakharchenko; Luhansk separatist leader Gennady Tsypkalov.
'Dual use' exports are also restricted, with some exemptions for the space and aeronautics industries:
1. The direct or indirect sale, supply, transfer or export of dual use goods and technology as included in Annex I to Regulation (EC) No 428/2009 to any person, entity or body in Russia as listed in Annex IV to this Decision by nationals of Member States or from the territories of Member States or using their flag vessels or aircraft, shall be prohibited whether originating or not in their territories. 

2. It shall be prohibited: 

(a) to provide technical assistance, brokering services or other services related to goods and technology set out in paragraph 1 and to the provision, manufacture, maintenance and use of these goods and technology, directly or indirectly to any person, entity or body in Russia, as listed in Annex IV; 

(b) to provide financing or financial assistance related to goods and technology referred to in paragraph 1, including in particular grants, loans and export credit insurance, for any sale, supply, transfer or export of these goods and technology, or for the provision of related technical assistance, brokering services or other services, directly or indirectly to any person, entity or body in Russia, as listed in Annex IV. 

3. The prohibitions in paragraphs 1 and 2 shall be without prejudice to the execution of contracts or agreements concluded before 12 September 2014 and to the provision of assistance necessary to the maintenance and safety of existing capabilities within the EU. 

4. The prohibitions in paragraphs 1 and 2 shall not apply to exports, sale, supplies or transfers of dual-use goods and technology for the aeronautics and for the space industry, or the related provision of technical or financial assistance, for non-military use and for a non-military end user, as well as for maintenance and safety of existing civil nuclear capabilities within the EU, for non-military use and for a non-military end user.'. 
The BBC notes that US President Barack Obama has announced that
his country would join the EU in imposing tougher sanctions on Russia, targeting the defence, finance and energy sectors. He said he would provide details on Friday.
The full EU document, which goes into considerable detail with regards to financial measures, is available to read here.