Mikhail Khodorkovsky after a press conference in Berlin on December 22, 2013 (AFP/File, David Gannon)
Russia's Investigative Committee announced the arrest in absentia of Mikhail Khodorkovsky and declared him as wanted, but he is not on Interpol's list.
Welcome to our column, Russia Update, where we will be closely following day-to-day developments in Russia, including the Russian government's foreign and domestic policies.
The previous issue is here.
Recent Translations:
–The Non-Hybrid War
–Kashin Explains His 'Letter to Leaders' on 'Fontanka Office'
–TV Rain Interviews Volunteer Fighter Back from Donbass
–'I Was on Active Duty': Interview with Captured GRU Officer Aleksandrov
UPDATES BELOW
---
Has Russia Deployed Iskander-M Missiles To South Ossetia?
Two days ago, the Georgian news portal Gruziya Online reported that Tinatin Kidasheli, the Georgian defence minister, told Voice of America that Russia had deployed Iskander-M short-range ballistic missile systems to South Ossetia.
According to Kidasheli, several Iskander-M systems have been moved into South Ossetia, which broke away from Georgia, with the support of Russian forces, in 1990. In March 2015, Russia signed an integration treaty with South Ossetia which was ratified by the South Ossetia parliament in April 2015.
Kidasheli said that the presence of such powerful (and nuclear-capable) weaponry so close to the border was an important issue not only for Georgia, but for the whole region.
Gruziya Online reports that Voice of America has received confirmation from the Russian Ministry of Defence that the Iskander-M systems are indeed deployed in the breakaway republic.
Indeed on December 8, Regnum.ru, a pro-Kremlin news site, reported that a Russian missile base in South Ossetia, already equipped with Tochka-U ballistic missiles, had been augmented with Iskander-Ms.
Yesterday Vakhtang Kapanadze, the Chief of the Georgian General Staff, said that several Iskanders had been moved into South Ossetia around ten days earlier.
News.am cited an Interfax Military News report as quoting Georgian experts, who said that the deployment of the missiles may in fact be deployed as a gesture towards neighbouring Turkey, rather than Tbilisi.
Today, Russia's state-owned RIA Novosti news agency reported that a NATO spokesperson had declined to comment on the reports, asking reporters to turn their questions instead to the Georgian and Russian authorities.
— Pierre Vaux
Environmentalist Yevgeny Vitishko Released From Labor Colony to Parole After Appeal Upheld
Environmentalist Yevgeny Vitishko was released from labor colony after a superior court upheld a local court's ruling that he should be released, RBC.ru reported.
His colleagues from Ecology Watch, the NGO where he worked, went to the labor colony to wait for him and photographed him as he emerged.
Translation: They have given us #Vitishko back : )
Translation: That's it, Yevgeny Vitishko has come out of the gates of labor camp. Hurrah!
The heavy sentence was believed to be in retaliation for Vitishko's efforts to call attention to damage of the environment by the heavy construction involved in the Sochi Olympics.
Vitishko was handed a 3-year suspended sentence in 2012 for allegedly damaging the fence surrounding the dacha of Aleksandr Tkachev, at that time governor of Kuban Region. Environmentalists had published claims that the dacha compound, which was supposed to be a rest facility for workers, was being used as Tkachev's personal vacation home and the fence was despoiling the environment.
In 2011, members of the Environmental Watch on North Caucasus had staged a "picnic action" on the grounds of the dacha which is located in the village of Dzhubga to protest the fact that a forest that was in Russia's "Red Book" of preserved lands had been fenced in by the governor.
Graffiti was painted on the fence including "Sanya is a Thief" — using the nick-name for "Aleksandr" — "This is Our Forest," and other slogans.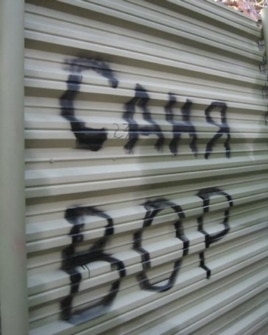 Vitishko and another activist Suren Gazaryan were sentenced to three years for "damage to the fence." Gazaryan was forced to emigrate to Estonia. In December 2013, as Vitishko continued his activism, prosecutors appealed the suspension of the sentence and he was arrested and take to serve the term in labor colony.
Vitishko had a difficult time in the colony, as he stood up for his rights and then suffered a backlash. For example, when he was beaten by his fellow inmates in the punishment call, he publicized this fact and wrote appeals, and then became ostracized by the other prisoners.
Appeals for his release failed a number of times. In November, his lawyers eventually obtained a decision from the the Kirsanov District Court that Vitishko's sentence of deprivation of freedom could be converted to restriction of freedom.  But prosecutors then appealed the ruling to keep him in prison. He declared a hunger strike and his health deteriorated.
Finally, December 22, the Tambov Regional Court upheld the Kirsanov District Court's ruling, so for the remainder of his term (one year and two months), Vitishko is not allowed to leave the Tuapse District where he resides without the permission of corrections officials.
— Catherine A. Fitzpatrick
Russia Arrests Khodorkovsky in Absentia, Declares 'Wanted,' But He is Not on Interpol's List
Russia's Investigative Committee
announced today
that upon its petition to court, Mikhail Khodorkovsky has been "arrested in absentia" on charges of organizing murder and attempted murder on two or more persons (translation by
The Interpreter
):

According to the investigation, Khodorkovsky, while a shareholder and chairman of the board of the Yukos oil company, from 1998-1999 assigned to the employees of the company subordinate to him, Nezvlin and Pichugin, and also other persons, the murder of Nefteyugansk Mayor Petukhov and the businessman Rybin, whose official activity contradicted the interests of Yukos. For the investigation it is entirely obvious that these crimes were committed for mercenary motives. It was decided to murder Petukhov in connection with his lawful demands as mayor of Nefteyugansk that the oil company Yukos return taxes concealed from the government. The attempt on the businessman Yevgeny Rybin was connected with lawsuits he initiated against Yukos seeking damages caused by the unlawful activity of this oil company.
The Investigative Committee then said (in literal translation) "Mikhail Khodorkovsky is declared as internationally wanted," a phrase usually translated as "placed on the international wanted list."
This phrase is misleading, because it implies that just because Russia has declared someone wanted, the international community of law-enforcers have agreed to Moscow's request and placed the individual on a master international wanted list.
Certainly Kremlin propagandists have implied this.
Khodorkovsky has denied the charges, and says they are motivated by the Kremlin's reprisals against him for exposing corruption among top law-enforcers in material published from Spanish prosecutors regarding Alexander Bastrykin of the Investigative Committee itself, and Yury Chaika, Prosecutor General of Russia.
The Investigative Committee has not disclosed on what grounds it has re-opened the 1998 case, for which Pichugin was convicted and sentenced to life imprisonment, although he and Khodorkovsky maintain his innocence.
(Note: The Interpreter is a project of Institute for Modern Russia, funded by Pavel Khodorkovsky, the son of Mikhail Khodorkovsky.) 
— Catherine A. Fitzpatrick