Damage in the village of Zaytsevo, from a Ukrainian MOD video filmed on Feburary 2.
Ukraine reports intense shelling across the front, with a massive attack on the village of Zaytsevo last night.
Yesterday's live coverage of the Ukraine conflict can be found here.
Please help The Interpreter to continue providing this valuable information service by making a donation towards our costs.

For links to individual updates click on the timestamps.
For the latest summary of evidence surrounding the shooting down of flight MH17 see our separate article: How We Know Russia Shot Down MH17.
An Invasion By Any Other Name: The Kremlin's Dirty War in Ukraine
---
EU Parliament Condemns Human Rights Abuses In Russian-Occupied Crimea, Calls For Sanctions To Be Maintained Until Peninsula Returned To Ukraine
The European Parliament has passed a resolution condemning human rights violations, in particular with regards to the Crimean Tatars, under the Russian occupation of the peninsula.
One important element of this resolution is reaffirmation that the Parliament opposes the lifting of EU sanctions introduced following the Russian annexation of Crimea, unless the peninsula is restored to Ukraine.
A provisional edition of the text adopted this afternoon is available to read on the European Parliament website.
Two paragraphs of the resolution are very important, especially given that some Western leaders have hinted that sanctions could be dropped in the event of progress on the peace process in the Donbass, regardless of the status of Crimea:
The European Parliament:

Reiterates its strong commitment to the sovereignty and territorial integrity of Ukraine within its internationally recognised borders and to its free and sovereign choice to pursue a European path; recalls its severe condemnation of the illegal annexation by Russia of the Crimean peninsula and the commitment of the EU, its Member States and the international community to implement fully the policy of non-recognition of the illegal annexation of Crimea; highlights also that the restoration of Ukrainian control over the peninsula is one of the prerequisites for re-establishing cooperative relations with the Russian Federation, including the suspension of related sanctions; 

[…]

Reiterates its support for the EU's decision to prohibit imports originating from Crimea unless they are accompanied by a certificate of origin from the Ukrainian authorities, as well as for restrictive measures relating to the export of certain goods and technologies, investment, trade and services in Crimea; calls on the Council to continue with these sanctions until the completion of Crimea's full reintegration into the legal order of Ukraine;
The resolution condemns the occupying Russian authorities for a catalogue of abuses, including the torture of illegally arrested prisoners, the abduction and murder of Crimean Tatars, religious persecution and repressions against LGBTI people.
RFE/RL reports in detail on the abuse of Crimean Tatars under Russian occupation:
RadioFreeEurope/RadioLiberty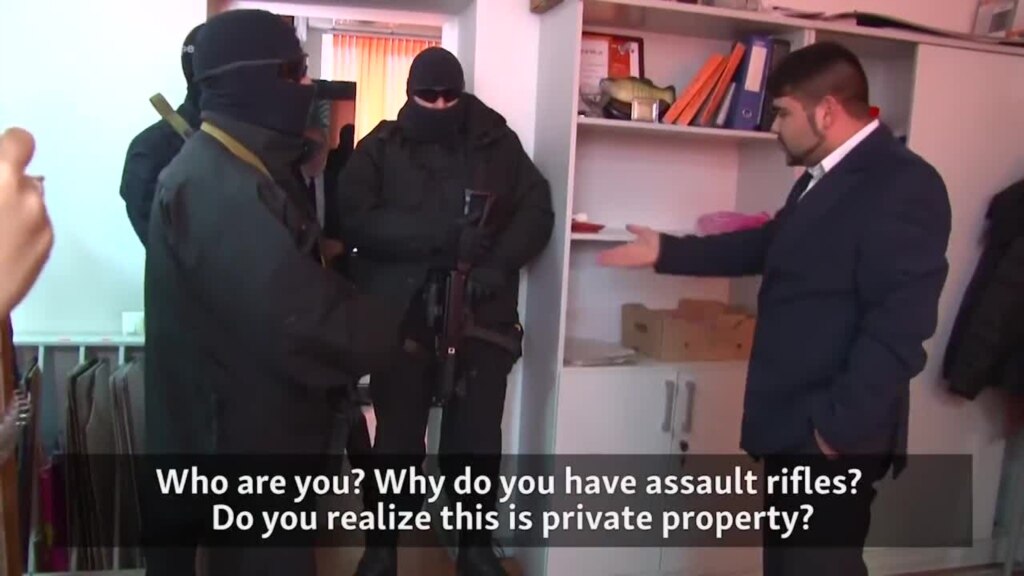 MEPs Condemn Russia's 'Unprecedented' Abuses Against Crimean Tatars
The European Parliament has passed a resolution slamming the "unprecedented levels of human rights abuses" being perpetrated against Crimean Tatars by Russian authorities in the Moscow-annexed Ukrainian region. Since the beginning of the year, Crimean Tatars have endured a wave of searches, interrogations, confiscations, and other harassment.
Feb 04, 2016 22:08 (GMT)
— Pierre Vaux
Ukraine President Meets With G7 Ambassadors To Address Reform Crisis; Embattled MP Resigns
Yesterday,
as we reported
, Ukrainian economy minister Aivaras Abromavicius resigned in protest of the blocking of key governmental and economic reforms.
Interpretermag
Day 716: Ukrainian Economy Minister Abramovicius Resigns, Citing High-Level Corruption
The Ukrainian economy minister, Aivaras Abromavicius, has resigned, pouring scathing criticism on corrupt political forces that he said had prevented him in doing his work on reforms. In particular, he singles out controversial Poroshenko ally Ihor Kononenko.
Feb 04, 2016 21:58 (GMT)
The news reverberated through the Western media. Abromavicius was widely respected by the international community, and since concern has been growing for some time that Ukraine is not doing enough to reform, this was seen by many observers, even among whom have been rooting for Ukraine, to be confirmation that the country is now embroiled in a political quagmire.
Yesterday and today, Western diplomats, including the US State Department, expressed their trust in Abromavicius and their disappointment in this development. RFE/RL reports:
U.S. State Department spokesman John Kirby lauded Aivaras Abromavicius on February 3 for implementing tough economic policies that delivered "real reform results for Ukraine," and urged Ukraine's leaders to press ahead with his anticorruption measures.

"Ukraine's stable, secure and prosperous future is going to require the sustained efforts of a broad and inclusive team going forward of dedicated professionals like him, who put the Ukrainian people's interest above their own," Kirby said.

A group of Western envoys in Kyiv, including the U.S., German, and British ambassadors, said they were "deeply disappointed" by the resignation, and hoped reforms would continue.
Today, Poroshenko has called the ambassadors of the G7 states to his office to meet with him and Prime Minister Arseniy Yatsenyuk to discuss the fate of the Ukrainian government. The US Ambassador to Kiev, Geoffrey Pyatt, calls this meeting "unprecedented" and recalls an article we wrote last year about the visit of US Vice President Joe Biden to Ukraine:
Several ambassadors have told news agencies like Interfax and Unian that Poroshenko reassured them that it is doing everything in its power to reform. So far there has been no official release from the US embassy about the subject of that meeting, largely due to the fact that it has just been held, but the ambassador is certainly inferring that Ukraine needs to take its reform efforts very seriously. The foreign media relations coordinator for the Poroshenko administration summarized the meeting in a tweet:
He also referenced Ambassador Pyatt's tweet about Joe Bidden's "last chance" message.
Poroshenko may have produced his first tangible response to
Abromavicius's resignation. As we reported, Abromavicius expressed his deep concern about one Ukrainian official in particular, Ihor Kononenko,
an MP and deputy leader of Petro Poroshenko's party. Today we have news
that Kononenko has resigned. Interfax-Ukraine reports:
"With respect to the current situation and the accusations put
forward against me by Economic Development and Trade Minister
Abromavicius, I should make the following statement: Yesterday, I filed
and officially registered an application to the National Anti-Corruption
Bureau concerning the charges against me, asking it to conduct an
objective investigation and punish those responsible. Secondly, I
suggest and insist we should pass a lie detector test together with
Abromavicius in connection with the charges made by him against me,"
Kononenko said in a video statement posted on YouTube.

In
addition, Kononenko said he decided to resign as the first deputy
chairman of the Petro Poroshenko Bloc faction for the time of the
investigation. "I ask the faction to support me in this decision," the
lawmaker said.

As reported, on February 3, Abromavicius announced
his decision to resign because of a lack of support for and active
obstruction of reforms being pursued by his team. Abromavicius accused
MP Ihor Kononenko of the Petro Poroshenko Bloc of pressing on the
ministry to appoint his candidates into agencies and state companies,
said that the ministry was obstructed in nominating its candidates for
government. "My team and I do not want to be a cover for blatant
corruption, puppets for those who want to control public money the way
this was done by the previous authorities. These people have names, and I
will name one of them. This is Ihor Kononenko. Being a representative
of a political force that nominated me for this post, he has done much
over the past month to block my work and the work of the ministry," he
said at a press conference in Kyiv on Wednesday.
Was Kononenko pressured to resign by the situation, or by
Poroshenko? That's unclear. What is clear is that the Ukrainian
government has unnerved its closest allies, and it has already started
to respond.
— James Miller
Situation Deteriorating With Shelling Across Front
The Ukrainian military claimed this morning that Russian-backed fighters have adopted scorched earth tactics following after Ukraine closed a frontier-crossing checkpoint in Zaytsevo, a village just north of Gorlovka.
According to the ATO Press Centre, more than 150 120 and 82 mm mortar shells fell on Zaytsevo last night in what the military calls an attempt to "erase the whole village from the face of the Earth."
Colonel Oleksandr Motuzyanyk, a military spokesman for the Presidential Administration, told reporters at noon today that the situation across the front had deteriorated.
One Ukrainian soldier was wounded outside Gorlovka. 
In the Donetsk region, Motuzyanyk reported small arms and grenade launcher attacks across the whole front line from Peski, northwest of Donetsk, to Svetlodarsk, east of Gorlovka. Mortar attacks were reported near Pervomayskoye, east of Peski, and Kirovo and Mayorsk, north of Gorlovka.
One Ukrainian soldier was wounded outside Gorlovka. 
The pro-separatist Donetsk News Agency (DAN) claimed meanwhile that Ukrainian "nationalist battalions" had shelled the northern outskirts of Gorlovka with 82 mm mortars. In Donetsk, DAN reported that the Spartak suburb and separatist positions near Peski had been shelled for over two hours with mortars.
To the west of Donetsk, Motuzyanyk reported 17 attacks on Marinka, while mortars were used to shell Krasnogorovka. At the same time, DAN claimed that seven homes in the west of Donetsk city itself had been damaged by Ukrainian shelling.
This video, uploaded to an account that regularly posts footage from the separatist front lines, purportedly records the sound of fighting heard in the Petrovsky district of western Donetsk last night:
In the south, Motuzyanyk claimed that Russian-backed fighters in the village of Kominternovo, just 10 kilometres outside Mariupol, had bombarded Sakhanka, another separatist-held village to the southeast. 
At the same time, Motuzyanuk said, the separatist-held village of Oktyabr, to the north, came under fire from mortars, anti-tank missiles and anti-aircraft artillery from Kominternovo 
Interestingly, there no reports so far from separatist representatives or media of attacks on Sakhanka or Oktyabr, which would be expected were the bombardments deliberate acts intended as provocations to discredit Ukrainian forces.
The separatist-backed administrative head of the Novoazovsk district (in which Sakhanka lies), Anatoly Yanovsky, has claimedhowever that Ukrainian forces shelled Kominternovo in the early hours of this morning with 120 mm mortars.
Meanwhile Aleksandr Kindsfater, a Ukrainian military spokesman for the Mariupol area, told 0629.com.ua that Russian-backed fighters had used 120 mm mortars three times between 16:00 and 17:00 to shell Ukrainian positions near Gnutovo and Talakovka.
On the highway between Mariupol and Donetsk, Kindsfater reported an attack on Ukrainian border guards at a checkpoint near Beryozovoye.
In the Lugansk region, Russian-backed fighters reportedly conducted attacks near Tryokhizbenka and Stanitsa Luganskaya.
According to the Lugansk Military-Civil Regional Administration, 82 mm mortars, automatic grenade launchers, heavy machine guns and small arms were used to attack a Ukrainian defensive position in Tryokhizbenka, near a wrecked bridge over the Seversky Donets river.
Later last night, mortars were used to shell a pedestrian crossing point on the frontier outside Stanitsa Luganskaya.
This crossing point will remain closed, the governor of the region Georgiy Tuka said, as long as shelling in the area continues. Russian-backed forces do appear to have adopted a policy of targeting such crossings, with recent, similar attacks in Marinka and Zaytsevo.
— Pierre Vaux