Russian-backed separatist holds up a toy from a victim of MH17 in July 2014. Photo by VICE.
Yesterday's liveblog can be found here. An archive of our liveblogs can be found here. For an overview and analysis of this developing story see our latest podcast.
Please help The Interpreter to continue providing this valuable information service by making a donation towards our costs.

View Ukraine: April, 2014 in a larger map
For links to individual updates click on the timestamps.
For the latest summary of evidence surrounding the shooting down of flight MH17 see our separate article: Evidence Review: Who Shot Down MH17?
Below we will be making regular updates so check back often.
---
Cartoonist Jailed for Satire of Strelkov, Motorola Recounts His Ordeal in DPR Prison
Radio Svoboda, the Russian-language service of the
US-supported Radio Liberty/Radio Free Europe, has published an interview with
Sergei Zakharov, the artist who was jailed for his cartoons of Russian-backed separatist
leader Col. Igor Strelkov and other fighters.
Caricature of Col. Igor Strelkov by Sergei Zakharov.
Zakharov, an artist with a performance group called Murzilki was arrested in August, beaten and tortured in the prisons of
the self-proclaimed "Donetsk People's Republic."
Earlier this year, Zakharov, known as the "Donetsk
Banksy," drove around the deserted city at night, dodging DPR gunmen, and
planted his cartoon cut-outs of DPR figures like Strelkov and the militant nick-named
"Motorola" and his bride.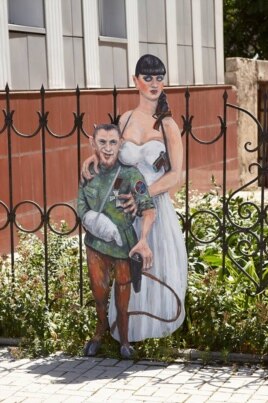 But the separatists soon caught up with him by geolocating him,
using his phone, Zakharov says. DPR militants searched through a maze of streets for his studio, then once they found him, took him to the former SBU (Ukrainian Security Service) building.
Zakharov has also drawn sketches of his ordeal.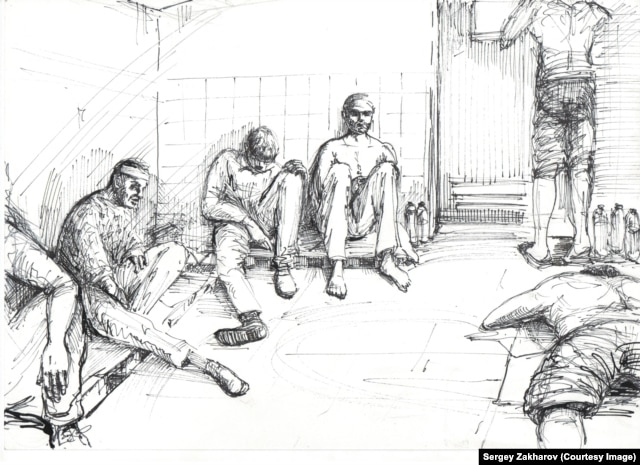 (Translation by The Interpreter)
They put handcuffs on me, sat me in a minivan with men with
machine guns, and we took off, turning back. My house was searched, everything
was turned over, my studio as well. They took my car. Abandoned it in a cellar. 
With its conditions, this was not even a prison: people lay on a cement floor on
some sort of cardboard boxes; it was impossible to breathe. And there, not even
interrogations began, but just beatings, intimidation. From what they said I
understand that these were osobisty — Russians. [from osoby otdel or
"special department" or forces, i.e. intelligence–The Interpreter].


There was a girl with a balaclava with a covered face who beat and tortured
[prisoners]. She had a clear Russian [Federation] accent. The chief purpose was
to degrade human dignity. After that I was not even in a cell, but a punishment
box with Ukrainian POWs. Then at night I was woken up along with another person
and taken away in the trunk of a car, then loaded into another trunk, and we
were driven to the grounds of the Proletarsky Military Enlistment Office. There
we were especially beaten, and mock executions were staged, and we were tortured, then locked in an iron box where two people barely were able to fit, and
baked for two days in the sun.
Zakharov endured three such fake executions, and was told to
dig graves on the third time. He was chained to the wall in handcuffs, along
with another man, accused of being a spotter for Ukrainian forces, whom he was
told would be definitely executed, while he would be allowed to live. He was
later unable to determine what happened to his fellow prisoner.
Finally, Zakharov was asked if he, as an artist, could paint
a stolen car in camouflage colors. After completing the job, he was offered
release, and returned home to his grandfather. The next day he went to the
hospital and was found to have broken ribs. Then, while attempting to get his
documents back from the SBU building, he was detained again for two weeks,
although this time in better conditions at the Hotel Liverpool.
Zakharov said that among the DPR's prisoners were
alcoholics, people who had committed various infractions, and "ideological
enemies" such as himself. He said the separatists look at his laptop and found the
photographs of his cartoons, which infuriated them:
In fact they tortured me while giving me morality lectures about
this same Strelkov, who is sacred. "If you are a believer, do you spit at
an icon? This is the same as if you had spit at an icon." Strelkov for
them is an icon. But perhaps they just needed an excuse to beat and torture a
person.
There was a group of people involved in placing the cartoon
cut-outs and taking photographs for social media, but some of them had dropped
out when it came time to place them, and Zakharov was left with only a
photographer. When interrogated about that man, he said he was in Mariupol,
although actually he was in Donetsk, and he was not found.
Zakharov said that while he was incarcerated, the woman who
tortured him used his phone to access his VKontakte page, and corresponded with
a woman who had offered to help him, and took down information about all his
contacts.
Svoboda asked if he thought he was interrogated and beaten
by people from Russian Federation intelligence.
I don't just think that; I'm certain
of it. At any rate, there
were several people. Everyone realizes that this is Russian aggression.
Because
while I was working in the kitchen, I heard the bosses talk on the
telephone, like they had to coordinate with Moscow, it was all audible.
No
one denied this. Even the militiamen who were arrested, some of them
were
Russian [citizens], from their accents, one was from Ossetia, the other
from
Tolyatti. But these were opportunists who came here from Russia,
understandably, not those who interrogated me, they were a different
contingent.
Zakharov said fortunately he never ran into the subjects of
his caricatures, but coincidentally, after his cartoon of Strelkov was
published, Strelkov was removed from his position of head of the DPR militia.
He said ultimately he was released from the DPR's clutches when his girlfriend, who
formerly worked for the security agencies was able to get a high-ranking SBU
contact to take an interest in his case and finally he was released.
Fighting Continues Between Ukrainian Forces and Russian-Backed Militants in Donetsk; 4 Civilians Killed, 9 Wounded
Fighting continues in Donetsk and environs between Ukrainian forces and Russian-backed militants.
Yesterday October 18, Donetsk was rocked by huge explosions.
The bloggers djp3tros and @5urpher were able to geolocate citizens' videos taken of the explosions:
@djp3tro concludes that "a serious attack on Russian positions from the Ukrainian army" was made.
More information can be found at Ukraine@War.
Today October 19 fighting has continued with a number of casualties.
Kyiv Post reported that four civilians were killed and nine wounded by shrapnel during fighting on Saturday, Oct. 18 and Sunday, Oct. 19.
Ukrainian spokesman Andriy Lysenko of the National Security and Defense Council (NSDC) said 13 Ukrainian servicemen were wounded, Reuters reported.
The NSDC also reported that militants fired Grads at Avdeyevka and other
positions of the Ukrainian forces, striking populated areas of Donetsk Region (translation by The Interpreter):
In
the populated areas of Nikolayevka, Novobakhmutovka, and Tonenkoye in
Donetsk Region, the positions of our forces were were shelled by the
fighters with Grad missiles. The terrorists also shelled the populated
area of Avdeyevka with mortars.
Translation: Donetsk today. School No. 61.
A shell went through the roof of the school (which is on Google Maps here and Street View here) and damaged walls and floors. A guard was injured but no children were present.
Translation: Most important events in Donbass for 18-19 October (photo, video) [of shelling].
Translation: A minivan is going around the city with a "pie" and a mortar-launcher. It is stopping now and then and shooting. Well, and where it is striking?
DTV.com.ua reported about the minivan, and added:
City-dwellers also report that throughout the day, volleys from self-propelled artillery from the direction of the coking plant and the village of Azotny can be heard. And Howitzers are shooting from the grounds of the Kirovskaya mine toward Peski and the airport.

"The bastard hisses over your head, and you think it's going to fall, in the intervals there are Grad shots from there, going toward the same direction."

"From the direction of the Vishnyevsky Hospital volleys can be heard periodically," say local residents.
German Intelligence Blames Russian-Backed Militants for Downing of MH17
Germany's foreign intelligence agency, the Bundesnachrichtendienst (BND) has concluded that Russian-backed fighters were responsible for the crash of Malaysian Airlines flight MH17 on July 17, Der Spiegel reported.
In an October 8 presentation given to members of the parliamentary intelligence oversight committee, BND President Gerhard Schindler provided "ample evidence to back up his case, including satellite images and diverse photo evidence." He said the BND had intelligence that the pro-Russian separatists had "captured a Buk air defense missile system at a Ukrainian military base" and downed MH17, killing all 298 people on board:


Evidence obtained shortly after the accident suggested the aircraft had been shot down by pro-Russian militants. Both the governments of Russia and Ukraine had mutually accused each other of responsibility for the crash. After a Dutch investigative commission reviewed the flight recorder, it avoided placing any blame for the crash. Some 189 residents of the Netherlands perished in the downing of Flight MH17.

BND's Schindler says his agency has come up with unambiguous findings. One is that Ukrainian photos have been manipulated and that there are details indicating this. He also told the panel that Russian claims the missile had been fired by Ukrainian soldiers and that a Ukrainian fighter jet had been flying close to the passenger jet were false.
"It was pro-Russian separatists," Schindler said of the crash, which involved the deaths of four German citizens.
We are wondering whether one of the "manipulated images" (aufnahmen) in question is a photo of a Ukrainian Buk, taken in March, which was included among the photographic evidence by the Ukrainian Security Service (SBU), then later removed from its web site. A source told The Interpreter that the photo, taken from a Facebook user and clearly identified as a Ukrainian Buk, was mistakenly included.
Photo of Ukrainian Buk taken in March 2014 originally posted on Facebook and mistakenly included as evidence in MH17.
We are not aware of any other photos or videos that have been "manipulated" by the Ukrainian government, although the Russian government manipulated findings related to the video of the truck hauling the Buk, identifying it falsely as geolocated in Krasnoarmeysk when in fact it was definitely geolocated in Lugansk.
The Interpreter has compiled a list of all our findings from official sources and social media in Evidence Review: Who Shot Down Malaysian Airlines Flight MH17?
Regarding
the claim that the Buk originated in the Ukrainian stockpiles and was
stolen, there are several points of information.
First, the Russian Defense Ministry's TV Zvezda ran a story on June 29, reprinted by other Russian state media,
claiming that the separatists had stolen a Ukrainian Buk. 
Second, the Ukrainian
government denied that they had any working Buks that were stolen. One Ukrainian official source that was reported by Ukrainska Pravda on June 29 indicated that a "non-working" Buk was stolen by militants. Asked if they could repair it, he said "I don't think they need that."
Third, a Russian
ultranationalist leader, Sergei Kurginyan, active in organizing military
assistance for the fighters in the Donbass, claimed on July 13 that his group had brought in a specialist to repair a stolen, damaged Buk, but this seemed beyond their capacity.
We surmised that the Russian government planted the story of the "stolen Buk" on June 29
to provide cover for Russia's transfer of the Buk to the militants.
Aside from the originator of the story, the Russian Defense Ministry's TV Zvezda, there was also a tweet from a highly-followed fan account of the Crimean prosecutor Natalya Poklonskaya which spoke of "excellent cookies" that had turned up in the separatists' arsenal.
So it seems more likely the Buk was brought in from Russia, and then
removed to Russia. There is the photographic evidence of the Buk parked
in Snezhnoye (Snizhne) before July 17 before MH17 was shot down and the video footage taken July 18 of a truck hauling a
Buk, minus one missile, through Lugansk in the direction of the Russian
border.
The video of the Buk on a truck by the billboard was not taken by amateurs, as was claimed by the Russian
government, but by a Ukrainian police agent and released by the
Ukrainian Interior Ministry.