Kharkiv politician Vladimir Skorobagach is thrown in a trash barrel by activists who oppose those associated with deposed president Victor Yanukovych. Photo by Pasha Meskalin (@PashaXVI).
Yesterday's live coverage of the Ukraine conflict can be found here. An archive of our liveblogs can be found here. For an overview and analysis of this developing story see our latest podcast.
Please help The Interpreter to continue providing this valuable information service by making a donation towards our costs.

View Ukraine: April, 2014 in a larger map
For links to individual updates click on the timestamps.
For the latest summary of evidence surrounding the shooting down of flight MH17 see our separate article: Evidence Review: Who Shot Down MH17?
---
Some Fighting Reported In Eastern Ukraine. War Is Reality This Christmas
Though there is certainly less fighting in Ukraine today, the Ukrainian National Security and Defense Council is still reporting some fighting across the Donbass, particularly on the western front:
War is very much on the minds of many Ukrainians and their government. This Christmas message, an image of "The Swallows Nest," an outpost in Russian-occupied Crimea, was sent along with a Christmas greeting from Ukraine's foreign affairs minister Pavlo Klimkin:
Kharkiv Activists Throw Politician in the Trash
Yesterday, December 24, demonstrators in Kharkiv attempted to gain entry to a session of the city council, but were blocked by police. Then they captured a deputy of the city council named Vladimir Skorobogach, threw green disinfectant on him, and then dumped him in a trash barrel.
Protesters in Ukraine have frequently used the indelible substance known as zelyonka to humiliate politicians they dislike. They've also started a practice recently of literally throwing them out in the trash, an act that Hromadske TV dubbed "Trash Bucket Challenge" and Novosti Ukrainy dubbed "Garbage Lustration."
At first, as we can see from the video, Skorobogach himself seemed to be enjoying the attention the demonstrators brought him, as he smiles and flashes a "peace" sign.
Natalya
Zakharova, in charge of public liaison for the local Interior Ministry
in Kharkiv Region (the police) said that police did not interfere in the
incident "because there was an agreement between the deputy and the
activists," said Mediaport.ua.
"The police provided protection of public
order nearby, so as not to allow mass disorders," she added. The police helped Skorobogach out of the trash bin, but didn't prevent him from being thrown in it.
That
suggests the event could have been staged in some way, but later in the video, and in other photographs, Skorobogach is seen cringing, and then he went to
the emergency room complaining of eye irritation from the disinfectant.
In the end, Skorobogach got himself some hashtagging on Twitter along with the term "Trash Bucket Challenge."
The YouTube video of his humiliation already has 8,000 views.
Demonstrators can be heard chanting Lu-strats-iya or "lustration," the system whereby politicians associated with banned or discredited parties are prevented from taking public office.
RT.com, the Kremlin's propaganda outlet, naturally made hay over the incident.
As we reported in Russia This Week, Gazeta.ru recently revealed that the Kremlin department for relations with Ukraine was involved in actively fomenting pro-Russian demonstrations in southeastern Ukraine earlier this year — but had failed to get enough supporters when protests turned violent and led to many arrests.Some officials associated with the failed agitation project were dismissed.
So some believe that the Kremlin provocateurs may have switched to another tactic now — fomenting unrest among Ukrainian nationalists unhappy with the remnants of the Party of Regions in their cities. A similar disruption of the city council took place in Vinnitsiya December 6.
What would be the purpose of Moscow backing pro-Kiev groups? To create instability and division and provoke police crackdowns which can then radicalize the groups and start a further cycle of unrest and turn the public — and world press — against them.
Of course, local activists have enough of their own reasons for protesting such politicians even without Moscow prompting, as they are accused of buying votes and engaging in corrupt business deals.
— Catherine A. Fitzpatrick
Another Explosion in Kharkiv
Yet another explosion took place in Kharkiv last night, the 8th since November and the second one on Rymarskaya Street,Mediaport.ua and Novosti Donbassa reported.
The bomb, placed at a furniture store by unknown persons, shattered windows, and caused most of its damage inside the courtyard of the building, says Mediaport.ua. There were no injuries.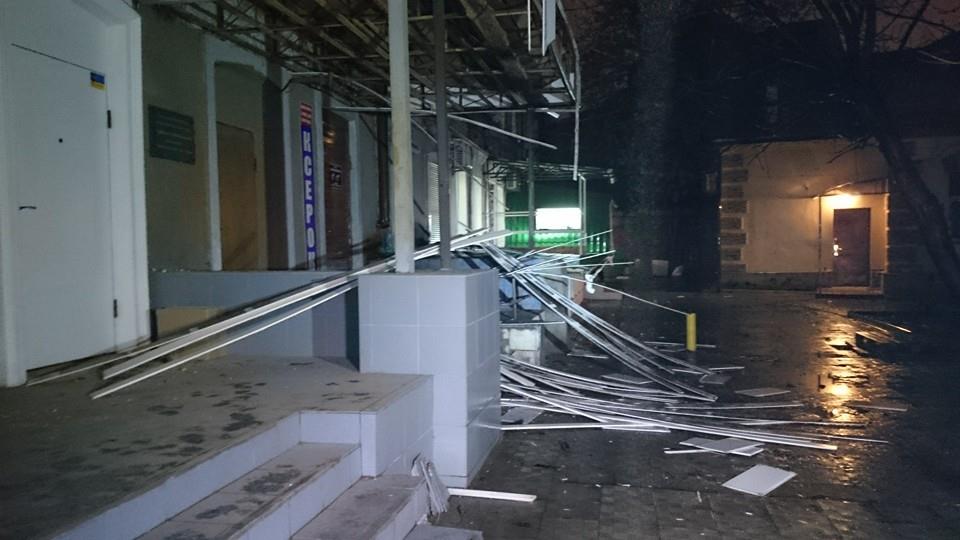 Photo by Vyachislav Mavrichev/Mediaport
Once again, the bombing appeared to be related to an activist gathering aid to Ukrainian forces fighting in the Donbass in the ATO [anti-terrorist operation]. The explosion took place after midnight near a furniture store called Mill Wood where Vyacheslav Dude, a member of a support group called Hromadske Varta Kharkiv, was employed. The group actively assisted the ATO.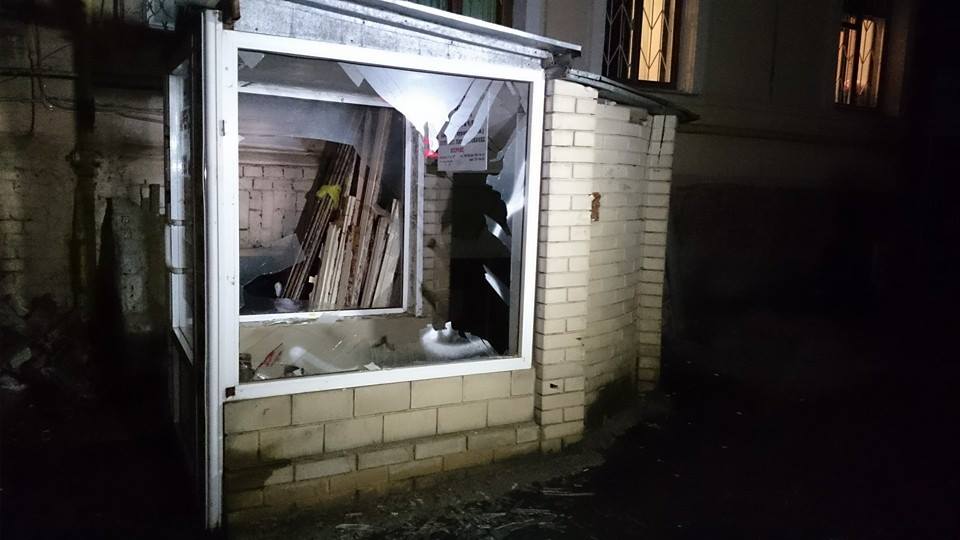 Photo by Vyacheslav Mavrichev/Mediaport
The explosion was near the Azhur store on Rymarskaya Street No. 5 located here on Google Street View. Police received a call at 0:20 from a resident of a nearby building. Investigators and explosives experts came to the scene. 
Ukrainian Foreign Ministry consultant Anatoly Gerashchenko, now a deputy of the Popular Front in the Ukrainska Rada (parliament) called it a "terrorist act" on his Facebook page.

Dede also took part in the protest action by the city council yesterday, and another theory is that the bomb near his workplace could be related to the protest.
— Catherine A. Fitzpatrick