Armor belonging to Russian-backed forces, reportedly destroyed by Ukraine's military near Debaltsevo, February 2015 | Information Resistance
Yesterday's live coverage of the Ukraine conflict can be found here. An archive of our liveblogs can be found here. For an overview and analysis of this developing story see our latest podcast.
Please help The Interpreter to continue providing this valuable information service by making a donation towards our costs.

For links to individual updates click on the timestamps.
For the latest summary of evidence surrounding the shooting down of flight MH17 see our separate article: Evidence Review: Who Shot Down MH17?
---
Hollande And Merkel Heading To Kiev
French President Francois Hollande says he and German Chancellor Angela Merkel are heading to Ukraine with a new peace initiative.

Speaking at a news conference in Paris and describing the Ukrainian conflict as a war, Hollande said the two will go to Kiev on Thursday and then head to Moscow the following day with a proposal "based on the territorial integrity of Ukraine."

U.S. Secretary of State John Kerry is also in Ukraine, to show support for the government amid a fast-moving flurry of international diplomacy.
EU Diplomats Report New Sanctions Against 'Not Very Senior Or Prominent' Individuals And Entities
Reuters reports that EU diplomats have said that new sanctions against Russian and separatist-associated individuals and entities have been agreed upon.
Of the 19 individuals, including five Russians, and nine entities, of which one is Russian, none were very senior or prominent, EU diplomats added. The names were not immediately available. Foreign ministers will meet on Monday in Brussels to endorse the list, which adds to measures taken last year.
— Pierre Vaux
Rada Votes Overwhelmingly To Strip MPs Of Immunity
The Verkhovna Rada has voted, by an overwhelming majority to strip Ukrainian MPs of their immunity from prosecution.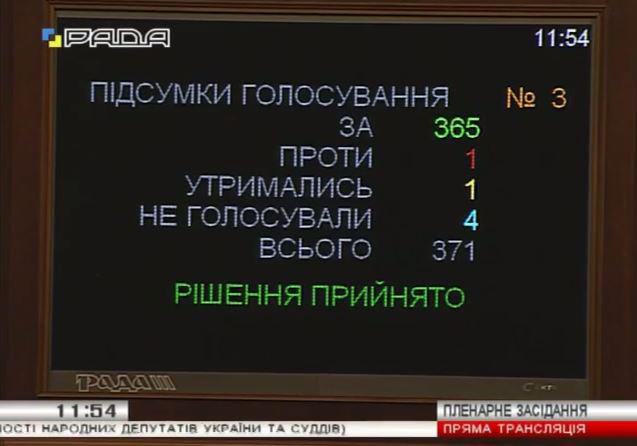 Votes for – 365; against – 1; abstained – 1; did not vote – 4.
Vadim Rabinovich is a member of the Opposition Bloc, made up of former members of Yanukovych's Party of the Regions.
Ukrainska Pravda reports that, as the bill entails a change to the constitution of Ukraine, in order for the bill to enter into effect, it must be approved by the Constitutional Court, and then again by no less than two thirds of the Rada.
The speaker of the Rada, Volodymyr Groysman, said that this final vote by the Rada may take place as early as September. 
Under the bill, a judge will not be able to order the detention and arrest of an MP without the consent of the High Court of Justice, except in cases where the suspected MP is in the process of committing, or has just committed a "grave, or extremely grave crime against life."
— Pierre Vaux