Photo by anastasiaserebryanskaya. "The line is like this at the mvideo store, people are sweeping everything from the shelves." The euro is at 100 rubles, as people line up in Kaliningrad for vacuum cleaners on December 16, 2014.
Welcome to our column, Russia Update, where we will be closely following day-to-day developments in Russia, including the Russian government's foreign and domestic policies.
The previous issue is here, and see also our Russia This Week story The Kremlin's Policy-Making on Ukraine is 'A Mess' and special features 'Managed Spring': How Moscow Parted Easily with the 'Novorossiya' Leaders, Putin 'The Imperialist' A Runner-Up For Time's 'Person of the Year' and It's Not Just Oil and Sanctions Killing Russia's Economy, It's Putin.
Russians headed to big stores last night to buy up electronics, appliances and food as the ruble continues to rapidly lose value.
Please help The Interpreter to continue providing this valuable information service by making a donation towards our costs‏.
UPDATES BELOW
---
Yevtushenkov, Head of Sistema, Freed from House Arrest: TASS
In a move that is seen as an attempt to boost confidence in business as the ruble fails to rally from its deep plunge, Russian authorities have freed Vladimir Yevtushenkov, head of Sistema, from house arrest, TASS reported.
"Today investigators added a decision to change the measures of restraint for Vladimir Yevtushenkov. He has made a pledge to appear to the investigator, said TASS, according to a source.
Yevtushenkov was arrested on charges of fraud and embezzlement in
November and Bashneft, an oil company he had bought at a reduced price
from Bashkortostan, was confiscated from him and nationalized.
TASS: Head of AFK Sistema Vladimir Yevtushenov released from house arrest.
— Catherine A. Fitzpatrick
Robbers Steal $10,600 Worth of iPhones in Moscow; Lay-Offs Rumored at LifeNews
Robbers in Moscow stole 700,000 rubles worth of iPhones today from three messengers who delivered the phones, LifeNews reported.
Some unidentified men in a rented apartment in Parusny Lane ordered a batch of the latest iPhone6 models and a few iPads, valued between $10,000 to $11,000 (depending on what time of day it was), then tied up the couriers and escaped in a car from the delivery service. Police are searching Moscow for the car.
The messengers were from the Video Shopper delivery service and are now being questioned by detectives.
The heist was a sign of increasing desperation as the rate of the ruble to the dollar and euro continues to fall, despite a slight rally today.
The crisis appears to be hitting even Russia's propaganda industry.
LifeNews is rumored to be laying off as much as 50% of their staff, according to several sources of TJournal, but the story has not been confirmed.
TJournal said that the decision to make the dismissals was made about two weeks ago, but the names of those to be terminated were announced only today, December 16.
The lay-offs were said to be dictated by NewsMedia's difficult financial position, which has even led to a cancellation of the New Year's office party, sources say. The office of the general director of NewsMedia had no comment, according to TJournal.
Andrei Mikheyev, head of the creative department of LifeNews, said on his Facebook page on December 12 that he would have to work without days off in 2015, and had recently been very worried "that I will work either 3/3 or 7/7" days of the week.
The Twitter feed of @AramAshotich of Aram Gabrelyanov, CEO of News Media, which owns LifeNews, has been uncharacteristically quiet in the last few days,with nothing about the lay-offs.
His last few tweets say that Ikea was raising its prices so it was a great opportunity for domestic furniture maker, and a retweet saying people should buy Russian, as the ruble was weakening, and the government should "back off business, nullify taxes and let it breathe" (December 15). He also tweeted that hardy perennial of Russian propaganda to distract the masses, the organ theft story (December 16).
— Catherine A. Fitzpatrick
Russians Hasten to Buy Gadgets, Appliances, Food
The popular LiveJournal blogger Ilya Varlamov has published photos he has gathered from Russian social media users and reports of a "Black Tuesday" that began yesterday December 16 and continues this morning December 17 — people rushing to buy electronics, appliances and food in stores that are staying open round-the-clock.
Varlamov says that Russia  seems to be "turning into a world-wide shopping center" and that many of the buyers are foreigners — likely from nearby republics.
With their rubles losing value fast, people want to sink them into things like computers or fur coats or refrigerators that they can either re-sell or keep for long-term use.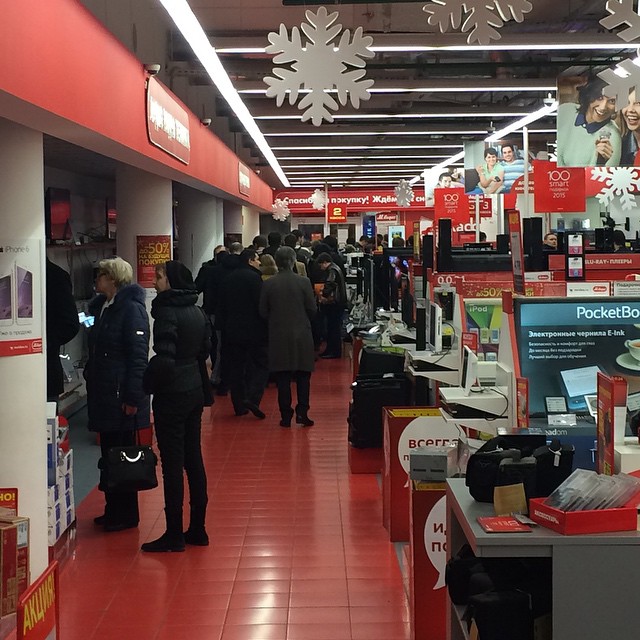 Photo by kampiler: M.video store on Mira Avenue in Moscow at midnight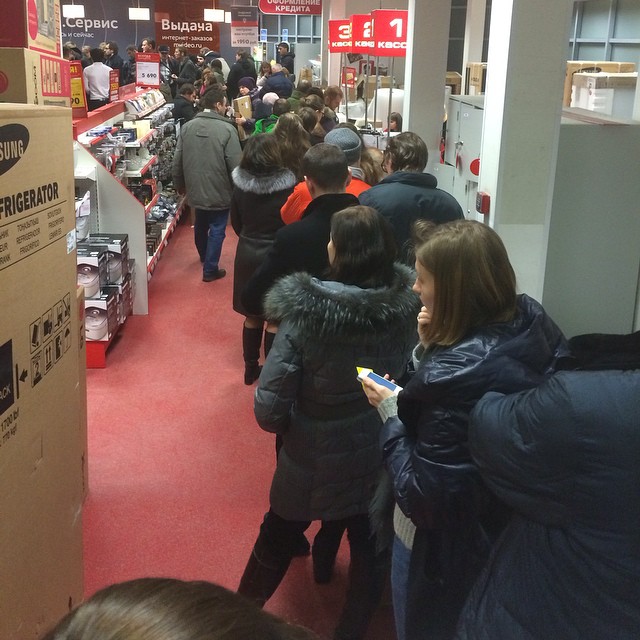 Photo by roman_dveri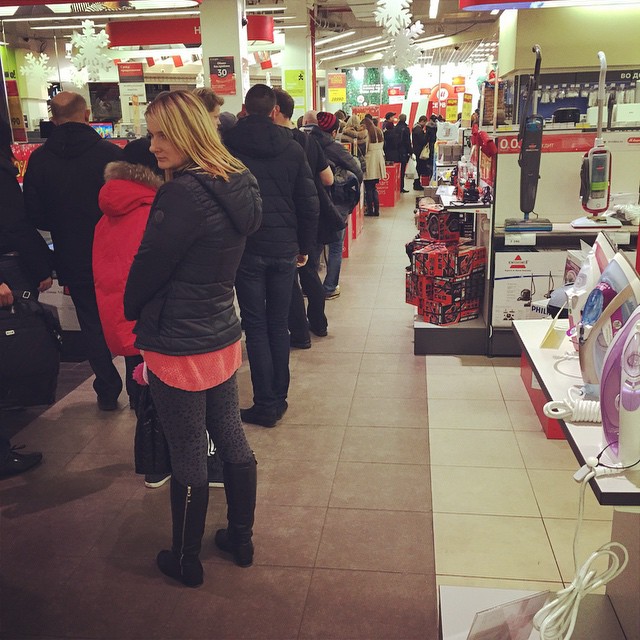 Photo by sidnancy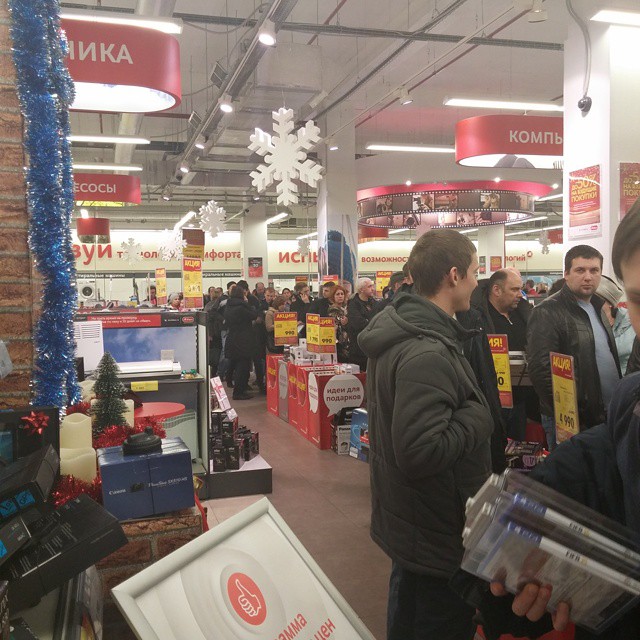 Photo by alexandrosevich: "9 pm. The end of the line can't be seen here. The line twists to the right and continues between the rows."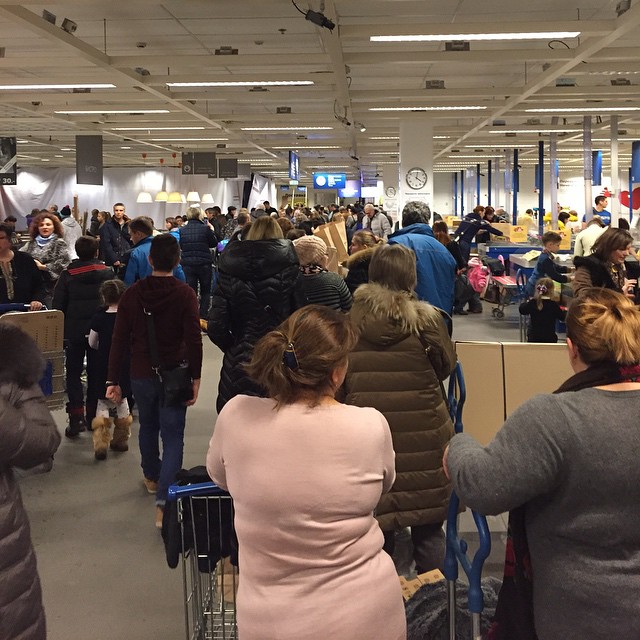 Photo by olga_lifestyle "I can't believe I spent 5 hours in line in Ikea."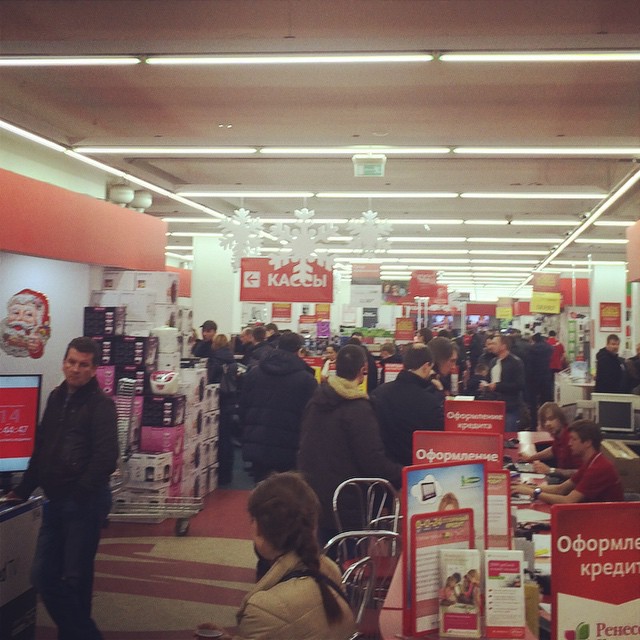 Photo by daniaradostina: "1:00 am. People are dumping their cash."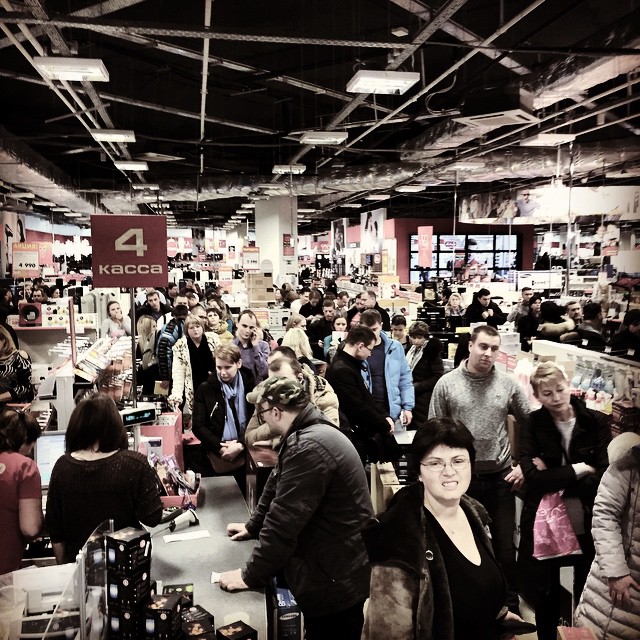 Photo by smailik_n "At #mvideo, something incredible. If not dollars, then #electronics, #crisis.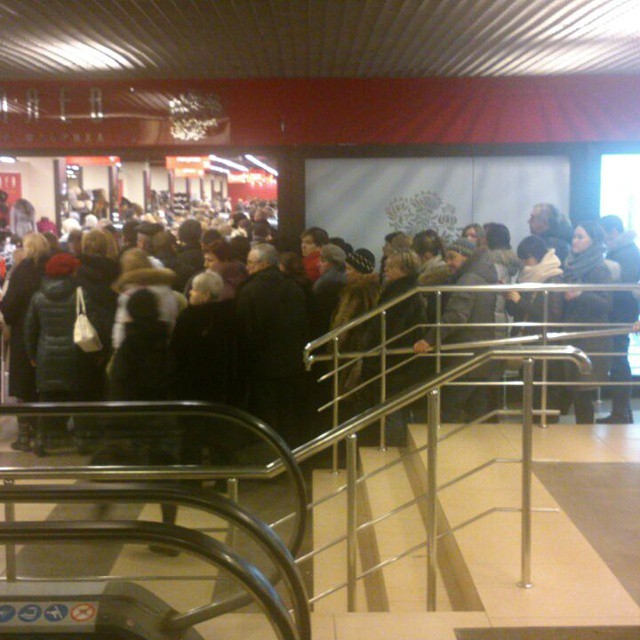 Photo by tanya_roock: "Crisis you say? Line for fur coats."
People have also been stocking up on staples like macaroni: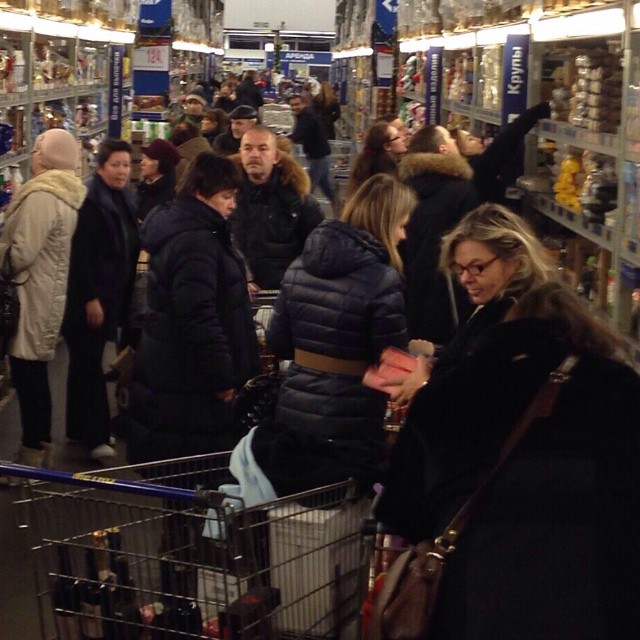 And some shelves with staples are emptying: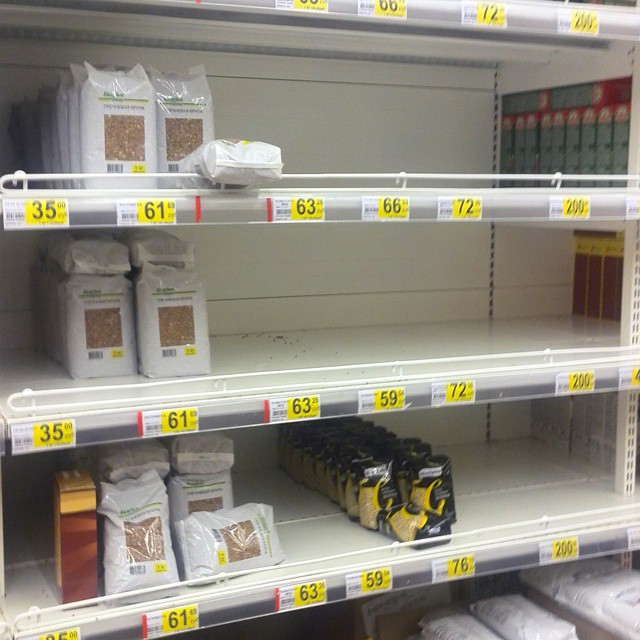 Photo by ashan: "#kashashortage #panic Either people have gone mad or they are hoarding it…"

These pictures can be somewhat misleading because they describe what is happening in a few big stores like Ikea or M.video, Russia's largest consumer electronics chain that are raising their prices because they already do business worldwide in dollars or euros. The pictures are also mainly from Moscow and other big cities. The crowds portrayed are wealthier, middle- or upper-class Russians who can afford to make a spontaneous purchase of large appliances or electronics like computers or iPhones.
For a lot of Russians, the ruble crisis hasn't hit them yet in this way because they don't think in terms of dollar prices — although many Russians will keep dollars and euros from historical memory of their value or to make a special purchase. Russians in the provinces have already been dealing with rising prices for months.
We are not yet seeing lines for many blocks as we did in the 1990s or the Soviet era, for basic food and necessities.
Russians have weathered crises like this before and fall back to barter systems, kitchen gardens, and the black market to survive. As Gazeta.ru put it:
We'll drink powdered milk, we'll exchange ham for soy sausage, we'll start calling not on smart phones made by Samsung or Apple but no-name Chinese phones. To be sure, we'll keep riding in foreign-made cars — assembled in Russia. 
Gazeta.ru talked to a number of experts and people in import businesses: 
"Not a single business even worth a little in Russia can get by without imported raw materials, parts, or electronics," sais Aleksandr Suslin, head of fiscal policy for the Economic Expert Group. Farmers agree with him.


"Approximately 40% of the milk in Russia is imported," admits Andrei Danilenko, chairman of the board of Soyuzmoloko, a milk concern. After the weakening of the ruble, some deliverers of milk and milk products will go broke, Danilenko figures.

They can survive, if the importers turn to deliveries of cheaper forms of the product, not whole milk, but prepared from dry milk or only half, with the rest oils. According to Danilenko, consumers have begun to change the structure of their diet back in October: they take milk products that are cheaper.
Gazeta.ru reported earlier this week that since August, prices have gone up 5% or more on many products, with cheese going up 10.6% and eggs 16.4%. As we reported earlier, kasha is now 76.1% higher in cost than the beginning of the year.
Various regions of the country are starting to feel the ruble crunch. In Kazan, bread is 4.95-5.6% higher this week; vegetables 4.9%-6.8% more expensive, and eggs 13.2%. Fish is as much as 18.1% higher in Kirov Region, for example, and in Ingushetia, a ban has been placed on sale of potatoes bought wholesale from other regions.
— Catherine A. Fitzpatrick