Screen grab of Vladimir Zhirinovsky on Rossiya 24 talk show 8 August 2014.
Updated Daily. Prime Minister Dmitry Medvedev sprang two restrictive Internet decrees on providers and users this week, one requiring presentation of domestic passports to use public Internet cafes or wi-fi, and the other mandating operators of social media to collect more user data and make it available to Russian intelligence agencies. Mysteriously, a group calling itself the "Initiative Group of Moscow Students" gained access to the heavily-guarded area by the US Embassy in Moscow — and also got on the roof of the Kiev Station — to unfurl racist and obscene banners against President Obama and Ukrainian President Poroshenko. Kharkiv Mayor Gennady Kernes installed two Russian businessmen as "honorary citizens" by a city council decree, sparking concerns of instability as Russian troops mass nearby on the border. A Moscow ultranationalist who tried to join the separatists in the "Donetsk People's Republic" was jailed and tortured on suspicion that he was a spy, but still supports the cause. Aleksandr Prosyolkov, a long-time Russian ultranationalist activist from Rostov-on-Don was killed outside Krasnodon in Lugansk Region by separatists he was trying to help with a load of humanitarian aid. The roots of the pro-Russian separatist leaders fighting in southeastern Ukraine actually go back to ultranationalist groups in Russia active in the last 20 years, says Russian expert Vladimir Pribylovsky.
Stories in last week's issue: A group seeking greater autonomy for Siberia found its web page, VKontakte community and Twitter account censored as well as an interview with its leader in slon.ru. A rally organized by Russian ultranationalists in support of the separatists fighting in southeastern Ukraine had a very low turnout. Young Russian men cheered a Russian tank convoy on its way to the Ukrainian border. Opposition leader Alexey Navalny expressed intolerance for Muslim labor migrants in Russia. Muslims in Russia celebrated the end of the holy fasting period Ramadan, with plenty of police in attendance. The British government announced the opening of a Public Inquiry 31 July into the poisoning death of defector Alexander Litvinenko.
For the previous week's issue go here for these stories: Opposition leaders Sergei Udaltsov and Leonid Razvozzhayev in the long-running Bolotnaya Case were found guilty by a Moscow court of "inciting mass riots" in protests against President Vladimir Putin on 6 May 2012 and sentenced to 4.5 years forced labor. Russian and Ukrainian bloggers confirmed the sighting of the Buk anti-aircraft missile system. The Russian Justice Ministry has entered five leading human rights groups into the registry of "foreign agents" against their will. The Russian Defense Ministry held a press briefing to present their claims about MH17, but their geolocation of a video showing a Buk by a billboard issued has been debunked as false.
Please help The Interpreter to continue providing this valuable information service by making a donation towards our costs‏.
---
Roots of Pro-Russian Separatists in Russia's Ultranationalist Groups
Vladimir Pribylovsky, a well-known Russian researcher of extremist movements in Eurasia, co-author with Yuri Felshtinsky of The Putin Corporation: The Story of Russia's Secret Takeover has documented the relationship between the separatist leaders fighting in the southeast of Ukraine and ultranationalist groups in Russia.
Svetlana Pavlova of Svoboda.org (the Russian-language service of the US-funded Radio Free Europe/Radio Liberty) published an interview with Pribylovskky about these connections in June and Pribylovsky added some details in a recent Facebook post.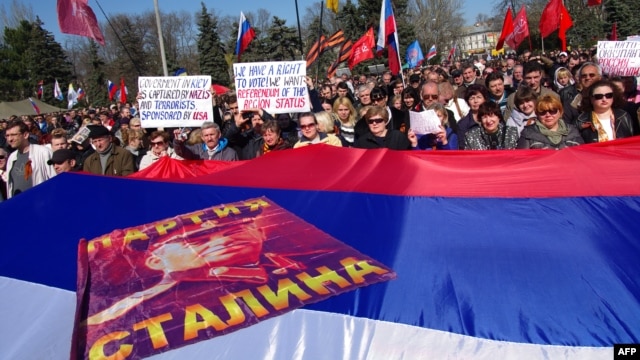 March in Odessa. Stalinism and extremism have come to Ukraine with separatists, often from Russia. Photo by AFP
The rally this past weekend organized by several dozen ultranationalist groups — which didn't attract more than 1,000 people — provided an opportunity again to see which organizations were allying with the separatists.
The Interpreter has provided a summary translation of the pieces:
Aleksandr Boroday, the "prime minister of the Donetsk People's Republic" is an associate of Konstantin Malofeyev, an Orthodox businessman and supporter of nationalist causes. He wrote for the ultranationalist newspaper Zavtra, published by Aleksandr Prokhanov.
Pavel Gubarev, "people's governor of Donetsk" is a member of the neo-Nazi Russian National Unity (RNE), founded by Aleksandr Barkashov, a karate trainer and bodyguard, in the 1990s. There is a photo of him at an RNE training wearing the group's uniform with its swastika-like insignia. Gubarev has not denied his membership in the RNE, but is said not to have held a leadership post in it. Gubarev was also involved in the Ukrainian Progressive Socialist Party led by Nataliya Vitrenko and ran in local elections. RNE is waning in Russia, but appears to have members fighting in southeastern Ukraine.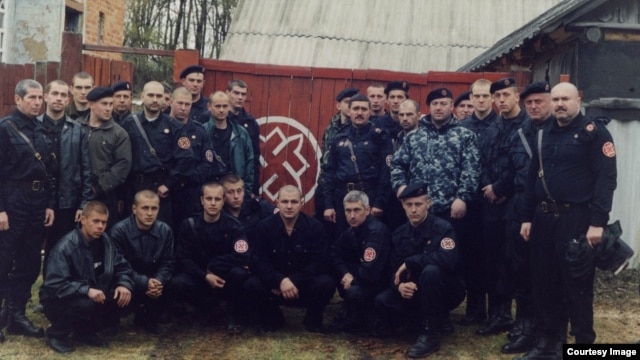 Gubarev, third from left, front row, at RNE training camp.
Igor Strelkov (Girkin), the commander of the Donetsk Militia and the "defense minister of the Donetsk People's Republic" is a re-enacted White Guardist, and wears the chevron of the Krasnov and Vlasov Cossacks who fought on the side of Hitler; Malofeyev wears it as well. An avid participant in historical re-enactments, said to be popular among monarchists and nationalists. He is close to circles that believe themselves to be the heirs of the Whites' movement.
Andrei Morozov (nick-name "Murza") headed a Russian neo-Stalinist nationalist group called "Red Blitzkrieg." He was infamous for throwing tomatoes at the liberal journalist Yuliya Latynina and politician Ilya Yashin, and was arrested and jailed for a time for cutting down the banner of the United Russia party. Morozov travelled to southeastern Ukraine to try to join the separatists, but then was arrested and tortured instead. After his release, he wrote a harrowing account of his experiences on his LiveJournal blog.
Aleksandr Prosyolkov, the aide to Pavel Gubarev killed last week in Krasnodon reportedly by fellow separatists from the "Lugansk People's Republic" in an ambush of his convoy was a follower of Aleksandr Dugin, the Eurasianist recently fired from Moscow State University for extremism.  Proselkov was also the leader of the Rostov branch of the pro-Putin All-Russian National Front.
Anton Rayevsky, now a separatist activist in Odessa, was a member of the St. Petersburg "Black Hundreds" and is covered in swastika tatoos (see LiveJournal blogger's expose with photos).
Pribylovsky comments that a state of affairs where the ultra-nationalists of Russia are drawing on the Nazi collaborationist past in Russia for inspiration has led Pavel Pryanikov, editor of Svobodnaya Pressa to quip "The Vlasovites are fighting the Banderovites" — the name that Russian propagandists give to the Ukrainians. Stepan Bandera collaborated with the Nazis at first and participated in the killing of Jews, then fought both Nazis and Soviets until he was jailed by the Germans, then was later released and assassinated by the KGB.
Other ties between Moscow groups and the separatists have been found by Western journalists.
Some of the leaders of Just Russia, part of the "loyal opposition" in the State Duma or parliament, such as Moscow mayoral candidate Nikolai Levichev have been noted for xenophobia and anti-semitic remarks.
There's also a report that the nationalist group Other Russia raised money for separatists with a stand by the metro this past weekend.
Translation: Other Russia is collecting humanitarian aid for Donbass at the Tretyakovskaya metro from 12:00 to 20:00.