Red Square, November 7, 2014. Photo by RIA Novosti
Updated Daily. – This Week's Issue:
– Ekho Moskvy Journalist Fired for Tweet about Death of Kremlin Administration Chief's Son, Broadcast on Donetsk Airport
– Russian Reserves Down 20 Percent As Ruble Tumbles
– US Prosecutors Open Money-Laundering Investigation of Putin Associate Gennady Timchenko
– Suspects in Murder of Moscow Region Policemen May Have Fought in the Donbass
– Actor Aleksei Devotchenko Found Dead In Moscow
– Russian Human Rights Activist Barred From Entry to Ukraine
– Russia Test-Fires Submarine-Launched ICBM In Barents Sea
– Low Turnout for 'Russian March,' High Turnout for 'National Unity Day'
– Facing Some Reprisals, Ultranationalists Split on Eve of 'Russian March'
– Thriving on Forums, Paid Kremlin Trolls Move Into New Offices
– The Value of the Ruble is Falling, Along with the Price of Oil
– Russian Censorship Agency Strikes Ekho Moskvy News Site, Removes Article on Donetsk Airport
– Russian Reporter Publishes List of 'Most Authoritative Russians' – from Human Rights Heroes to Victimizers
– Russian Actor with 'Press' Identifier Filmed Shooting at Donetsk Airport
– France Denies It Agreed to Ship Mistral to Russia; Bulava Nuclear Test Missile Launches
– Chechen Political Exilee Abducted, Tortured by Russian Agents in Strasbourg: Time
– Memorial Activists Recall Victims of Communist Regime — and Count Today's Political Prisoners
– Kremlin Spokesman Refutes Rumors of Putin's Ill Health
– Putin's Ratings Decline for First Time This Year
– Two Russian Mercenaries Sentenced For Fighting For Assad In Syria
– Anti-War Intelligentsia Protest TV Hatred Against Ukraine; Activists Launch Anti-Fascist Video Campaign
– Russian Nationalists Granted Permit to March in Moscow Suburb
– TV Rain Selects Most-Discussed Quotations from Putin's Speech
– At Valdai, Putin Lauded by Sycophants and 'Realists'
– Russian Soldiers Still in Ukraine; Kremlin Announces Compensation for Missing and Killed Servicemen
– Former Lenta.ru Editor Launches Medusa in Riga; TV Rain Evicted in Moscow
– Putin's Neo-Imperialism and the Price of Oil
Please help The Interpreter to continue providing this valuable information service by making a donation towards our costs‏.
---
US Prosecutors Open Money-Laundering Investigation of Putin Associate Gennady Timchenko
US prosecutors have opened a money-laundering investigation into prominent Russian businessman Gennady Timchenko, a close member of Russian President Vladimir Putin's inner circle, the Wall Street Journal reported, citing sources familiar with the probe.
The U.S. Attorney's Office for the Eastern District of New York, aided by the Justice Department, is investigating whether Gennady Timchenko transferred funds linked to allegedly corrupt deals in Russia through the U.S. financial system, the people said.

The prosecutors are probing transactions in which the Geneva-based commodities firm Mr. Timchenko co-founded, Gunvor Group, purchased oil from Russia's OAO Rosneft and later sold it to third parties, one of the people familiar with the matter said. Investigators have in recent months requested information about the prices Gunvor charged, the person said.
In March, Timchenko was placed on the list of persons sanctioned by US Treasury in punishment for his role in Russia's forcible annexation of Ukraine. But the investigation is looking at transactions that pre-date the sanctions, and may constitute money-laundering if the funds were found to have originated in illegal activity such as irregular sales of state assets like oil, said the Wall Street Journal.
Timchenko sold his stake in Gunvor the day before sanctions were announced.
Timchenko's friendship with Putin goes back to St. Petersburg, where Putin went to law school and served as an official in the St. Petersburg city council. They were members of the same judo club.
RBC.ru reported that Timchenko announced he had not received any notices about the start of the investigation by American prosecutors. The Volga Group issued a statement that that harassment of its shareholders in the Wall Street Journal was a "provocation":
Gennady Timchenko is not informed regarding an investigation conducted by the prosecutor and other investigative agencies of the USA with regard to its activity. It has not received official notices in this regard.

We view this publication as a provocation and can only call for extreme caution regarding the position expressed, particularly taking into account the political context which has emerged regarding Russian business in the American media.
The Volga Group, whose chief shareholder is Timchenko, manages Timchenko's assets and makes investments in financial services, industrials and construction, trading and logistics, consumer goods, and energy.
Timchenko said he was no longer involved with Gunvor and "cannot comment on the operations of the company neither in the current period or in the past."
Volga Group said Timchenko was not involved in trader operations and was not in the company's leadership. "
Gunvor said in a statement, "Any claims about violations regarding our trading activity are unfounded and completely false," and reiterated that Timchenko had no stake in the company. Gunvor has published a rebuttal to the Wall Street Journal article in English here.
In a blog post today, Russian anti-corruption activist Alexey Navalny said (translation by The Interpreter):
Finally they have taken action on Gangrene. It's good news, but as usual, I feel like saying: it's too bad the Americans are investigating, and not Russia.
"Gangrene" is a nickname Navalny has used for Timchenko ever since documents were published in 2010 by the New Times about Putin's wealth and construction of lavish personal palace, and a claim of a conspiracy in which various figures close to Putin took nick-names, and Putin himself was named "Mikhail Ivanovich," like the senior lieutenant in the legendary Soviet film, "Diamond Arm," about an operation to catch some smugglers. Said Navalny:
For 14 years, Gennady 'Gangrene' Timchenko has been robbing the citizens of Russia, having become the main middleman for selling our oil. He has earned billions at this and has bought up real estate all over the world. And he is being prosecuted by the Americans for money-laundering, and not Russia for embezzlement of these very Russian funds.
                                                                      — Catherine A. Fitzpatrick
Suspects in Murder of Moscow Region Policemen May Have Fought in the Donbass
Two men who reportedly fought with the Russian-backed separatists in southeastern Ukraine have been charged with murder of two traffic policemen in Moscow Region, Moskovsky Komsomolets reported.
Denis Konstantinov, 26, a native of Gorlovka in Ukraine, and Denis Zhukov, 28 a native of Lisichansk in Ukraine have been charged with the shooting deaths of two traffic policemen in Solnechnogorsky District of Moscow Region.
The two policemen on patrol were found dead the night of November 2 on the highway in Perepechino, a suburb of Moscow. Their colleagues noticed they had stopped responding to radio calls and went to look for them.
The cops were in the middle of writing up a ticket on the operators of the vehicle for driving while intoxicated when they were shot; one  policeman was found dead still clutching the ticket. The other was found to have a bullet missing from his gun, and may have tried to shoot back.
A third suspect, Mikhail Konstantinov of Krasnogorsky District in Moscow Region, 35, is wanted by police. According to investigators, Denis Konstantinov and Zhukov came to visit Mikhail Konstantinov. They are still trying to determine why they went to the nearby Solnechnogorsky District and whether they were involved in the murder of the traffic policemen.
According to one witness, the men may have been drinking and decided to visit prostitutes, as they had indicated such plans the previous day.
A fourth man in the car with them, a native of Ukraine, was wounded in the shoot-out with police and has been hospitalized. Police have ruled out a connection between this case and another incident in which two bodies were found in a burn-out car in Solnechnogorsky District.
Photos on the popular Russian social media site VKontakte show Denis Konstantinov posing by an armored vehicle in camouflage.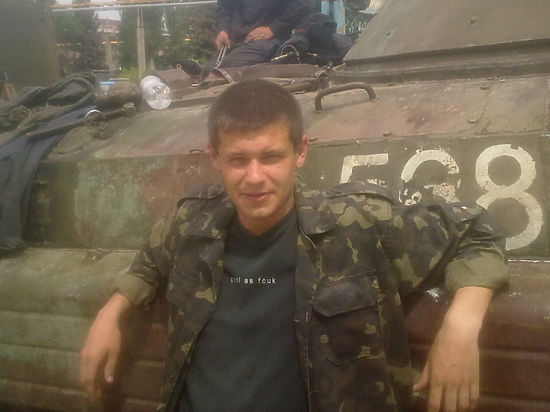 The same news story appeared on Komsomolskaya Pravda (KP), but seems to have been deleted.
A cached version in Google search says that the three men now being investigated for murder of the policemen fought in the Prizrak (Ghost) unit in the war, according to investigators.
The ticket in the dead policeman's hand showed the license plate number of a UAZ owned by a retired man in the village of Arkhangelskoye in Krasnogorsky District. Through him, detectives found the suspects who were operating the vehicle at the time of the murder.
KP was also able to find a number of recent photos of the suspects indicating they had been fighting in Ukraine.
Aleksey Mozgovoy, commander of the Prizrak battalion, told KP that the men had in fact served with him (translation by The Interpreter):
But then they went over to the Avgust Battalion, they
couldn't take our harsh discipline. I recall Mikhail Konstantinov well.
The guys called him 'Bear,' he served with us as a sniper. In July, he
was ordered to go to the Prapor (Private) division, was wounded,
treated, then returned to service. I can't say anything in particular
about the other two. Yes, they served, then they left.
Vladimir Demchenko, author of the article in KP, notes further:
I was in the Prizrak Battalion in late July of this year. Then the
division was based in Lisichansk in Lugansk Region. Perhaps I even saw
one of the trio mentioned. Discipline in the battalion really was rather
harsh. But nevertheless, the fighters didn't complain. But later
Prizrak split — some of the fighters went to the Avgust Battalion in
late summer. It is commanded by a former deputy of Mozgovoy's, Aleksandr
Kostin.

So it turns out that people who really took part in the battles of the militia are suspected of shooting policemen.
"Militia" is the term used by the separatists to describe Russian-backed fighters.
Actor Aleksei Devotchenko Found Dead In Moscow
Russia's LifeNews reports that Aleksei Devotchenko, a celebrated film and theatre actor, has been found murdered in Moscow.
Devotchenko's body was found "lying near his front door in a pool of his own blood" by a close friend, the report says.
The Russkaya Planeta news site reports that a source in law enforcement has said that the main scenario being considered at the moment is murder. All of the windows in Devotchenko's apartment were broken and traces of blood were found in his room.
LifeNews, which is widely suspected of close ties to Russia's security services and often has the first reports from the scenes of terrorist incidents and accidents, reported that Devotchenko's friend had told them that the last time he had seen the actor, he had been drunk. Devotchenko's friend helped him to recover and visited the next day, only to find him dead.
Devotchenko had been an active figure in political opposition to the Putin government. In March this year, he signed an open letter by the film union KinoSoyuz in support of Ukraine, titled "We are with you!"
The actor had, in fact, been attacked beforehand.
On January 30, 2012, Devotchenko was beaten, "almost killed" in his own words, by two Dagestani men in the Shabolovskaya metro station in Moscow. According to Devotchenko, neither the police nor station attendants intervened to help him. The men, he wrote, were offended by his earring.
In 2010, Devotchenko wrote an appeal to Russian artists to cease accepting money from the state, calling for them to protest against the government.
Here is a translation by RFE/RL's Robert Coalson:
Can We Do Anything?

Dear friends and colleagues, actors, musicians, artists! On March 20 in many Russian cities there will be a national protest action against the criminal, deeply depraved, and cynical regime that was established in our country 10 years ago. Many of us, I think, support the demands and arguments that will be voiced on March 20. But at the same time we are shrugging our shoulders: "Can we do anything? Should we also go out into the streets?"

I believe it is a personal choice for everyone whether to go out or not. After all, doing so is by no means obligatory. Some will feel the urge to do so and others won't. We are all different in terms of our convictions, our temperaments, our psychological and physical makeup. But there are things that can unite us in our drive to resist the shameful situation that has taken shape in Russia. Understanding fully the naivety of my suggestions, I nonetheless present them here. What can people who have tied their fates to art and culture do?

Refuse to take part in scenes in ultra-patriotic, propagandistic, chauvinistic, anti-Semitic, or pro-Stalinist feature films and television projects;

Refuse to take part in recording soundtracks for semi-official, agitprop documentaries and clips;

Refuse to participate in any theatricized celebrations organized by the Kremlin, St. Petersburg's city hall, the United Russia party, and so on;

Refuse to participate in any broadcasts by the lying and tendentious television channels Channel One, Rossiya, NTV, or Moscow's TV Tsentr;

Refuse to show up at high-society receptions and banquets attended by "public servants";

Refuse to take part in government shows at all levels and, even more importantly, in the corporate celebrations of such monsters as the Federal Security Service, the Interior Ministry, LUKoil, Gazprom, and so on;

Refuse to participate in ceremonies to congratulate governors and mayors on their birthdays, anniversaries, on the births of grandchildren, and so on;

Refuse to give interviews to pro-Putin/Medvedev print media.

This list, of course, could go on. Of course, many of you will ask: "How are we going to earn a living? You know what they pay in theaters that aren't servile to the authorities." I know – 7,000 to 10,000 rubles a month maximum. I also know that for 10 minutes at some sort of Kremlin party you can earn as much as you'd make working in a theater for a year. I also know that many of you will shrug and say, "Money doesn't stink." Well, I think this money DOES stink – it smells of dank prison cells, of neglected hospitals and homeless shelters, of the acrid smoke of burnt-out architectural monuments and historical buildings and night clubs and homes for the elderly. It smells of the boots of the OMON riot police.

As for earning money…. There are many honest, professional means and this isn't a secret to anyone. You can earn your way with solo concert programs; you can create original plays based on high dramaturgy that has been tested by time; you can appear in films that have no ideological or propagandistic subtext; you can take part in radio productions or the dubbing of foreign films, although this work is getting scarce.

Excuse me, please, for taking the liberty of writing all this, but God knows it is not a declaration or a manual for action. It is just my (and only my) personal appeal to everyone among us in the cultural sphere.

And maybe we can answer the banal and trite Soviet-era question, "Whose side are you on, Mr. Master of Culture?" A master of culture is always on the side of his audience, of his culture, and of his conscience. Thank you for your attention. For Your Freedom; For Our Freedom.
Pierre Vaux
Russian Human Rights Activist Barred From Entry to Ukraine
Radio Free Liberty/Radio Free Europe reported today that a Russian human rights activist has been barred from entry to Ukraine:
The Moscow-based Memorial Human Rights Center said on November 5 that Ukrainian border guards did not allow Vitaly Ponomaryov to pass through passport control at the airport in the western city of Lviv on November 4.
Ponomaryov arrived in Lviv to attend November 6 court hearings on the cases of two Russian citizens, who applied for asylum in Ukraine.
Could this be a name mix-up as occurred last month between TV director Dmitry Kiselyev and TV host Yevgeny Kiselyov?
There's Vyacheslav Ponomarev, the "people's mayor of Slavyansk" who was part of the Russian-backed separatist leadership, rumored to have been executed by his fellow leaders in July, although there have been some sightings of him since then.
Memorial issued a press release on its web site about the denial of entry, saying that Olena Vishnyakova, captain of the Ukrainian border service said Ponomaryov was denied entry "by decision of the authorized state agency of Ukraine" — without any indication which agency this was. Ponomaryov commented:
"In more than 20 years of work in journalism and human rights, several times I have encountered a deny of entry due to my professional activity. The bans were introduced by dictators' regimes in the countries of Central Asia. It is regrettable that an analogous problem has come up in Ukraine. The border services agents who discovered my last name in a data base themselves don't have information what caused this ban. They asked if I had ever faced administrative action. My answer was unambiguous in this regard: I have never violated any laws of this country."
Memorial has called on Ukraine to provide more detailed information about the incident which they regard as unlawful.
Memorial Human Rights Center has monitored human rights in Ukraine and issued a number of reports critical of the Ukrainian government for excessive use of force, but also debunking Russian government disinformation.
For example, Memorial issued a report questioning Russian state TV claims that Tochka U missiles were used on Donetsk on October 20
by Ukrainian forces, comparing their experience in Chechnya with these
missiles, and reports from Donetsk, which could not be confirmed.
Memorial has also published reports exposing the abuses of separatist fighters.
Catherine A. Fitzpatrick
Russia Test-Fires Submarine-Launched ICBM In Barents Sea
RFE/RL reports that Russia has test-fired a Sineva intercontinental ballistic missile (ICBM) in the Barents sea.
The launch, from Tula, a Delfin-class (NATO reporting name Delta-IV) submarine, is, they report, the second submarine-launched ICBM test in the past week. 
The Sineva ICBM was aimed at a testing range in the Kamchatka region, on Russia's northern Pacific coast.
Tula has also conducted tests of the reported replacement for the Sineva, the Layner missile. According to Barents Observer, the submarine test-fired a Layner in September, 2011.
Pierre Vaux