Photo via 62.ua
Ukraine Day 1093: LIVE UPDATES BELOW.
Yesterday's live coverage of the Ukraine conflict can be found here.
An Invasion By Any Other Name: The Kremlin's Dirty War in Ukraine
---
Separatist Spokesman Tells Izvestia Ukrainian Soldiers Take Drugs That Defy Decapitation
Eduard Basurin, 'deputy commander of the armed forces' of the so-called Donetsk People's Republic (DNR), has given an interview to Russia's Izvestia, in which he claims that Ukrainian troops defending Donetsk Airport were taking drugs that effectively transformed them into zombies.
Basurin has form for bogus claims, ranging from mysterious "negroid" mercenaries among the Ukrainian ranks, to the death of a fabricated girl.
BBC News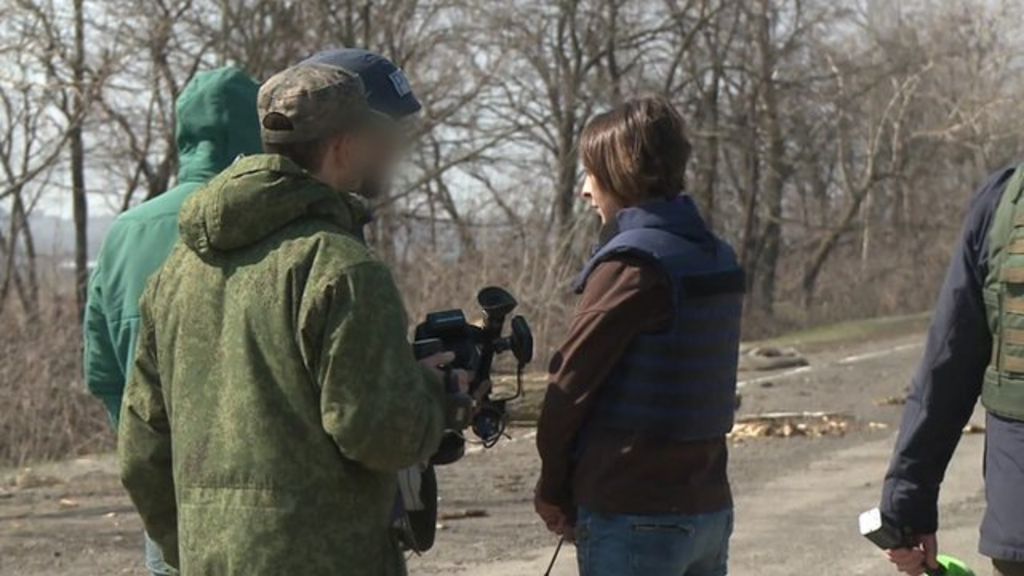 Set as default press image
Reports of 10-year-old killed in Ukraine 'made up' – BBC News
Natalia Antelava investigates the story of a 10-year-old girl reported killed in the ongoing conflict in eastern Ukraine – and is reminded that truth is the first casualty of war.
Feb 14, 2017 16:12 (GMT)
But Basurin's claims in the Izvestia interview, published today, reach a new level of absurdity.
According to the DNR military spokesman, Russia-backed forces scouring the ruins of Donetsk Airport after it fell in January, 2015 found "flasks labelled aqua vitae," supposedly left by the defeated Ukrainian defenders, who, having held out for months under devastating daily fire, were popularly known as "cyborgs."
Basurin claimed that laboratory tests revealed that the flasks contained a powerful psychotropic substance that "completely shut off sensations of pain and fear."
"A man under the influence of such a substance does not fall when shot. You can fire off a whole clip but he'll come at you… They'll go all out in attack. You kill him, he comes. You shoot at him – he falls, stands up and goes again."
The separatist spokesman even said that a soldier using the drug could still try to get up and run after decapitation.
Needless to say, we're not going to bother trying to verify the existence of a drug that can allow headless corpses to stand up and charge into battle.
— Pierre Vaux
Shelling Near Donetsk And Mariupol; Convoy Headed Towards Lugansk Front Line
The Ukrainian Ministry of Defense has announced that one Ukrainian serviceman was wounded yesterday.
According to MOD spokesman Colonel Oleksandr Motuzyanyk, the soldier was wounded in combat in the village of Shirokino, on the Azov coast just east of Mariupol.
The Ukrainian military released footage of marines operating in this area yesterday:
The Ukrainian marines claim that every evening brings small-arms fire, followed by mortar, tank and artillery shelling.
According to the Ukrainian military, Russia-backed forces conducted 72 attacks yesterday, using heavy artillery near both Mariupol and Donetsk.
In the Mariupol area, the military reports that positions near the village of Vodyanoye came under fire from 122-mm artillery, tanks, BMP infantry fighting vehicles and BTR armored personnel carriers.
Mortars were reportedly used against Shirokino and Pavlopol, while positions near Lebedinskoye and Bogdanovka came under small-arms and grenade-launcher fire.
Further fighting was reported today near Starognatovka, to the south of Bogdanovka:
Translation: All morning, periodically heard celebratory gunfire, a little louder, a little softer…
Translation: They're banging infrequently, but loudly…
Translation: The booming has become more frequent and powerful…
In the Donetsk area, the Ukrainian military reports that yesterday saw Krasnogorovka, to the west, Nevelskoye, to the northwest, and Avdeyevka, Verkhnetoretskoye and Troitskoye, to the northeast, all come under mortar fire. Peski, just west of Donetsk Airport, was reportedly shelled with 122-mm artillery.
Again, there are reports on social media of fighting in this area this afternoon: 
Grenade-launcher and small-arms attacks were also reported in the Gorlovka area, near Zaytsevo, Novoluganskoye, Novoselovka Vtoraya and Luganskoye. 
Translation: Donetsk 16:45 Kiev time, occasional, but powerful bangs in the direction of the Avdeyevka industrial park (north)
Translation: Towards evening the rumbling intensifies. The Kalininsky district can hear the "ceasefire."
Translation: Rumbling in the west at 17:15 Kiev time. Possibly from the bypass. As if it's getting close to us in Vostochniy #Makeyevka .
Finally, in the Lugansk region, the Ukrainian military reported that positions near Krymskoye, Valuyskoye, Novoaleksandrovka and Stanitsa Luganskaya were all shelled with 82-mm mortars.
Interestingly, this video was uploaded this afternoon, showing a column of armored personnel carriers and military trucks headed north along 30 Years of Victory Street in the northeast of separatist-held Lugansk city:
The video appears to be new and we can verify the reported location by comparing the footage with satellite imagery from Google Earth and a
geotagged photo
from Panoramio:
Worryingly, this convoy may well be headed towards the front line on the banks of the Seversky Donetsk river, opposite Stanitsa Luganskaya and Valuyskoye:
— Pierre Vaux
Donetsk State Chemical Plant Rocked By Another Powerful Blast This Morning
Residents of separatist-held Donetsk reported a powerful explosion just before 9:00 this morning.
The blast reportedly came from the site of the Donetsk State Chemical Products Factory (DKZKhI).
Residents' photos republished by 62.ua (note the embedded video is mislabelled and old) and Ukrainska Pravda:
The so-called Donetsk People's Republic (DNR) claims that the DKZKhI plant was shelled by Ukrainian forces using 152-mm artillery.
But according to some reports, the blast came from a repair shop or an explosives storage warehouse on the edge of plant:
This is not the first time that the DKZKhI plant has been the scene of a powerful blast.
Massive explosions also took place on February 9, 2015 and October 20, 2014.
Andriy Lysenko, then spokesman for the Ukrainian National Security and Defence Council, claimed that the October blast had been caused by an accident during explosives manufacturing. 
The Russian-backed separatists, however, claimed that Ukraine had conducted a ballistic missile strike on the site.
That explosion was immensely powerful. The shock wave even caused part of the facade of the Donbass Arena football stadium, in the city centre, to collapse.
According to the DNR, one civilian was killed this morning and an unspecified number of others wounded.
There were also unconfirmed reports of a blast in Debaltsevo today, at around 12:00, however no corroborating reports or evidence have emerged so far.
— Pierre Vaux