Former Soviet President Mikhail Gorbachev September 2013 at the 20th anniversary celebration of Green Cross Internaitonal, an organization he founded. Photo by AFP/Fabrice Coffrini
Updated Daily. This week's issue:
– Soldiers' Mothers Activist Arrested, Had Pressed Cases of Russian Soldiers in Killed in Ukraine
– Gorbachev Confirms There Was No NATO 'Non-Expansion' Pledge
– Poland Arrests Russian Lt. Colonel and Lawyer on Suspicion of 'Espionage'
– Two American Journalism Professors Detained in St. Petersburg at Workshop
– Harassment Continues of Pskov Legislator Who Investigated Soldiers' Deaths
– Russian Liberals Criticize Navalny's Interview on Crimea, Putin
– Ekho Moskvy Interview with Navalny: 'We Have to Stop Sponsoring the War'
– Members of Presidential Human Rights Council Raise 'Information War' Against Ukraine, Crimean Tatar Disappearances with Putin
– Sakharov Center in Moscow Attacked During LGBT Meeting
– Poitras Made No New Interviews with Snowden for 'Citizenfour'; He Refused Her in Moscow
– Hundreds of Russians Poisoned, 25 Dead in 'Spice' Drug Epidemic
Last week's issue:
– Belarusian Dictator Challenges Putin's 'Russian World' With Support of Ukrainian Integrity
– Dozens of Ukrainian Soccer Fans Detained in Belarus for Anti-Putin Song
– Russian Justice Ministry Files Lawsuit to Liquidate Russian Memorial Society
– What's Going On With Major-General Igor Bezler of the 'Donetsk People's Republic'?
– Russian Journalists Mark 8th Anniversary of Assassination of Anna Politkovskaya
–5 Policeman Killed Detaining Suicide Bomber in Grozny; Terrorist Identified
–Russian Ultranationalist Web Site Owner Summoned to Police in 'Extremism' Investigation
– Despite Further Refutations Even From Separatist Leaders, Mass Graves, 'Organ-Trafficking' Disinformation Still Circulates
– OSCE Representative on Human Trafficking Purveys Russian Propaganda Story of 'Organ-Trafficking' in Ukraine
– Veteran Russian Human Rights Group to Curtail Operations
– Putin's Girlfriend to Head Russian Media Group
– Russian State Media Continues to Distort News of Mass Graves in Ukraine
– RT Plagiarizes Breitbart Story On Obama's Intelligence Briefings
– Russian Ruble Hits All-Time Low
– The Mystery Surrounding the Death of Russian Journalist Andrei Stenin
– Pro-Government Russian Groups Rally at War Memorial to Denounce Ukrainian 'Fascists'
– Russia Accuses Ukraine of Atrocities; Media Distorts OSCE Report
Please help The Interpreter to continue providing this valuable information service by making a donation towards our costs‏.
---
Russian Liberals Criticize Navalny's Interview on Crimea, Putin
In an interview with Ekho Moskvy
which we excerpted earlier today
, Alexey Navalny said that while the Crimea was annexed with "outrageous" violations of international law, the reality is that "Crimea is now a part of the Russian Federation." He said neither Russians or Ukrainians should have illusions about this.
Understandably, both Ukrainians and liberal Russians were unhappy with Navalny's position — which is actually one common to to many opposition people but which has been opposed by significant numbers.
Boris Vishnevsky, a deputy of the St. Petersburg city legislature from the Yabloko party, posted a blog on Ekhy Moskvy criticizing Navalny (translation by The Interpreter):
In other words, what is stolen is already legalized, and will not be given back. And there isn't the slightest condemnation of the thievery. And an unambiguous refusal to answer the question of whether if he were to become president, whether he would return what is stolen…

When various individual representatives of the Russian government turn out to be thieves, they hardly expect to get any justification from that consistent warrior against corruption, Alexey Navalny. They especially don't expect to get reference to "realities" enabling them to keep what they have stolen and not give it back "in the foreseeable future."

But when the entire Russian government acts this way, the approach turns out to be fundamentally different.

That's sad: despite the house arrest (related to absolutely unjust accusations) Navalny retains a serious influence over public opinion, and his voice among those who are categorically against the annexation of the Crimea would be very important.

But it is predictable: as a politician whose support group in the elections for mayor of Moscow in 2013 consisted of a strange mixture of liberals and nationalists, Navalany doesn't want to lose any part of this mix.

For Kristina Potupchik, a member of the Russian Federation Public Chamber, an advisory group of civil society figures, a number of statements Navalny made on the opposition and Putin stood out as problematic. Potupchik left her post as secretary of the government-run youth organization Nashi [Ours] last year. The Interpreter has translated some excerpts she mentions in her blog post, with her emphasis in bold. Asked about the wide variety of his constituents, Navalny replied:
Navalny: This is normal. People do not think as monoliths, any of us, if we now begin to segment our political views, in each of us we discover the idiotic expression "Putin's latent electorate," but nevertheless, in a certain system of views, both you and I will coincide with Putin 146%. There is nothing terrible about this. We don't try to divide, to construct here in general some black and white world. We say that without a doubt, the nuances are fairly obvious. The current regime is taking the country in the wrong direction but to say that only those people who have not the slightest sympathy toward Putin belong to the protest movement seems incorrect to me.

Navalny: Putin, without a doubt, is an outstanding political figure and he has achieved great ability in the area of manipulating public opinion. But it would be stupid to deny that.
Potupchik also noted that when asked about increased proximity of church and state, that he "didn't see anything bad in the idea itself," noting that all American presidents went to church and had spiritual advisers.
And asked about people with the St. George ribbons, which used to be only used for World War II memorial occasions, but are now ubiquitous among Russian nationalists and Russian-backed separatists, Navalny said:


People with the St. George ribbon of course are not "Colorados" for me, they're people with the St. George Ribbon. As a person again from the Soviet Union, who used to go to Gorky Par with my grandmother who fought at the front and who looked for people from her regiment, I treat this normally.
"Colorado" is a pejorative term used about Russian nationalists with the orange-and-black ribbons because they look like Colorado beetles.
Potupchik then fumed:
That is, Crimea is ours, and Putin is a great president and the St. George ribbons are a symbol of a great victory. An amazing flexibility of thought, you don't even have to look here where he contradicts himself, because anyone who has followed Navalny even a little in the last few years will at random recall several examples where he contradicted himself.

And it is precisely for that reason that everyone whom he has so happily ascribed as his allies — Yabloko, nationalists and others, with various degrees of openness despise and criticize Navalny. On the other hand, what has he left to do, if he can only add mythical support and allies — his videos with "open appeals" don't collect even 50,000 views; his open allies have fled to various foreign countries and criticize Putin from there. Ukrainians, by the way, discuss in unison what a traitor to their national interests is Navalany, now that he has publicly announced that #CrimeaisOurs. If the opposition member intends to write his autobiography some day, I recommend an appropriate title: "How to lose all your friends and force people to hate you."
Ekho Moskvy Interview with Navalny: 'We Have to Stop Sponsoring the War'
Russian observers were surprised when Aleksei
Venediktov, editor-in-chief of Ekho Moskvy, the independent radio and web site,
said he was interviewing Alexsey Navalny, the opposition leader and
anti-corruption blogger who is currently under house arrest related to a number
of pending criminal trials which are believed to be fabricated for his
dissident activities.
 Navalny (L) and Venediktov (R) at Navalny's apartment.
Under the original terms of Navalny's house arrest, he was not
supposed to use the Internet or give interviews to the media, and in fact his
political enemies have complained to authorities that his Internet presence
remains vigorous, due to his wife and colleagues at the Anti-Corruption Fund.
But Venediktov answered in several tweets that in
fact Navalny now had the court's permission.
Translation: "@solovyev_v @gdekak @navalny I beg your pardon if I missed this but how did you get around the house arrest and the ban on communication?" It was permitted by the court.
Translation: "@vius_rus: @aavst @gdekak But Navalny was allowed to give the interview?" Yes, I have a decree from the court in my pocket.
This opened up the question of whether the Kremlin
somehow found it to their advantage for Navalny to speak to the press now.
Ekho Moskvy
itself has faced some encroachments on its independence this year when a new
general director, Yekaterina Pavlova, the wife of a deputy to Dmitry Peskov,
the presidential administration spokesman, was installed, amid concerns that
she would bring more conformity. Ekho Moskvy was forced to drop the blogs of
Navalny, Boris Nemtsov, and other controversial opposition figures under threat
of their entire web site being closed down by state censors.
Interestingly, on 7 October, Pavlova quit her job at
Ekho Moskvy to take a new position at PMBC (Prof Media Broadcasting
Corporation, Interfax reported. Ekho Moskvy is owned by Gazprom Media. The new general director is
not yet appointed, but this will be decided at a shareholders' meeting on
December 23, where minority shareholders plan to nominate the previous general
director Yury Fedutinov, Venediktov told Interfax. Did the interview become possible in the interregnum?
In fact, the Ekho Moskvy interview wasn't the first under somewhat lighter terms of house arrest; Navalny was given permission last month to speak to journalists and uploaded to YouTube on 1 October a direct appeal for his latest anti-corruption campaign which already has 47,000 views.
He then gave his first interview 9 October to slon.ru's  Ilya Shepelin and Ivan Davydov  in which he spoke mainly about the projects of his Anti-Corruption Fund and the effort to expose the ill-gotten gains of various government officials, using Art. 20 of the UN Convention Against Convention on "unlawful enrichment".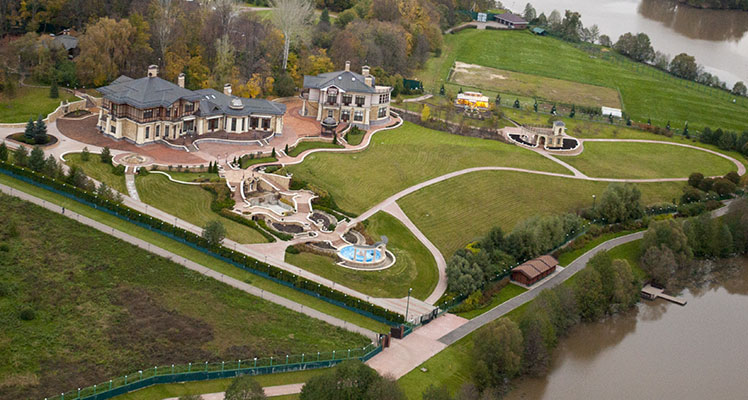 Photo of an official's dacha which Navalny promises to expose as part of an anti-corruption campaign starting October 25.
Asked by slon.ru about 'Novorossiya", the Russian-backed separatist movement in southeast Ukraine, Navalny described it as "nostalgia for the USSR" and said regarding Putin's role, that even in democratic countries, rulers often "raise their ratings" with foreign wars, as he believed Bill Clinton did with Kosovo:
I am against imperialism in principle. I do not support the war in Ukraine in any way. Because this is a major European country, the majority of the population of which always had a great attitude toward us. A friendly people of 40 million — that is a strategic asset. Who else would we befriend, if not Ukraine? Zimbabwe? China, where on maps popular among Internet users, half of Siberia does not belong to us.
In yesterday's Ekho Moskvy interview with
Navalny,  Venediktov and his deputy, Lesya Ryabtseva probe further on Navalny's perceptions of Russia's protest movement and his attitudes toward Ukraine. The audio can be found here, and
the text in Russian here.
Ryabtseva asked about the failure of the protest
movements since 2012, and Navalny said that by contrast with the previous 10
years, there was still more involvement from people.
Navalny said his allies were anyone who envisioned a
European path for Russia's development, even if he criticized them, so he could
ally with nationalists, leftists, rightists, Mikhail Khodorkovsky, Mikhail Prokhorov
and the Yabloko party, as all supported the battle against corruption.
He blamed the government's persecution rather than lack of unity among diverse groups for the protest
movement's failure; out of 45 people in the opposition Coordinating Committee,
15 were now facing criminal charges, searches, and interrogations. Despite the
attrition in the number of people willing to come to demonstrations after the Bolotny trials of demonstrators, Navalny still sees himself as a leader of a
movement and still hopes to keep working.
Venediktov asked a lot of questions about Navalny's
attitude toward various opposition figures from Eduard Limonov to Ksenya
Sobchak and drew him out in particular on whether he saw Mikhail Khodorkovsky
as a rival or an ally; Navalny replied that they were allies because of their
mutual desire for Russia's European path. But it was unrealistic to speak of
them as presidential candidates for parliamentary elections in 2016 and
presidential elections in 2018 as Khodorkovsky lives abroad and Navalny is
under house arrest. (Note: The Interpreter is a project of the Institute for Modern Russia, directored by Mikhail Khodorkovsky's son Pavel Khodorkovsky.)
Readers sent in questions, and Navalny's remarks on Ukraine attracted the most
discussion.
Translation: "@camerakid: @aavst @gdekak ask about Crimea!" Of course.
A popular slogan since the forcible annexation of Ukraine is "Krym Nash!" (Crimea is ours!).
Excerpts translated by The Interpreter:
Venediktov: Is Crimea ours?

Navalny: Crimea belongs to the people who live in
Crimea.

Venediktov: Don't evade the question. Is Crimea
ours? Is Crimea Russian?

Navalny: Crimea, of course, now de facto belongs to
Russia.

Venediktov: So you think…

Navalny: I think that despite the fact that the Crimea
was seized with outrageous violations of all international norms, nevertheless,
the realities are such that Crimea is now part of the Russian Federation. So
let's not kid ourselves. And I advise the Ukrainians not to kid themselves,
either. It will remain part of Russia and will never become part of Ukraine in
the foreseeable future.

Venediktov: So in this sense the question was great.
If you were to become president, would you try to return the Crimea to Ukraine?

Navalny: What, is the Crimea a ham sandwich or
something that you can take and give it back? No, I don't believe so.

Venediktov: It turns out so, yes.

Navalny: From the perspective of policy and
restoration of justice, what must be done now in the Crimea is to conduct a
normal referendum. Not like what they had, but a normal one. And how people
will decide, that's how it will be. I think we all can guess approximately what
the results of that referendum could be. They will decide as they decide. I think
that in fact, for Ukraine, despite the hurt they feel and so on, this is a
plus. It is a great fortune that Crimea, with its absolutely pro-Russian
people, with its conservatively-minded population which does not accept their
anti-corruption revolution, which does not accept the desire to go into Europe,
has left them. It has lost 2 million voters who would have put the breaks on
that movement. Therefore, it is, on the one hand a win situation. In politics,
this will bother us, Ukraine and Europe. And unfortunately, Crimea is doomed to
be something like Northern Cyprus, Turkish. Now it is an uncertain territory
which de facto it is understood to whom it belongs, but is not recognized by
anyone.

Ryabtseva: Regarding the people. Russians and
Ukrainians — are they one people?

Navalny: You're pushing me into an international
scandal.

Ryabtseva: I am pushing you into the truth.

Venediktov: We're asking your opinion.

Navalny: The opinion of a person who spent a lot of
time in Ukraine, and has relatives and so on. I think that this perspective
will provoke some sort of monstrous outrage in Ukraine, for whom it is
fundamental to prove that we are different people. I don't see any difference
whatsoever between Russians and Ukrainians.
Later the discussion turned to Russia's war against
Ukraine.
Ryabtseva: How can we get out of this idiotic crisis
with Ukraine?
Navalny: We have to stop sponsoring the war. We all
understand perfectly well that the combat actions that are going on in the
southeast of Ukraine had no grounds whatsoever. And do not have any grounds
now. They are going on exclusively because for the current leadership of
Russia, it was a fundamental point to torpedo the Ukrainian government, torpedo
reforms and demonstrate to everyone that the anti-criminal revolution which
occurred in Ukraine would be a failure, that it would lead to the state
collapsing. That is the most important task, including a personal one, for Vladimir
Putin. With the example of Georgia, by the way, we see that he is prepared to
spend years to methodically work on this…He worked on the overthrow of
Saakashvili and the bringing to power of those people who will persecute
Saakashvili. I think that unfortunately, Russia has spent major resources so
that Ukraine would collapse — both the government of Ukraine and Poroshenko —
and collapsed in all senses. In order to smooth things again, this shouldn't be
done. But we must realize a simple thing: it is more profitable for Russia,
from both the economic and political sense, that Ukraine be a normal,
flourishing, wealthy country. This is just the ABCs of economics. If everything
will be good for them, it will be a little better for us. We have to let them
go. Let them do as they wish.
Even so, Navalny said that the trend was toward
integration, like the European Union, and he could see that countries could
retain "their own language, and dress in their own national costumes and
dance their native dances" but still be integrated. "And the same
should happen with Russia and Ukraine," he said.
Venediktov cited a poll in which 85% supported the annexation
of the Crimea. But Navalny pointed out that even Russian speakers in Kharkov
and Odessa do not want to join Russia. And that Putin's basic reason for trying
to cause the collapse of Ukrainian statehood was because he saw that people overthrew
a corrupt regime, and fought under the banner of anti-corruption:
Basically this was in the purest form an
anti-corruption revolution because in Kiev, no one speaks in the Ukrainian
language. Nevertheless, the Kiev residents were the moving force of this
revolution. For Putin, this is terrible: rebellious masses chased out the
crooks. And he wants to say that after that, there will be civil war and
everything will collapse. Because for Russia, for the Russian population, this
would provide a very, very bad example. He could perhaps at some level tolerate
that Georgia was cited as an example, the successful anti-corruption reform of
Saakashvili, but for Putin, the success of Ukrainian statehood, economic
growth, effective combatting of corruption, was of course, the worse thing that
could happen.
Members of Presidential Human Rights Council Raise 'Information War' Against Ukraine, Crimean Tatar Disappearances with Putin
On 14 October a meeting was held of the Presidential Council for the Development of Civil Society and Human Rights, an advisory body of public figures which has been largely coopted but which occasionally does fact-finding and provides critical commentary. The full transcript was published in Russia at kremlin.ru; a partial English translation is here.

President Vladimir Putin with Mikhail Fedotov, chair of the Presidential Council, to his left.
The meeting followed the predictable outlines of state propaganda, and the members of the group mainly raised technical questions about implementation of government programs or made special pleadings for various vulnerable social groups within acceptable norms of challenges to the government bureaucracy.
Even so, some members were able to confront Putin with real questions of grave human rights abuses and expose his non-answers.
Putin used the occasion to complain about what he claimed were "double standards" from international human rights groups in covering violations of human rights in southeastern Ukraine.
In fact, groups such as Human Rights Watch and Amnesty International have issued reports on the Ukrainian government's shelling of civilian areas and abuses by voluntary battalions such as Aidar.
Putin invoked the 1948 Convention on the Prevention and Punishment of the Crime of Genocide, reiterating a false charge against Kiev that deaths of civilians in Ukraine, now numbering an estimated 3,500, constitute some deliberate policy of genocide, although in fact they are caused by both sides of the conflict.
Mikhail Fedotov, chair of the group, praised Putin for the recent amnesty of political prisoners including the punk performance artists Pussy Riot, the crew of the Greenpeace ship Arctic Sunrise, businessman Mikhail Khodorkovsky and others. He welcomed the increased powers given public observers of prisons, and encouragement of "foreign investment in socially-oriented non-commercial groups" — while failing to mention that this move stands in stark contrast to the lawsuits to shut down groups such as Memorial Human Rights Center as "foreign agents" because of perceived "political activity."
Last time Fedotov met one-on-one with Putin, he fielded him soft-balls on things like children's programs or the need to paint dull provincial buildings in bright colors to lift the mood. Now, with conditions worsening in Ukraine, Fedotov still stuck to safe proposals in an area where the Russian government has already committed to action, like the need to create joint working groups on refugees from Ukraine in Russia and to create safe humanitarian corridors for people to escape.
Tactfully, Fedotov raised the need for "the demilitarization of the public consciousness, not in demobilization but precisely demilitarization" — a veiled reference to the barrage of war propaganda and incitement of hate coming from Russian state broadcasting:
Only by moving from the information war to informational mutual understanding will we gradually restore the fraternal, friendly relations between the peoples  of Russia and Ukraine. Mutual enmity is a catastrophe for both countries, it is awkward. Let us more frequently show on television films on the works of Gogol and create broadcasts about the work of Taras Shevchenko, invite Ukrainian performers, writers, artists, scientists. So much binds us to Ukraine, to its wonderful people. This should be cultivated and defended, but there are villains unfortunately in every people.
Yevgeny Bobrov revealed a severe problem for those fleeing Ukraine — refugee status or temporary asylum is not given in Moscow, St. Petersburg and certain other territories — a government policy which restricts the internationally-recognized right to asylum. But if people have relatives they can live with in these areas; they should receive refugee status, Bobrov urged.
Putin turned the conversation back to grievances against Ukraine, mentioning the demonstration in front of the Ukrainian parliament on 14 October by nationalists and claimed it involved calls for persecution of the Russian Orthodox Church, referencing 18 Russian Orthodox cathedrals which he said were seized in Ukraine. This appeared to be part of an orchestrated provocation by Russia.
Nikolai Svanidze, a Russian TV and radio host and member of Russia's Public Chamber and the Council on Inter-Ethnic Relations, confronted President Vladimir Putin at the meeting on the question of the disappearances and murders of young Crimean Tatar men, which we have been reporting on our Ukraine Liveblog.
Svanidze said he welcomed the rehabilitation of the Crimean Tatar people and the establishment of their language among the official languages of the Crimea. But he called out "actions of a discriminatory and repressive nature":
…that is, the abduction and disappearance of people, citizens of the Russian Federation, massive searches in the homes of activists of the national Crimean Tatar movement, attacks on the madrassahs and mosques in search of illegal literature, confiscation of buildings and offices of the Mejlis of the Crimean Tatar people.
Svanidze also mentioned the banning of the memorial of Stalin's deportation on May 18 and a rally June 26 for Crimean Flag Day. Then there was this telling exchange:


Svanidze: It's bad also that in such cases, when these prohibitive measures are taken, they refer to Moscow, Vladimir Vladimirovich. And Moscow, as you and we both know, is a euphemism. People hear "Moscow" and they see you before their eyes.

Putin: And you too, all of us.

Svanidze: All of us, but you to a greater degree, Vladimir Vladimirovich.
Putin denied the claims of abuses — "in our country, thank God, in modern Russia there aren't and can't be any problems with the Crimean Tatars."
Putin: Regarding some manifestations there, of course, that must be carefully watched. I am grateful to you that you have drawn this to my attention. I'm hearing for the first time that there are disappearances of people.

Svanidze: Disappearances of people does take place and outright abductions of people by persons without identifying insignia.

Putin: It's not clear who is doing this. Who is doing this? Why are they doing this? I don't understand this at all. What is understandable and clear for me is that we will be doing what was never done for the Crimean Tatars. One of the most important problems for them — the legalization of their property and right to land. This is a key issue, and we're doing this. We are meeting them half-way.
A number of other members raised issues from housing to prison conditions to the environment seeking presidential intervention because they couldn't solve things themselves.
V. Kucher summed up the inherent problem of not only this meeting and this council, but the entire Russian system, when he asked a simple question:
Vladimir Vladimirovich, do you intend to change the system under which everything depends only on you?
Putin denied that everything depended on the president and said there were "many things" decided by various government agencies. Putin insisted:
the institutions of civil society must be improved, our system of democracy must be perfected, and corruption rooted out…the work of courts must be improved, the law-enforcement system and the government apparatus in general.
(Translations by The Interpreter).
Sakharov Center in Moscow Attacked During LGBT Meeting
Masha Gessen, a writer and LGBT advocate who left Russia with her family due to persecution and settled in the US,
commented on her Facebook page
on a recent anti-gay attack in Moscow:
There was an LGBT event at the Sakharov Center in Moscow today. Once it started, the building was surrounded by "Orthodox activists" swinging crosses and tossing eggs. No one, including staff, was able to leave the building for several hours after the event was over. It took dozens of calls to the police to get them to come and create a safe passage corridor out of the building. One of the center's straight staffers wrote in Facebook in the middle of all this, "I feel bad for these kids [meaning the LGBT activists] living with this kind of fear in this country at all times." Exactly. That's what strikes me most about every conversation I have with a newly arrived queer asylum seeker here: they talk about the sense of shedding the fear – while being a not-quite-legal alien in New York City.
The Sakharov Center, a non-profit organization devoted to the legacy of Nobel Peace Prize laureate Dr. Andrei Sakharov, often makes available its meeting spaces to various civic and human rights groups.
Sergei Lukashevsky, executive director of the Center, wrote on his Facebook page (translation of excerpt by The Interpreter)
On the one hand, everything ended relatively calmly. When the police finally began to act (we had to wait more than two hours) a safe corridor for people to leave the building was created. Everyone reached the metro without serious incidents. The "Red Guards" hit our security guard and the porch with eggs.

On the other hand, this incident appears to be an extremely unpleasant symptom. Not for the Sakharov Center specifically. But for everyone.

At 7:00 pm, after the museum exhibits were closed for the day, an event was held titled "Rainbow Association." It was a closed event. We did not post a notice about it on our site, and the organizers also didn't inform anyone publicly about it. Essentially, this wasn't a public event, but a private event. Almost all the participants came together at the same time. (If it interests someone, there were no minors among them.) After this, the doors were closed.

How did the attackers learned about the event? Either they themselves are following the LGBT community, or government agencies which do this for some reason are leaking information to them.

All of these vandalizing "Russian Orthodox" people were outside the Sakharov Center; tomorrow, they will be at the doors of a private apartment. Yesterday, they harassed LGBT people, tomorrow their target could be "national traitors" or "heretics." Am I exaggerating? But this has already happened. Remember how the Nashisty [the government-created youth group Nashi (ours) dubbed "Nashisty" for their extreme right-wing views–The Interpreter] harassed Aleksandr Podrabinek?

In fact, I remember the days when the Russian Orthodox believers themselves would gather in apartments, afraid that the KGB would burst in the door. But today's zealots, like Enteo, have a short memory, if these fanatics have any memory at all.

We will continue to provide space to LGBT organizations because every person has the right to freedom of association. And if all the other spaces directly or indirectly refuse them, we are obliged to promote the observation of human rights at least in the space of our Center.
Poitras Made No New Interviews with Snowden for 'Citizenfour'; He Refused Her in Moscow
Questions remain that those of us critically following the Snowden case have had all along about his activities in Hawaii and Hong Kong before he met with journalists — and his holding back of certain documents from them — which had nothing to do with his ostensible mission. Says Kelley:


"Citizenfour" is an engrossing account of Edward Snowden's collaboration with US and UK journalists to expose pervasive surveillance activities by the American government and its allies.

What is left unmentioned — including details about Snowden's time in Hawaii, why he took a cache of documents unrelated to civil liberties, his first 11 days in Hong Kong, the fate of documents he didn't give to journalists, and the circumstance of his asylum in Russia — is equally fascinating.

The film is well constructed and disciplined, and Poitras presents a never-before-seen side of Snowden.

But crucial questions remain, and the work does little to address the unflattering choices that the American icon made.
Glenn Greenwald, who was the first journalist to leak Snowden's stolen NSA documents, has naturally written a flattering account of the film and stressed a scene Poitras has filmed showing Snowden and his long-time girlfriend Lindsay Mills in the kitchen preparing dinner together to mount a propagandistic claim about Snowden. The big news of the film is that Mills was able to rejoin Snowden in Moscow — and has evidently travelled back and forth several times.
For Greenwald, this constitutes proof that he is not a spy, but a whistleblower, and that the Russians are not treating him as they did British spies, for example, who took to drink from isolation and died of alcoholism:
Vital to the U.S. government and its assorted loyalists in the
commentariat is to depict whistleblowers as destined to live miserable
lives. That's the key to their attempt to deter unwanted disclosure: the
message that doing so will result in the full-scale destruction of
one's life. That's what explains the grotesquely severe mistreatment and
35-year prison term for Chelsea Manning, as well as the repeated,
gleeful predictions that Snowden will "end up like Kim Philby," the
British defector to the Soviet Union who, it is claimed, died a
premature death from alcoholism, solitude and all-around deprivation.


The reality is that none of that has ever applied to Edward Snowden.
Particularly when compared to what he expected his life to be upon
deciding to embark on the whistleblowing path — decades of imprisonment
in the harsh American penal state, if not worse — his post-Hong Kong
life has been fulfilling and rewarding. He speaks, and writes, and is
interviewed, and has become an important voice in the global debate he
triggered.


But the fact that he is now living in domestic bliss as well, with
his long-term girlfriend whom he loves, should forever put to rest the
absurd campaign to depict his life as grim and dank.
The problem with this construction is that Greenwald fails to admit Snowden has been trying desperately for months to gain asylum in Brazil and Germany, offering these countries documents in exchange for refuge — opening up the issue of what he might have offered Russia, and begging the question of  how great his Moscow life was if he were so eager to leave.
For former NSA analyst John Schindler, the news of Lindsay's return is the opposite from Greenwald's take — it is evidence of Moscow's cynical admission of involvement in the operation:
Even more intriguingly, there's another fact we have learned: Poitras has admitted that Snowden refused to be interviewed by her in Moscow. He did not agree to further face-to-face interviews with her and thus her movie contains no new footage since June 2013 – a fact reviewers aren't mentioning.
Why can't Snowden talk about his blissful time in Moscow, then to his favorite documentarian?
Snowden only gave his consent to be photographed — from outside the window with Lindsay, like a Peeping Tom — and agreed to have the news that his girlfriend was with him published.
But even Poitras was unable to get any fresh material from him, although presumably she cleared with him the old footage of the movie. This consisted of edited interviews she made with him at the Hotel Mira in June 2013 when they first met, a short excerpt of which was published in the Guardian at that time.
That Snowden would not agree to talk further even to Poitras, his first contact to make his NSA document leaks, suggests that his Moscow minders would not give clearance.
As for the kitchen picture, Poitras has obviously darkened and distorted it to remove clues to its whereabouts. But if we lighten it up, we can see a flower in a flower box in front of the window, and some sort of other object — a video camera?
And from there we could trawl around Google Street View in Moscow in the Yasenovo District in search of windows like this — it's the stronghold of Russia's GRU, or military intelligence, which could well be responsible for Snowden's safe house and would want to hold him close.
One idea is to look around shopping malls, since the picture taken by LifeNews showing Snowden with a shopping cart  last year — which he said later was him — seemed to match the details of this district.
The other big news from the film is the indication that there is a second "whistleblower" — or as some would say, a Russian mole who did even more damage than Snowden. Of course, it is always possible that Snowden himself is that "second mole" with his other identity — besides "whistleblower — as leaker of documents that helped Russia and harmed the US and its allies. Still another possibility is that it is Jacob Appelbaum, a developer of the circumvention program Tor, who helped Poitras from the beginning of her contact with Snowden with the technical aspect of communications and securing of the documents. Appelbaum has leaked documents that Greenwald says he never had, and claimed to have been in touch with NSA employees.
George Packer of the New Yorker has a somewhat ambivalent take on the film, although in general he seems impressed. Packer has written critically of the Snowden odyssey and Glenn Greenwald's book No Place to Hide, and has his moments of candor about Snowden in his review:
In shots of him sitting on his unmade bed—white sheets and covers, white headboard, white bathrobe, white skin—Snowden seems like a figure in some obscure ritual, being readied for sacrifice. At one point, we hear his heart beating against a microphone. Still, he keeps speaking in the hyper-rational, oddly formal sentences of a computer techie. And then he's gone.
Packer aptly captures the folie à plusieurs of not only Poitras' film but the whole Snowden operation:
How much was the U.S. government hounding critics for political, rather
than legal, reasons? To what extent was the government's capacity for
surveillance matched by its will to abuse it? In the cloistered world of
expatriate Berlin, a sense of proportion was hard to maintain. Secrecy
became self-perpetuating and, for some of Poitras's friends,
self-important. Cut off from daily life in America, encrypted to the
hilt, and surrounded by Europeans who were willing to believe the worst,
Poitras was, in many ways, making a film about her own strange social
world—an atmosphere that seemed likely to constrict the free flow of
ideas. She saw no danger of this happening; to her, all the risk was
external, and she was just protecting herself and her material. But at
some point the thread of her "Zeitgeist" film began to run out.
And there's the strange over-sharing of the secret-sharers — the co-producer was never required to tell the world about her health conditions, yet she did on the way to making a preposterous point about the NSA:
Katy Scoggin, Poitras's co-producer, sent me an unencrypted note about
encryption and confessed, "I often get an icky feeling when writing
e-mails in plaintext these days. So does that mean I'm paranoid—another
of your questions I've thought more about? I don't know, maybe. A
friend's admonishment that one of my enemies could hack into my insulin
pump and overdose me with Humalog is farther out on the paranoia
spectrum than I like to go. But, considering who I work for, I can only
assume that some of my e-mail correspondence is monitored."
But Packer too quickly exonerates Poitras from charges that she may have had prior knowledge of an ambush on American soldiers in Iraq, saying "no evidences suggests otherwise." In fact, it's the variations in the telling of the tale by Poitras herself that does the suggesting. As the Weekly Standard reported, in the original version of the story she told US army officers in a meeting after the ambush, she denied ever being on the roof of Sunni physician Dr. Riyadh al-Adhadh in Baghdad in 2004, when they insisted they could see her distinctive frizzy hair outlined against the sky. They also suspected the doctor of helping insurgents.
John Bruning has written a book about this period, The Devil's Sandbox, in which he describes the incident and says that had Poitras admitted to having been on the roof, she would have been arrested on the spot.
Because ultimately the soldiers could not positively identify her, she was let go, but then Bruning claims she later admitted to him in an email that she was in fact on the roof. He turned over this email to US law-enforcement that triggered a Joint Terrorism Task Force investigation — the reason for her many detentions on the border.
However, in the version of the story she told Peter Maass in an interview for the New York Times, she made no reference to her earlier admission, and said she was on the roof, and had gone up and down several times in the evening. For some reason, she decided to change the story and admit she was on the roof.
Every time the Snowden story gets told by Snowden himself or his comrades — even as fiction — we seem to get more clues.
Cathy Young has published an interesting article at the Daily Beast about Russian state TV's movie about a Snowden-like character. A planned biopic by Oliver Stone is still being shopped around Hollywood, she says:
In the meantime, however, a thinly fictionalized version of the Snowden story just premiered on Russian television as part of an eight-episode spy drama, Where the Motherland Begins. And it has a peculiar twist, which implies that since he was a child, the former NSA contractor was, in a sense, groomed by a Russian intelligence agent.

Most of the miniseries—which aired from Sept. 29 to Oct. 3 on Channel One, Russia's leading state- controlled channel—actually takes place in the mid-1980s and is a dramatization of that era's U.S.- Soviet spy wars. But the story of "James Snow," a fugitive former CIA/NSA contractor who disclosed classified information about U.S. surveillance of telephone and Internet communications worldwide, is the framing device that opens and concludes the main plot.
The fictionalized story has Snowden's mother killed in a car accident when he is only 7; in reality, she's alive and even appeared at the New York premiere of Poitras' film, along with his father. A real car accident in the Snowden family happened to his paternal grandfather — his father Lonnie Snowden's father — who was first the driver in a car accident that killed his passengers, and then was killed himself in a car crash when Lonnie was 7.
The fictionalized version of the Snowden story airing in Russia actually underscores another point we've been making — that no Russian journalist, independent or even state-run or pro-Kremlin — has ever been allowed to interview Snowden.
Hundreds of Russians Poisoned, 25 Dead in 'Spice' Drug Epidemic
The Russian media has been full of articles these days about the deadly consequences of using "spice," a synthetic cannabinoid drug and other "designer drugs" which have reportedly caused a thousand cases of poisoning and at least 25 deaths, the state-run RIA Novosti reports.
Viktor Ivanov of Russia's Federal Drug Control Service said that the most affected areas are in the Khanty-Mansi Autonomous Area and two districts in the Volga Federal District — Kirov Region and the republic of Bashkortostan.
The cheap substances used in spice have not been technically outlawed,so the State Duma has prepared a draft bill aimed at banning the substances used to make it. The main ingredients in spice have been outlawed in the US. "Bath salts" have also been outlawed in most US states, the UK and Canada.
Sign on a wall in a Russian city offering "powder" and "spice" for sale via a Skype address. Photo by The Village.
n Orenburg, 16 people fell ill after smoking spice, gazeta.ru and RIA Novosti reported. At least 90 drug dealers have been arrested.
In Voronezh and Voronezh Region, at least 37 people were brought to emergency rooms from 6-12 October for using spice, the Investigative Committee reported, according to a 13 October story by RIA Novosti.
The areas affected are among the poorest in Russia with high unemployment, but also include an oil-rich republic noted for corruption where the wealth doesn't trickle down. Khanti-Mansi is listed by the magazine Finans as the 8th most wealthiest Russian subject out of 83; Bashkortostan is 59th; Kirov Region is 63rd; Voronezh Region is 71st. (The list, published in 2011 does not count the two additional subjects added from Russian occupied Crimea.)
The ages of the users, a number of whom said they had smoked spice, ranged from 15-40. Doctors are still trying to determine the toxic substances in the mixture.
Because the drugs can be made up of a variety of substances, evidently they can easily include poisons.
A number of videos have been uploaded to YouTube showing youths sick and incapacitated from spice; a documentary film by NTV "Profession: Reporter" cautions against its use and makes claims of even more deaths.
Kommersant correspondent Aleksandr Chernykh writes for The Village that spice came to Russia via Europe, where it was a legal marijuana substitute. The brightly-colored packets sell for 500 rubles or about US $12 and is therefore more affordable than heroin in Russian.
The name of the drug came from the substance taken by the space explorers in Frank Herbert's 1965 science fiction classic Dune.
In Russia, variations are called "spice," "mix" or "salt" and the formulas have grown more varied and more toxic; instead of alcohol, acetone or solvents are used, for example. Users of spice said that unlike marijuana, the high was more short-lived and required more frequent dosing, and was rapidly addictive.
A user named "Gennady" told Chernykh (translation by The Interpreter):
Spice itself externally looks very different — from simple grasses to some sort of analogue of hashish — a thick substance with the smell of burnt rubber. The effect also varies, it is not possible to predict for sure what you are getting. Everything is at your own fear and risk. You're not going to ask the seller what kind of specific mix has been made. And most likely he won't know; he just distributes it, and totally different people prepare it — who are not known.
As in the West, there has been a vigorous debate in Russia as to whether marijuana should be legalized, to reduce the kinds of substitute drugs like spice which are more damaging, and whether there should be an emphasis on "harm reduction" with treating users and lessening harmful practices like sharing needles, versus harsh prosecution of dealers and users.
For once RT.com was compelled to write about Russia's ills instead of the West's problems, yet it still found a way to turn the issue into one propagandizing Mother Russia: the drug is produced in Southeast Asia and the majority of the drug dealers, up to 70%, are "not Russian citizens," says RT, citing Federal Drug Control Service — they are from Belarus, Belgium, Canada, China, Germany, Britain, Italy, Kyrgyzstan, Latvia, Lithuania, Netherlands, Portugal, Spain and Ukraine.
RT.com video on the dangers of spice.
Yekaterinburg is one of the cities that has been ravaged by drug addiction; the current mayor, Yevgeny Roizman, founder of the non-governmental group Gorod Bez Narkotikov (City Without Drugs) rose to popularity because of his ruthless programs for de-toxing drug addicts.
But the harsh methods, which involved restraint and isolation, came under criticism by human rights groups. Even so, in the past year, prosecutors have brought to trial some of those found guilty of illegal detention of addicts. And the job of mayor is not as powerful as the city manager and regional governor; in fact Roizman, his girlfriend, Aksana Panova, his relatives, and patients from his rehabilitation programs have all come under pressure from establishment political figures and police.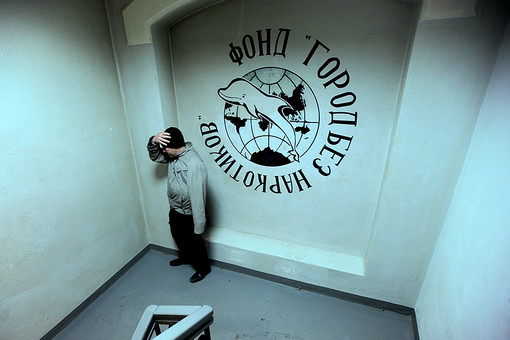 City Without Drugs Foundation. Photo by Gazeta.ru
Recently, Roizman's former colleague and now fierce opponent Andrei Kabanov took over the leadership of his foundation, gazeta.ru reported. He offered Roizman to step down from his position of mayor and take back the foundation, which he said was languishing, but Roizman refused.
Kabanov vowed to review the work of the rehabilitation centers and end the war with law-enforcement agencies which had been characteristic of Roizman's tenure. He said Roizman was using the foundation as a "political brand" in a bid not only for the post of mayor but ultimately governor — and that its original mission was being abandoned.
Roizman denied the charges and said the foundation continued to provide free testing and rehabilitation and answered a thousand calls a month. "No one can prevent anyone else from combatting drugs," was all Roizman had to say.