The ruins of Palmyra, recently recaptured from ISIS by the Assad regime | SANA, via AP
The previous post in our Putin in Syria column can be found here.
---
Widespread Fighting Has Broken Out In Syria, And Once Again Assad Is Bombing The Moderates, Not ISIS
The war in Syria has changed dramatically in just the last month, but there's considerable debate about exactly what has happened and what will happen next.
The cover story of Foreign Policy Magazine on March 30 was a story I wrote that argued that, contrary to the media narrative put out by the Kremlin and echoed in the West, Russia has not backed down in Syria — quite the opposite in fact. 
The key data points the article highlights:
– Russia has only withdrawn 20% of its fixed-wing aircraft, planes which could potentially return to Syria within hours.

– New attack helicopters have been documented at Russia's bases since the "draw down" was announced. These helicopters expand Russia's ability to operate within Syria. One of the helicopters in particular, the Kamov Ka-52 "Hokum," is more suited at leading a newer, sleeker, more precise air campaign in Syria, as opposed to the carpet-bombing campaign we've witnessed for the last six months.

– An analysis by Reuters shows that Russia's bases in Syria has supplied more shipments in the two weeks since the withdrawal was announced than what actually departed the theater. 

– New evidence, much of it broken by The Interpreter, shows that Russian mercenaries are fighting in Palmyra, soldiers of fortune who cost the Kremlin a tiny fraction of what a military deployment would cost, and when mercenaries die it does not usually make the newspapers, at least not in Russia.
The significance of the fall of Palmyra
In that same article I assessed why Palmyra is important to the Assad regime and its allies in Lebanon, Iran, and Moscow:
It is an oasis in a desert, a city that sits on the middle of a long road that travels from Syria's capital all the way to the Iraqi border. This region is scarcely populated, which has allowed the Islamic State to move almost unseen between central Syria, its strongholds in Raqqa and Deir Ezzor, and Iraq's Anbar province. The road is a significant security threat to Assad, because it allows the Islamic State to strike Homs or Damascus. But it has also been largely ignored by the Assad regime for a large part of the conflict since both the Islamic State and the regime have had more urgent missions elsewhere.

Palmyra, however, is positioned near the largest natural gas fields in Syria. In 2013, the Slavonic Corps were deployed to this area to defend those fields but suffered heavy losses. Throughout 2014, the Islamic State launched several attacks against the Shaer gas field, Syria's largest, and at times has controlled at least parts of Shaer, as well as several lesser fields. The two sides have been locked in back-and-forth combat in the area ever since. But events elsewhere forced a tactical retreat of government forces. In the summer of 2015, Western-backed rebels were advancing in Idlib province and threatening Latakia province. At the time, some analysts were again predicting the regime's collapse. Palmyra, located 120 miles from Latakia province and in the middle of a desert, was just not a priority for the Assad regime. When the Syrian military repositioned its forces to the northwest regions of the country, the Islamic State took advantage of the situation and conquered Palmyra. Now, with the rebels broken and parts of the conflict frozen, the regime and its allies can focus on their "reach goal" of ensuring that Assad is both militarily and economically protected.
The Syria expert Hassan Hassan — who is from al Bukamal, the city where ISIS first entered Syria from Iraq — knows ISIS like few others do. In The National he argued that Assad's capture of Palmyra was political, "a clear attempt by the regime of Bashar Al Assad to rewrite history." Hassan cautioned that many in the media were getting the narrative wrong, and that though Assad may pursue some limited strikes against ISIS in order to pursue other goals, his target will still be the moderate and Western-backed rebel groups:
Some reports stated that the regime would use Palmyra as a launch pad to retake Deir Ezzor and Raqqa from ISIL, despite the fact Raqqa is located much closer to the regime's strongholds in Aleppo and Hama than Palmyra. Others inaccurately characterised the regime's win in Palmyra as the biggest military defeat for ISIL in two years.

Observers should not make the mistake of overstating the regime's capabilities as they did in February when many thought government forces were about to retake Aleppo.

The capture of Palmyra was primarily a political move. Palmyra and Raqqa have suddenly become strategically important for the regime – part of "useful Syria" – to beef up its position as the most effective force against extremists.

The regime may seek to retake the Tabqa airbase in Raqqa to both assert its "sovereignty" on the only province where the regime has no presence and to demonstrate it is a capable force against extremists, especially as the truce between the government and the rebels persists.
Set as default press image
Why the Syrian regime's recapture of Palmyra was a political move | The National
The capture of Palmyra this week was a clear attempt by the regime of Bashar Al Assad to rewrite history. Damascus and its allies presented the victory as part of the wider campaign to strike extremists in Syria.
Apr 04, 2016 22:35 (GMT)
Hassan said that the ISIS defeat in Palmyra is a good thing, but that Assad's regime is also ruthless and the civilians in Palmyra will suffer. One man, who grew up in Palmyra, went further and called Assad just as bad as ISIS: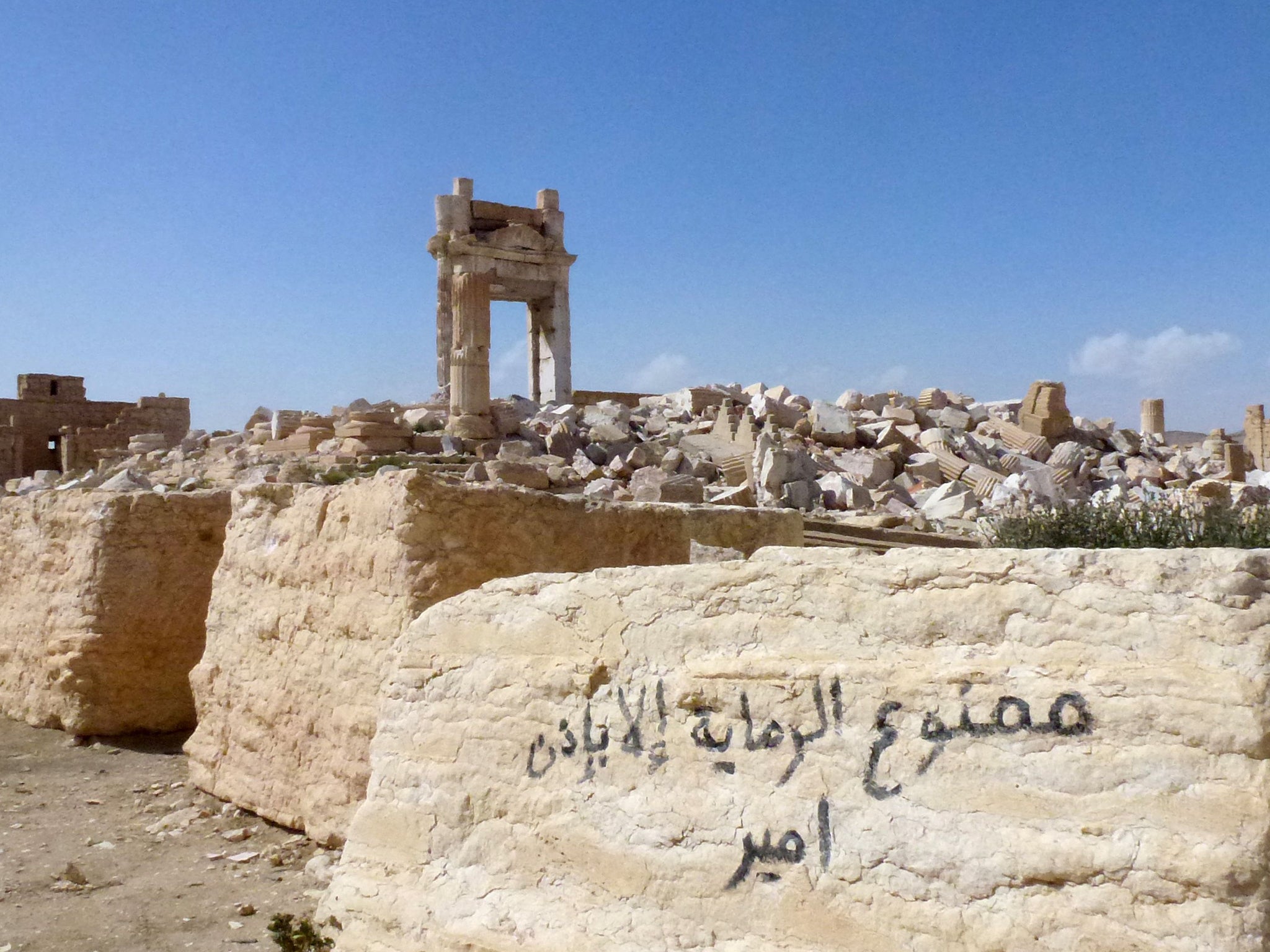 Set as default press image
I'm from Palmyra. Assad is no better than Isis
My name is Mohamed Alkhateb, and I was born and raised in Palmyra. I went to university in Homs, but when noises started to be made about a revolutionary movement, I knew I had to return to my home city.
Apr 04, 2016 22:37 (GMT)
After Palmyra, Assad's next move has been to attack non-ISIS rebels
Following the defeat of ISIS in Palmyra, too many analysts praised Assad and Russian for tackling the terrorist group whereas my own assessment, and the assessment of some of the best experts on this crisis, was that Assad was taking advantage of the ceasefire to secure areas which were geopolitically and economically vital to the regime. As Hassan Hassan argued, Palmyra was just a convenient first step, and the regime would quickly return to business as usual — exploiting the ceasefire for its own gains.
We were right. Immediately following the fall of Palmyra, the Assad coalition began a heavy air and ground assault on Western-backed rebel groups in the suburbs of Damascus.  
The following is an excerpt of an analysis published in Syria: direct on March 31,  just four days after the regime recaptured Palmyra on March 27. The article argues that the focal point of the new regime offensive is the rebel breadbasket of East Ghouta, the area that Assad has failed to retake since early spring of 2013 — the area his forces used sarin gas to weaken later that year:
The two main brigades in East Ghouta, Feilaq a-Rahman and Jaish al-Islam, are signatories to the international cessation of hostilities agreement, and say they are adhering to it because they are seeking to hold the territory already in their possession, while the regime is violating it by conducting offensive operations.

"All of the brigades operational in Marj are part of either Jaish al-Islam or Feilaq a-Rahman," said provincial council member Abu Suleiman. Neither Jabhat a-Nusra nor the Islamic State, who Abu Suleiman says have no presence in Marj, are included under the international ceasefire agreement.

"The nationwide cessation of hostilities is to apply to any party currently engaged in military or paramilitary hostilities against any other parties other than 'Daesh', 'Jabhat a-Nusra', or other terrorist organizations designated by the UN Security Council," reads the ceasefire announcement.

One rebel spokesman sees that the regime's latest attempts to progress in East Ghouta are connected with international negotiations starting in Geneva to find a political solution to the five-year old Syrian civil war.

"The international community is heading faster and faster towards a solution to the conflict," said Wael Alwan, spokesman for Feilaq a-Rahman, one of the largest rebel groups in East Ghouta.
"Therefore the regime is trying, before the upcoming negotiations, to increase its area of control."
Syria Direct
Set as default press image
East Ghouta a war zone despite truce: 'Warplanes began flying this morning'
AMMAN: The Syrian regime escalated its military campaign against East Ghouta this week, conducting airstrikes against civilian targets as it attempts to break into the encircled, rebel-held suburbs of Damascus, local military and medical personnel told Syria Direct Thursday.
Apr 05, 2016 18:56 (GMT)
On April 1, the Wall Street Journal reported that regime airstrikes were so busy it is as if a ceasefire has never been signed. Again, the targets of the new wave of strikes have been non-ISIS rebel groups:
Syrian government warplanes Friday struck rebels in the Damascus suburbs, the Aleppo countryside, as well as towns in Homs, Hama, and Idlib provinces and rebel pockets in Latakia, a regime stronghold in the west, opposition groups said. The attacks came after government airstrikes Thursday in the eastern Damascus countryside killed at least 31 people, including some at a school and a mosque, the groups said.

The strikes represent a quick spike in violence that had been dramatically reduced after the government and many rebel groups agreed to a truce brokered by the U.S. and Russia on Feb. 27.

"The regime, for about three days now, has been acting like there is no truce at all," said Captain Hassan Haj Ali, a rebel commander whose roughly 2,500 fighters in Idlib have committed to the cease-fire.
On April 3, Hassan Hassan warned that widespread fighting had broken out across the country. Assad, having gotten what he wanted in Palmyra, was once again focused on non-ISIS rebels. But those rebels were not sitting idly.
Rebel groups have launched offensives across the country. Jabhat al Nusra, the al-Qaeda affiliated group that was not a signatory of the ceasefire, launched their own offensives in Aleppo province, where they have recaptured the town of Al Eis. Just a month ago, Jabhat al Nusra briefly took Al Eis, but were immediately pushed out by Russian airstrikes, proving once again that the Syrian regime is heavily reliant on foreign fighters to win its battles:
For the first time since September, when the Russians intervened in Syria, the takeover of Al Eis shows the regime still relies heavily on foreign militias and Russian air strikes. What makes the battle in Al Eis particularly revealing is that there were no Russian air strikes, although the offensive was led by Jabhat Al Nusra – a group exempted from the cessation of hostilities.

A local reporter embedded with the rebels told Dubai's Orient News that no Russian air strikes had targeted the anti­government forces. A member of Jabhat Al Nusra told the same channel that the clashes lasted for at least seven hours. A common new tactic by the regime is to increase the number of lines of defence, instead of fighting on one major front. He said that, after battling the front forces for several hours, they had an extra kilometre of intense fighting before they reached another line of regime-aligned forces, a tactic Jabhat Al Nusra overcame by deploying three suicide bombers.

The fact that anti-government forces fought for more than seven hours, from the evening until after midnight, and that Russian jets were not deployed to repel Jabhat Al Nusra's attack indicates that Moscow wanted to send a message to the regime that pro-government forces would not withstand such advances without Russian air strikes.

[…]

Also, according to the reports from southern Aleppo, most of the forces guarding the village and hilltop were foreign militias. Hizbollah reportedly announced the deaths of about 10 fighters, including a Sunni Lebanese fighter from the resistance squads that are beholden to it. The pre-eminence of foreign militias in Al Eis shows that the regime continues to rely on those militias to conduct its war outside its heartlands. Iranian-backed militias also spearheaded the capture of Palmyra.
Set as default press image
Rebel gains show regime's reliance on foreign forces | The National
Over the weekend, the Syrian rebels went back to fighting. Around 40 days into a relative lull after the rebels agreed to a cessation of hostilities deal with the regime, battles erupted in at least five different regions throughout the country.
Apr 05, 2016 21:37 (GMT)
Once again we see a familiar pattern — civilians and moderate rebels have been hammered by airstrikes in areas important to the regime, while jihadists, in this case Jabhat al Nusra, are able to thrive.
But for those fearing that Jabhat al Nusra is gaining ground, another development should come as encouraging news. 
Following the signing of the ceasefire in Syria, widespread protests against the Assad regime were held across the country, particularly in Idlib and Aleppo provinces. These protests, which were once ubiquitous, have been diminished in recent years as they had become increasingly dangerous. In Ma'arrat al Nouman, a key crossroads in southern Idlib province,  large anti-Assad protests took place in the wake of the ceasefire. At one point, protesters showed their support for the Free Syrian Army, but the protesters were set upon by Jabhat al Nusra which is pushing a very different agenda than the moderate rebels and the pro-democracy activists, particularly in northwestern Syria: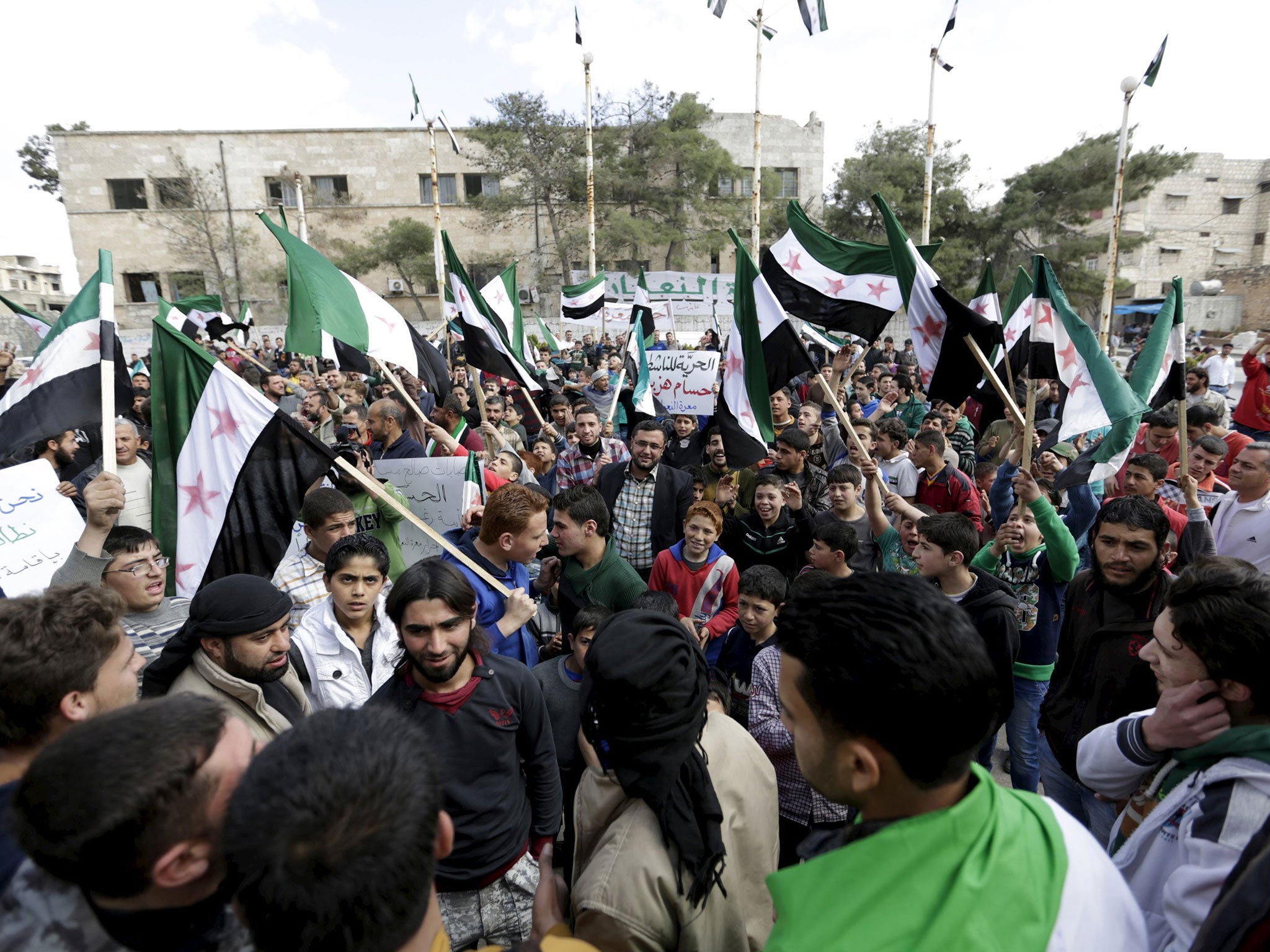 Set as default press image
Five years after the Arab Spring, a new enemy is cracking down on Syrian protesters
Five years after the Arab Spring, the fragile Syrian ceasefire is seeing thousands of pro-democracy protesters return to the streets to call for the removal of Bashar al-Assad.
 
 But whereas 2011 saw protesters shot in the streets by security forces, a new crackdown is being launched against demonstrators by Islamist rebel groups.
Apr 05, 2016 23:35 (GMT)
Jabhat al Nusra and more moderate Western-backed rebels have had an uneasy working relationship. Under siege by Assad, and in 2014, by ISIS, both groups have coordinated attacks against their common enemies. But at various points since 2014, Jabhat al Nusra has expressed interest spreading their own version of civil society, setting up a larger divide between the Islamists and the pro-democracy factions of the anti-Assad movement. Since the ceasefire, these cracks have widened.
In March, after initial infighting over protesters supporting the FSA, tensions escalated when al Nusra attacked the Western-backed Free Syrian Army 13th Division, seizing some of their equipment, bases, and fighters. The Daily Beast's Sam Heller says that this incident has sparked backlash against Jabhat al Nusra which has been trying to eliminate its rivals since 2014:
A tentative peace now prevails in Ma'arat al-Nu'man as all sides wait for the results of a halting adjudication. But the events in Ma'arat al-Nu'man have set off an unprecedented wave of criticism of Nusra, whether on the ground in escalating anti-Nusra demonstrations or online in Dr. Hudheifah Azzam's still-unspooling, multi-chapter indictment of Nusra.

"The 'wall of fear' of Nusra has shattered, to some extent," said an Idlib journalist who also requested anonymity.

Azzam is the son of Abdullah Azzam, the Palestinian jihadist considered the father of modern pan-Islamist jihad. His son Hudheifah has shuttled from Afghanistan to Iraq and now to Syria, where he's served as a broker and peacemaker among Syria's rebels. Now, over hundreds of tweets, he's been reeling off all the times Nusra has cannibalized rival brigades.

"[Azzam] dared [to deliver this testimonial] because the battlefield can't take silence any longer," said the informed Idlib source. "We're seeing the Iraqi experience reproduced all over again."

Azzam's central argument is Nusra's attacks on nationalist "Free Syrian Army" brigades have not been a series of one-offs, they have been a systematic campaign. He says Nusra has consistently frustrated efforts to adjudicate these fights so it can smash its local rivals and establish a jihadist mothership in Idlib patterned after the Islamic State's de facto Syrian capital in al-Raqqa province.
Heller continues by tracing the history of the rise of Al Nusra, which used a campaign against corruption within the rebel factions as an excuse to eliminate moderates and gain power for itself. While Heller cautions that al Nusra still has some public support, this incident demonstrates that the moderates in northern Syria are increasingly uneasy with Jabhat al Nusra.
The Daily Beast
Set as default press image
Al-Qaeda's Screwing up in Syria
Tensions between Syrian al-Qaeda affiliate Jabhat al-Nusra and the mainstream opposition in Syria's rebel north are at an all-time high. Eyes are on a standoff between al-Nusra and a popular rebel brigade in northwest Idlib province and, playing out in parallel, an ongoing anti-Nusra Twitter jeremiad by the son of the founder of modern international jihadism.
Apr 06, 2016 00:00 (GMT)
On the other hand, once again Assad is bombing the moderates, not the extremists. 
Assad's coalition has fought more battles against ISIS than just Palmyra. The regime has also recently recaptured Qaryatayn, between Palmyra and Damascus, consistent with the theory that Assad is consolidating territory rather than launching a campaign against ISIS, but we have yet to see Assad advance further east than Palmyra toward Deir ez Zour, al Boukamal, or al Raqqah.
Still, ISIS has lost a series of defeats — to both Assad's coalition and to US-backed Kurdish groups. This has some US defense officials thinking that ISIS could be on the ropes. Nancy Youssef reports in The Daily Beast:
The fragility of the cessation of hostilities, which one defense official Monday called "teetering," could limit the Assad regime's push east and indeed push regime losses back. Because of that, many are watching to see where ISIS chooses to fight next—or instead decides to leave explosives behind—and what affects its reduced territory has on its ability to fund and recruit.

As with many things in this war, the truth of ISIS's standing is complicated, mired in uncertainty, experts argue. The loss of cities limits the routes through which ISIS can receive and train foreign fighters, for example, but is not enough to cripple the group.

"It is clear that ISIS is weakening as a fighting force. They have had multiple offensives that have failed to go anywhere," said Daveed Gartenstein-Ross, a senior fellow at the Washington, D.C.-based Foundation for Defense of Democracies. "Loss of territory does weaken the group, but it is not fatal."
Given the other evidence, however, we cannot agree that the ceasefire is "teetering" — it looks more like "broken." If current trends hold, the US and its allies, not the regime's coalition, will have to deal ISIS its next defeat.
The big unanswered question, then, is not whether the Assad regime will continue to attack ISIS, but rather whether Assad can hold his own against the non-ISIS rebels if Russian air support is lessened. That remains to be seen.
— James Miller