Lugansk Power Station burns 9 October 2014. Photo by Informator.lg.ua
Yesterday's liveblog can be found here. An archive of our liveblogs can be found here. For an overview and analysis of this developing story see our latest podcast.
Please help The Interpreter to continue providing this valuable information service by making a donation towards our costs.

View Ukraine: April, 2014 in a larger map
For links to individual updates click on the timestamps.
For the latest summary of evidence surrounding the shooting down of flight MH17 see our separate article: Evidence Review: Who Shot Down MH17?
Below we will be making regular updates so check back often.
---
Lugansk Power Station on Fire Again
The Lugansk Electric Power Station is on fire again, as it has been several times this past few months.  Several people have been injured, novosti.dn.ua and Informator report.
Reports say a plume of dark smoke has gone up at the station and power is out in in Severodonetsk and Rubyozhnoye, with sporadic service in Alchevsk and Prevalsk.
According to korrespondent.net at 21:54 local time, as fire-fighters
were trying to put out the blaze, they were being shelled (translation
by The Interpreter):
The station
is now being shelled. There are people injured at the station: 4
station workers have cuts, and one has a more severe wound, according to
eyewitnesses.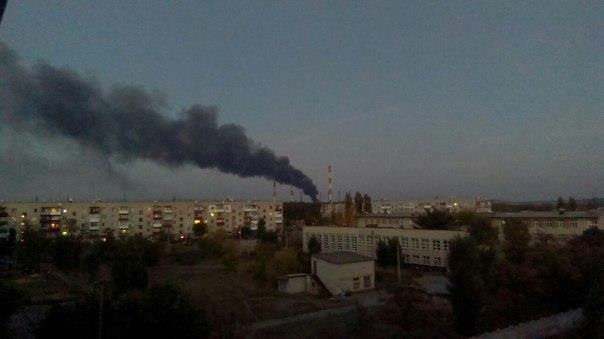 The 11th transformer is in flames, and Ukrainian forces in Schastye have been deployed to control the blaze.
Yesterday October 8, pro-Russian fighters shelled the station, Censor.net reported.
The 80th Air Mobile Brigade of the Ukrainian army and the Aidar Battalion are based at the station. One of the power generators was damaged as a result of the shelling.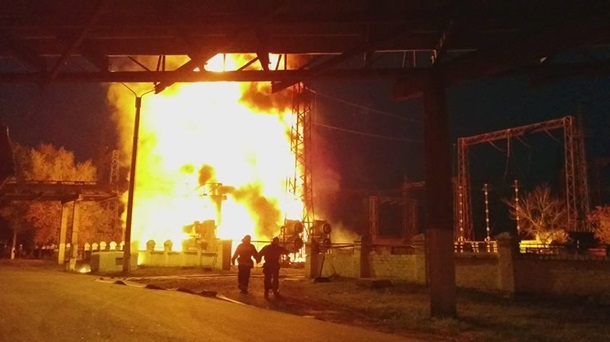 The warring sides are supposed to be already under a cease-fire according to an agreement made in Minsk last month, but on 7 October, a "quiet regimen" was declared again by the Ukrainian National Security and Defense Council, which announced that combat and shelling would be suspended in the ATO (anti-terrorist operation) zone.
This video titled "Shock Today! Remnants of Schastye Power Station After Night Shelling Donetsk 2014" was uploaded October 9 and shows the station after the shelling but evidently before the fire.Schastye is the town in the Lugansk Region where the power station is located.
UPDDATE Unfortunately, that video was deleted later and we do not have a copy.
A local news site segodnya.ua has an embedded copy of a similar video of the fire here.
There is also a video that was uploaded to YouTube on October 16 labeled "Lugansk, DTEK is Burning," but we cannot confirm this is related to the October 9 incident.