Weapons cache reportedly discovered by Ukraine's SBU (state security services) in Bahmutivka, northwest of Lugansk, on August 30, 2015.
Yesterday's live coverage of the Ukraine conflict can be found here. An archive of our liveblogs can be found here. For an overview and analysis of this developing story see our latest podcast.
Please help The Interpreter to continue providing this valuable information service by making a donation towards our costs.

For links to individual updates click on the timestamps.
For the latest summary of evidence surrounding the shooting down of flight MH17 see our separate article: Evidence Review: Who Shot Down MH17?
---
Two Days Before Ceasefire Deadline, Level of Fighting Decreases
Andriy Lysenko, spokesperson for the Ukrainian military operation in eastern Ukraine, reported earlier today that the level of fighting was at its lowest point in months. UA Crisis Media Center reports:
Kyiv, August 30, 2015. Over the last 24 hours, Ukrainian troops registered the lowest number of ceasefire violations since April 19, as Russia-backed militants conducted only 19 attacks. "Enemy forces did not use heavy weapons, which were subject to withdrawal from the frontline. For the first time in many months there was no shelling at Pisky village, said Colonel Andriy Lysenko, spokesperson of Administration of the President of Ukraine on ATO-related issues, at a press-briefing at Ukraine Crisis Media Center.
Today's battle map:
Most of the  incidents in the report include small arms fire and the use of grenade launchers — not the kinds of heavy artillery which have been used every day for months.
Lysenko, however, did warn that the next few days could hold some surprises:
Ukrainian law enforcement seized over 200 ammunition rounds for assault rifles, 10 grenades, as well as several smoke ones, and five suppressors for Kalashnikov assault rifles.

Col. Lysenko cited Ukrainian intelligence report that the militants of self-proclaimed "Donetsk People's Republic" ("DPR") designed a plan to instigate violent provocations on September 1. "This could be the shootings in schools and other educational establishments in the area designed to discredit Ukrainian troops. The militants harbor plans to use these provocations as a pretext to appeal to Russia with a request for the introduction of the so-called "peacekeepers," explained the АТО spokesperson.
Uacrisis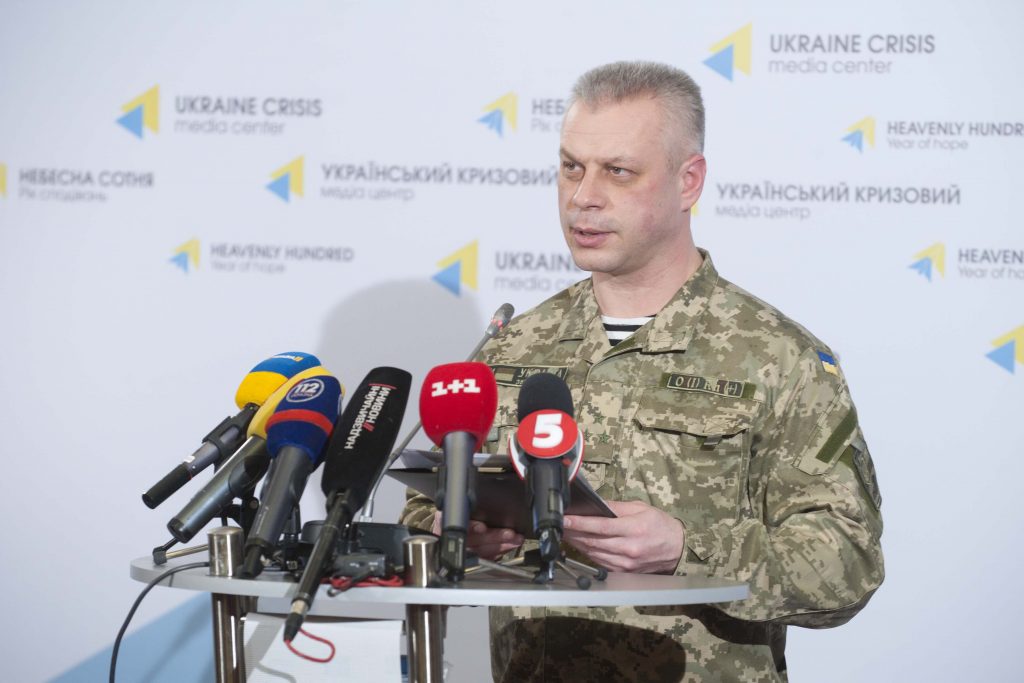 Andriy Lysenko: Least ceasefire violations observed on frontline in last 24 hours. | Ukraine Crisis Media Center | UACRISIS.ORG
Kyiv, August 30, 2015 . Over the last 24 hours, Ukrainian troops registered the lowest number of ceasefire violations since April 19, as Russia-backed militants conducted only 19 attacks. "Enemy forces did not use heavy weapons, which were subject to withdrawal from the frontline.
Aug 31, 2015 06:32 (GMT)
LiveUAMap provides this picture which reportedly shows one of two large weapons caches found near Bahmutivka, northwest of Lugansk in territory held by the Ukrainian military:
Another picture on the SBU's website:
In somewhat unrelated news, there will be many news articles published about the Minsk agreement and the legacy of the "ceasefire" that was supposed to be put into place in February (which was really supposed to be put in place in September). In an article for The Independent, Jack Losh interviews Ukrainian soldiers in Pisky (Pesky) who say that because their government complies with the Minsk agreement, but their enemy does not, they are not allowed to return fire when they are attacked, but instead have to ask their commanders for permission. Permission often never comes, or comes too late:
When bombarded from enemy positions, government units regularly have to seek permission for a counterstrike from superiors removed from the action. But they complain of an inefficient chain of command and say the fight is lost in a bureaucratic bottleneck. Heavy weapons are ready to use, but often high command must first give the green light. "That comes too late," one officer told The Independent on Sunday. "Sometimes we wait an hour, even more. It's not effective. It's no way to win a war."

Bardan, 26, added: "A few days ago, we were under fire from Grad missiles and 152mm shells. The enemy shoots at us but we don't have permission to answer with our artillery. It's a big problem. They kill our soldiers but we can only stand and watch. We're sitting ducks."

Ukraine is keen to publicise its compliance with February's crumbling ceasefire deal agreed in Minsk. The government wants its armed forces to be viewed as a responsible force that resorts to heavy weapons only in defence. Do the soldiers accept that the peace accords are, in part, reason for the limits on the force and frequency of counterstrikes?

"Not at all," said Bardan, echoing the response heard across the frontline among government and rebel fighters. "Minsk is dead." Heavy exchanges of artillery this month around the rebel-held city of Gorlovka and the small, government-held town of Starohnativka, killing civilians and soldiers alike, would support such a statement.
Read the article here.
The Independent
Ukraine's forces held up by red tape
"Of course we want to listen to the radio and hear the news from Kiev," said Bardan, a Ukrainian infantryman based in a devastated neighbourhood on the northern fringes of Donetsk. "Out here, though, we just tend to pick up stations from Russia and Novorossiya Rock FM."
Aug 31, 2015 06:43 (GMT)
At least for one day, however, Ukrainian soldiers have not really had that problem. Will the peace last until, and beyond, the September 1 deadline for a new ceasefire?
— James Miller