Smoke rising in Marinka this morning.
Yesterday's live coverage of the Ukraine conflict can be found here. An archive of our liveblogs can be found here. For an overview and analysis of this developing story see our latest podcast.
Please help The Interpreter to continue providing this valuable information service by making a donation towards our costs.

For links to individual updates click on the timestamps.
For the latest summary of evidence surrounding the shooting down of flight MH17 see our separate article: Evidence Review: Who Shot Down MH17?
---
Heavy Fighting In Marinka, But What Is The Significance Of This Battle?
There is still heavy fighting in Marinka, southwest of Donetsk. At this hour there are reports of a new offensive being launched by Russian-backed fighters against the city:
Translation: Enemy has launched massive attack on Marinka. That's not enough for them…We are holding positions. A fierce battle under way. Details later.
Other tweets from @UAForces, which we think may be a semi-official Twitter account, says that their reserves are in place and their lines are holding, but there are still conflicting reports about who has the upper hand in this fight. What we do know is that this is the heaviest fighting in Ukraine since the battle for Debaltsevo ended in February.
But to understand why Marinka is important and to predict the strategy of the Russian-backed separatists, it's best to consult a map.
We have created a new layer to our conflict map which shows, roughly, the front lines of fighting, summarized and simplified to highlight the key fronts of conflict. Below is a screenshot:
The capture of Marinka, southwest of Donetsk, would advance the goals of the Russian-backed fighters in several ways. The first and most obvious is that it would help secure Donetsk. The second, though, is that it would put the Russian-backed fighters one step closer to cutting off Mariupol, to the south.
But across all of the front lines — near Mariupol, Donetsk, Gorlovka, and Schastye — we see a similar pattern emerge. The Russian-backed fighters are advancing in what could be described as "fingers," narrow points of focus which are fairly evenly spaced. The pattern is that regular, but not constant, fighting is reported at alternating fingers on different days. This has several effects — it tests Ukraine's lines and keeps them guessing where the next attack will come. As a result, the Russian-backed forces have been able to advance in narrow "spiky" channels, and each advance carries with it a new threat — encirclement. As two or more neighboring fingers advance deeper into Ukrainian territory, the Ukrainian military is in danger of being trapped in a pincer between two fronts, a strategy that has proven to be highly effective in the conflict, most notably at Ilovaisk and Debaltsevo.
Near Donetsk, the attacks push southwest and north into Ukrainian territory, endangering the Ukrainian artillery positions northwest of the city which have played a key role since the battle for the Donetsk International Airport. By pressing north and northeast from Gorlovka, the Russian-backed fighters threaten to surround those same positions on the other side. By attacking Ukrainian positions near Troitskoye and Popasnaya, and from other positions in the northwest of the Lugansk region, the separatists threaten to flank those who are trying to stop the advance north from Gorlovka and towards Artyomovsk. Meanwhile, east of Stanitsa Luganskaya, there have been cross-border raids from Russian territory into Ukrainian-held land north of the Seversky Donets river.
This can also be seen playing out at Mariupol, the crucial port city on the Azov Sea. Mariupol is the largest economic prize near the front lines, but it is also the key line of defense on the coast between Russia and the annexed Crimean peninsula. Ukraine has no choice but to keep significant amounts of troops and firepower dug in there. By pushing the fight at Shirokino, nearly due-east from Mariupol, the Russian-backed fighters keep the pressure on Mariupol, but by advancing north of Mariupol they are also inching closer to encircling the coastal city.
Details are still sketchy, but it is clear that a major offensive have been launched against Marinka today, and it's also clear that Ukraine has dispatched a significant amount of resources to stop that advance. Even if Marinka holds, that development may have negative consequences for fighting elsewhere in Ukraine.
One look at the map of the fighting tweeted out by the Ukrainian National Security and Defense Council earlier today seems to confirm that the pattern of heavy fighting along spiky "fingers" seems to continue today:
— James Miller
576 Miners Trapped As Heavy Shelling Cuts Power To Two Mines Near Donetsk
Reuters reports that two mines in the Donetsk region, Zasyadko and Skochinsky, have both had their power cut by heavy shelling. While the Russian-backed separatists said that they were evacuating 350 trapped miners in Skochinsky, they also report that 576 miners are trapped without light in the Zasyadko mine.
Mining is dangerous, but mining in Ukraine is particularly dangerous due to poor regulation and the extreme depth of the mines, a phenomemon which has only gotten worse due to the occupation of the Russian-backed separatists, and the shelling which can cut power and strand miners.
BBC News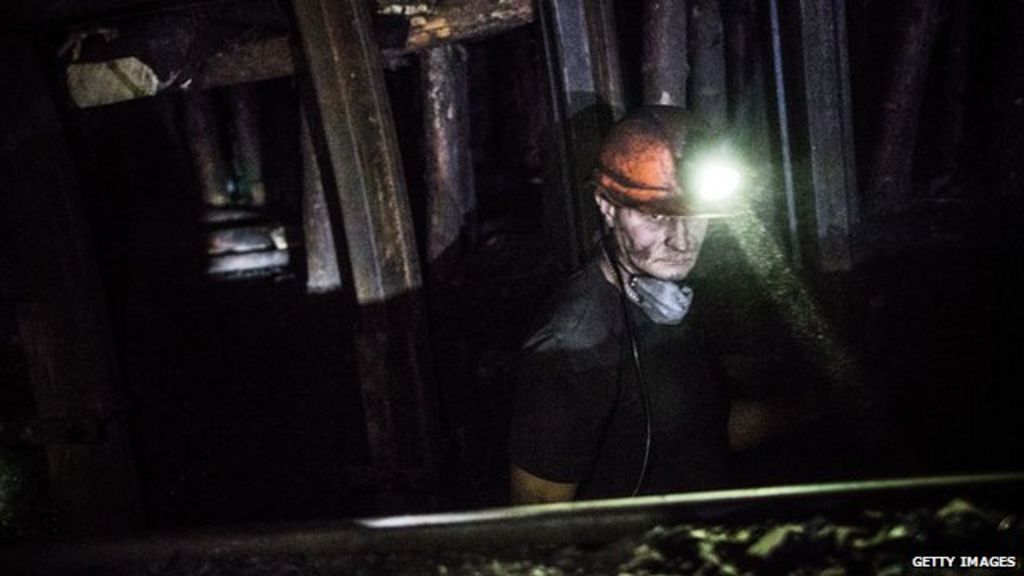 Why Ukraine's mines are so dangerous – In 90 seconds – BBC News
Media playback is unsupported on your device A suspected gas blast at a coal mine in a rebel-held region of east Ukraine is believed to have killed some 30 miners. It's the latest in a string of mining disasters to hit the country. But why are Ukraine's mines so dangerous?
Jun 03, 2015 17:55 (GMT)
— James Miller
Minsk Agreement Officially Over? Ukraine's General Staff Says They Are Redeploying Heavy Weapons To The Front
Mashable's Christopher Miller has this important report:
Under the Minsk agreement both sides agreed to withdraw heavy weaponry such as artillery and tanks to positions at least 50 kilometers from the front lines. According to the OSCE Special Monitoring Mission (SMM) which has been inspecting holding areas where this equipment was kept, the Ukrainian military has fairly consistently kept their end of the deal, and the Russian-backed fighters have often broken the deal, particularly lately, though certainly both sides have deployed heavy weaponry within that demarcation line.
It now sounds like, in light of this new fighting north and southwest of Donetsk, the Ukrainian military has no intention of being the only side in this conflict which is pretending that there is a ceasefire.
— James Miller
Video Reportedly Shows Heavy Shelling In Marinka, Some Of Which Nearly Hits Cameraman
This video reportedly shows a man filming a smoking building in Marinka when an incoming shell nearly hits him. Though we can't guarantee that the video is what it says it is, here is what we know about the video:
– Reverse-image searches of frames from the video do not net any results, a good indicator that the video is new.
– It does not look familiar to us, as if we had seen it uploaded previously.
– It matches what we know — there is heavy fighting in Marinka and damage to civilian buildings.
— James Miller
Ukraine Says Russian-Backed Troops Launch Major Offensive But Military "Holding Off All Attacks"
RFE/RL provides a summary of statements from both Ukrainian and separatist leaders, both of whom report major fighting around Marinka (Maryinka), south-west of Donetsk:
Army spokesman Andriy Lysenko said on June 3 that the rebels launched "a massive bombardment on our positions near Maryinka and Krasnogorivka including from heavy weapons."

Ukrainian forces are "holding off all the attacks," he added.

Maryinka is located 15 kilometers west of Donetsk.

Senior separatist commander Eduard Basurin was quoted as saying clashes were still going on in that area as of 1.45 p.m. local time, and accused government troops of firing artillery at rebel forces.

Meanwhile, rebel officials said shooting cut off electricity at the Skochinsky mine in the Donetsk region, trapping more than 350 miners underground. One official said the miners were being evacuated.
This matches our earlier reporting below, though this is the first time today we have seen comments from the Ukrainian military spokesman.
There are still conflicting reports about who holds Marinka.
— James Miller
Explosions In Kievsky District Of Donetsk
28th Brigade Say They Are Not Surrounded In Marinka
Donetsk news site 62.ua reports that the press officer of the 28th Brigade, which is defending Marinka, has said that Ukrainian troops are not surrounded.
Russian-backed forces are attempting to encircle Ukrainian troops in a massive assault launched in the early hours of this morning.
A column of Ukrainian armour and personnel has been dispatched to Marinka to reinforce the 28th Brigade.
The report quotes a soldier as saying (translated by The Interpreter):
"The 28th Brigade has knocked the enemy for six, and this with less than their full strength. The enemy's tanks, BMPs and Urals are burning. Quite a few torn up and killed enemy."
Meanwhile, the Russian-backed separatists are claiming that Marinka is under their control and that the flag of the self-proclaimed Donetsk People's Republic has been raised over the suburb.
— Pierre Vaux
Yatsenyuk Says Russia Has Ordered Offensive As A 'Challenge To The International Community'
Ukrainska Pravda reports that Arseniy Yatsenyuk, the Ukrainian prime minister, has claimed that Russia gave the order for their proxy forces in Donetsk to launch today's offensive as a challenge to world leaders meeting on June 7 for the G7 summit in Germany.
The Interpreter translates:
"Yesterday Russia scuppered the meeting of the trilateral contact group, and today gave the order to their terrorists to begin a military operation," said Yatsenyuk.

In his words, this took place on the even of the G7 summit and he expects that at this summit, "the international community will give a proper assessment of Russia's aggression."

"This is one more challenge to the international community… I expect that the international community will produce a proper and adequate response to Russian aggression at the G7 summit," said the prime minister.

Yatsenyuk said that at this time American soldiers and units of the Ukrainian National Guard are conducting exercises on a training range. Also, according to him, British instructors are on the ground and, at the end of August 2015, instructors from the Canadian armed forces will come to the Yaroviv training range.

"We expect that other EU countries will also join this important mission, because this it is the mission to protect security in Europe. We are defending our country and defending European borders," said Yatsenyuk.
— Pierre Vaux
Reports Of 4 Civilians And 12 Soldiers Wounded In Marinka And Krasnogorovka
Ostro.org reports, citing the Donetsk Regional State Television and Radio Company (OGTRK) that four civilians and 12 Ukrainian soldiers have been wounded as a result of the shelling of Marinka and Krasnogorovka.
Earlier today, Armen Nikogosian, a volunteer medic, said that 25 Ukrainian soldiers had been wounded in Marinka. 
With heavy fighting still under way we expect reported casualty figures to vary in the meantime.
According to the Ostro report,  representatives of the Donetsk Regional State Administration have told journalists that a shell has struck the central district hospital in Krasnogorovka. Fortunately no-one was wounded, the report claims.
— Pierre Vaux
Three Civilians Killed In Fighting
Peter Leonard reports for the Associated Press that three civilians have been killed amidst the current intensification in violence.
The head of the government-controlled part of Luhansk region, Hennadiy Moskal, said in a statement on his official website that an elderly couple died when their car was struck by mortar fire Wednesday morning. The statement said the strike occurred 20 kilometers (12 miles) into government-held territory.

Russia's Interfax news agency cited a rebel representative as saying that one resident in the town of Yenakieve was killed near a waste treatment plant during a 20-minute barrage.

The war has killed more than 6,400 people since April 2014.
Ukrainian Positions On Donetsk-Mariupol Highway Attacked
There are reports this morning that, as Russian-backed forces mount heavy attacks around the city of Donetsk, there is a wider escalation in attacks elsewhere on the front lines.
To the south of the separatist-held city, Ukrainian positions on the strategically important Donetsk-Mariupol highway have come under attack.
The highway is Ukrainian controlled to the immediate south-east of Marinka, then separatist-held from Dokuchaevsk until it comes under Ukrainian control once again from Bugas to Mariupol.
Pushing the Ukrainians off this highway would, to the north, enable a flanking move on Marinka, and to the south, a pincer move on Mariupol.
Today the State Border Guard Service reported that Bugas had been shelled. To the north, positions of the Ukrainian 28th Brigade near Beryozovoye came under attack. 
Translation: Shelling has begun again on the positions of the 28th Brigade near Beryozovoye. From the sound of it, artillery is being used… Possibly 120 mm mortars.
According to the SBGS, one border guard received light wounds to their hands after their checkpoint in Beryozovoye was attacked with small arms. The SBGS claim that Ukrainian return fire repelled the Russian-backed forces.
Near Mariupol, a checkpoint in Gnutovo was shelled with mortars this morning, the SBGS report.
The Mariupol Defence Headquarters claimed this morning that five attacks had been conducted against Ukrainian positions in Shirokino since midnight, with 122 mm self-propelled guns, 120 mm mortars and small arms used.
— Pierre Vaux
Russian-Backed Forces Launch Major Assaults North And South-West Of Donetsk
Donetsk awoke in the early hours of this morning to intense artillery and Grad rocket fire as Russian-backed forces launched a major new offensive, assaulting both to the north of the separatist-held city, striking Avdeyevka, and to the south-west, pounding Marinka and shelling Ukrainian positions on the Donetsk-Mariupol highway.
Novosti Donbassa reports, citing Hromadske TV, that fighting began at around 4 am (1:00 GMT), with fire towards Marinka and Krasnogorovka from Grad MLRS and tanks.
According to Armen Nikogosian, a volunteer medic, around 25 Ukrainian soldiers have been wounded.  
Ukraine has sent tanks and armoured personnel carriers to reinforce the 28th Brigade defending Marinka.
Yevgeny Deydey, commander of the Kyiv-1 Battalion, wrote on his Facebook page at 3:22 GMT (translated by The Interpreter):
Heavy artillery shelling began at 4:50. There are wounded. Krasnogorovka and Marinka are burning.

Across the whole line violent close-quarters battles are under way.

The militants are heading for a breakthrough.

We're praying for our guys. 
This video, uploaded today, purportedly records shelling in the Petrovsky district of Donetsk, just east of Marinka. From the sound of the blasts, the shelling is outbound from this separatist-held area of Donetsk. 
The description of the video claims that Russian-backed fighters are firing from positions in the immediate vicinity of residential high-rises.
Translation: Graaaaad from Donetsk to Marinka. 10:50
Residents having been photos to a Marinka VKontakte group:
Fire near the Equicentre (the Chertkov stables). View from Marinka.
Translation: #Marinka battle under way between units of the 'Fifteenth' (DNR) and the 28th Brigade (Ukrainian Armed Forces). Distance between their positions is no more than 400 metres. Automatic grenade launchers, anti-aircraft guns, artillery.
To the north, Peski, Avdeyevka and Krasnogorovka are under attack.
Translation: #Avdeyevka at around 8 there was a full salvo of Grads from the direction of Yakovlevka. Fell near Avdeyevka
Translation: At 8:00 there were columns of smoke: At the Airport, at Peski, in the direction of Krasnogorovka. Now only in the direction of Krasnogorovka.
Translation: "My father's now walking from the 29th to Aleksandrovka. Under the bridge near the 29th mine there are Grads and from there to Petrovka, tanks everywhere.
Translation: Tanks, self-propelled guns, APC and more. They were rolling in that direction yesterday throughout the evening and the night.
It appears that a major offensive is now under way. We will report next on other worrying developments elsewhere along the front line.
— Pierre Vaux