LIVE UPDATES: The previous post in our Putin in Syria column can be found here.
---
Stratfor Verifies ISIS Destroyed 4 Russian Helicopters In Shelling On May 14 Near Palmyra
There was no acknowledgement of any losses by the Russian military in the following days, while some pro-regime sources claimed that an accidental explosion had taken place at the strategically important airfield.
But the imagery released by Statfor today makes it clear that ISIS claims were accurate, showing the burned wreckage of four
Mil Mi-24 Hind
helicopter gunships and numerous trucks at a supply depot just north of the apron:
Stratfor and the AllSourceAnalysis partners compared DigitalGlobe images taken on the day of the attack with those from May 17:
Stratfor is confident that the Mi-24s at T4 were Russian:
Based on satellite imagery as well as video of the base, the Russian force consisted of approximately four Mi-24P gunships. So at least according to these open sources, no Syrian Mi-24 helicopters operated from the T4 air base in recent months. 
Stratfor analyst Sim Tack explained to the BBC how the pattern of damage indicated that it was a result of shelling, not any accidental blasts:
BBC News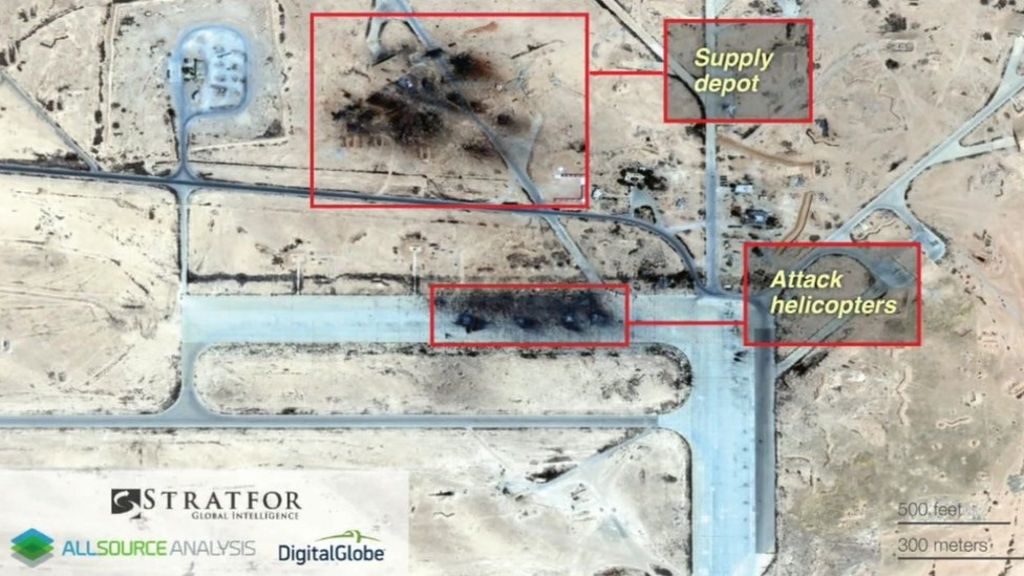 Set as default press image
Islamic State 'destroys Syria airbase' used by Russia – BBC News
A strategically significant Syrian airbase, used by Russia, appears to have been almost completely destroyed – according to new satellite imagery exclusively seen by the BBC. Stratfor analyst Sim Tack explains.
May 24, 2016 11:46 (GMT)
The accuracy of both the targeting and the intelligence ISIS possessed on the hardware at T4 is striking.
The attack took place as ISIS was fighting to take control of the Shaer gas fields and cut the highway between Palmyra, which was captured by Russian and regime-allied forces in March, and Homs.
As of 12:34 GMT today, the state-owned RIA Novosti news agency reports that the Russian Ministry of Defence has yet to respond to Stratfor's report.
— Pierre Vaux