A NSyA fighter in training seen in one of the first New Syrian Army Videos (the blurred background thwarts open source geolocation attempts) | Bellingcat
LIVE UPDATES: The previous post in our Putin in Syria column can be found here.
---
Islamic State Has Benefited From Russian Airstrikes, And Their Enemies Have Been Hammered
Yesterday, June 17, there was news that a Russian airstrike in Syria may have struck rebel groups who belong to the coalition of anti-ISIS fighters led by the United States, the "New Syrian Army," often called either NSyA or NSA. The
NSyA reported
that "more than dozen" airstrikes hit their camps:  
The New Syrian Army is affiliated with the Free Syrian Army (FSA), but it appears to be solely based in southeastern Syria, away from areas controlled by the Syrian government. The reported purpose of the New Syrian Army — to fight ISIS which is advancing south.
In other words, this Russian airstrike appears to be specifically designed to weaken fighting groups that were designed to fight ISIS. 
Free Syrian Army Southern Front Spokesman Major Issam Al Reis reports that FSA units which are currently fighting ISIS as it advances south were targeted: 
Al-Tanf is located here, near the border with Jordan and Iraq: 
The Southern Front is based in Daraa province. It has been backed and vetted by the US government and its allies, and has from time to time been supplied weapons, to fight both the Assad regime and ISIS.  
In the last several weeks they have fought intense battles against ISIS, pejoratively called "Daesh," east of Damascus. Recently a Southern Front military commander was killed in one of the battles.
Today the AFP has spoken to  a senior US defense official who spoke about the incident:
"Today, Russian aircraft conducted a series of air strikes near al-Tanf against Syrian Counter-ISIL forces that included individuals who have received US support," said the senior defense official, who requested anonymity.

"Russian aircraft have not been active in this area of southern Syria for some time, and there were no Syrian regime or Russian ground forces in the vicinity," the official said.

[…]

"Russia's latest actions raise serious concern about Russian intentions. We will seek an explanation from Russia on why it took this action and assurances this will not happen again," the defense official said.
NOW Lebanon reports that, according to the NSyA, Russian jets conducted ten bombing raids against their camp. The Syrian Observatory For Human Rights reports that two consecutive strikes killed two NSyA fighters. 
British Special Forces Helped Train The NSyA
Earlier this month The Times broke the story that British special forces units were operating in Syria to train the NSyA. According to that article, the British soldiers regularly cross the Jordanian border to work with the group that is focused on fighting ISIS. 
Al Arabiya reports that the British forces appear to have stepped in to support the group which is increasingly under intense attack from ISIS: 
NSA First Lieutenant Mahmoud al-Saleh told The Times that his group had a steady partnership with the British special forces, who helped them with logistics and the setting up of defenses.

"They [ISIS] attack us at all times, 3am, 5am, 4pm, 11pm. If you look at the timing of the assaults it's clear they don't want us to get any rest."

Last month, ISIS deployed a car bomb at the NSA base, killing 11 and injuring 17. The suicide attack damaged the structure of the base and, according to the report, British troops crossed from Jordan to help them to rebuild their defenses.

Saleh explained that ISIS regularly pounds their base with waves of suicide bombers, missiles and mortars.

The rebel unit, made up of former Syrian special forces units who defected from President Bashar al-Assad's army, was retrained by Western powers including the US and UK in the neighboring ally Jordan.
Proxy War In Syria?
Al-Tanf is in an extremely isolated area of southern Syria, far from the fighting between anti-Assad rebels and the Syrian government. It appears, then, that Russia not only went out of its way to bomb a group that is fighting ISIS, but that they went out of their way to specifically target a group that has been supported by the West.
Why would Russia do such a thing? Some, including this author, believe that Russia has repeatedly proven that they are not interested in defeating terrorism in Syria. Instead, Russia benefits from the existence of ISIS for two reasons:
1. The presence of ISIS allows Russia to maintain the facade that the Assad government is continuing its war against the Syrian people in order to defeat terrorism.
2. ISIS often engages in battle with the same rebel groups that are fighting against Assad. Russia, then, is happy to use their airstrikes to assist ISIS in its campaign against moderate rebel groups.
If this logic is true, then rebel groups directly backed by the West would be the best targets for Russia to bomb since they are vetted by Western intelligence agencies to ensure that they have moderate ideologies, and since they are the best trained, best equipped, and most effective fighters on Syria's battlefields. 
There is already ample evidence that Russia's air campaign in Syria, which started in September 2015, had little or nothing to do with defeating terrorism but was instead designed to prop up the Assad regime. Since the Russian intervention started, I have written several studies of the targets of Russian airstrikes, best summarized here, and the conclusion is clear — between 80 and 90 percent of Russian airstrikes targeted areas where ISIS does not have control. Most of those strikes supported advances by the pro-Assad coalition comprised of Hezbollah shock troops, Iranian Revolutionary Guard commandos, Shi'ite militias from Iraq, Russian special forces and mercenaries, and the Syrian military. 
RadioFreeEurope/RadioLiberty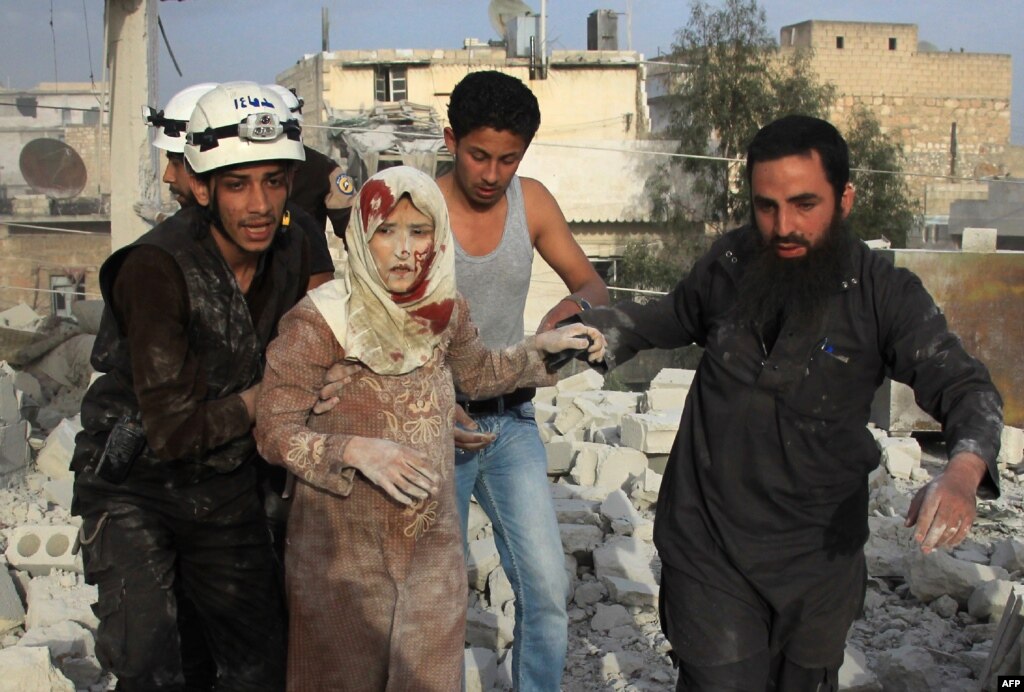 Set as default press image
If The Goal Is To Defeat Islamic State, Don't Rely On Russia To Help
Three historic developments have taken place in Syria in the last month and a half. The first was the declaration of a nationwide cease-fire, agreed upon by President Bashar al-Assad as well as most nonjihadist factions of the Syrian opposition. The second, Russian President Vladimir Putin's announcement that Russian forces would begin a partial withdrawal from Syria.
Jun 17, 2016 22:40 (GMT)
The Data Is Clear — Russia Is Helping, Not Hurting, The Terrorists
Perhaps this thesis is best illustrated by following a single source over time. The Institute For The Study Of War (ISW) systematically collects a massive amount of data from Youtube, social media, and other sources on the wars in Syria and Iraq. Using sophisticated computer analysis, they can spot trends in the fighting, and then their experts on the areas in question can compare this data to their own understanding of the conflicts. ISW has a proven track record of accurately depicting and predicting trends in Syria and Iraq.
The airstrike-tracking work, that now includes more than 40 separate maps, has been directed at ISW by Syria Analyst Genevieve Casagrande.  In close conjunction with her Syria Team colleagues and the other ISW analysts, Ms. Casagrande has compiled a public record from open sources that allows the world to truth-test Russian statements about their airstrikes' targets.
The Interpreter's editor-in-chief Michael Weiss and I have compiled some excerpts from these reports (highlights are our own): 
"Russian warplanes conducted numerous airstrikes in the western countryside of Aleppo against rebel and Jabhat al-Nusra positions. These airstrikes coincided with ISIS's largest advance against rebels in northern Aleppo since August 2015, indicating that Russian airstrikes are not deterring ISIS from launching new offensives. Instead, rebels in Aleppo province are currently facing escalated threats from pro-regime airstrikes and ISIS simultaneously."
"Russia's involvement in Syria is facilitating ISIS's territorial gains, while also strengthening Assad. Russia is supporting the Syrian regime's offensives in Latakia, the al-Ghab Plain, and northern Hama. Russia also intensified strikes on rebel-held northwestern Aleppo, likely to set conditions for an imminent Russian-Iranian-Syrian regime offensive in the area....ISIS is benefiting from Russia's strikes on the Syrian opposition. On October 9, ISIS advanced 10 kilometers against rebels in northeastern Aleppo, the largest advance by ISIS in the province since August 2015. ISIS continued to conduct probing attacks against rebels northeast of Aleppo City from October 10-14. The Syrian regime and ISIS have historically leveraged one another's offensives in order to advance against rebel forces in the northern Aleppo countryside. Both ISIS and the regime will likely capitalize on the effects of Russian airstrikes on rebels. Russian airstrikes have thus far failed to deter ISIS from launching new offensives and rather have facilitated ISIS's seizure of new terrain. "
"Russian airstrikes largely targeted rebel-held terrain in Aleppo, Idlib, and Hama Provinces from November 30 to December 2. Russian warplanes concentrated in the northern Aleppo countryside, primarily striking targets along a key rebel-held ground line of communication (GLOC) necessary for the delivery of Turkish support into Aleppo City. This rebel supply line remains highly vulnerable as ISIS continues to advance in the area, capitalizing on the intensity of the Russian strikes. ISIS seized at least four villages east of the strategic border town of Azaz on December 2, bringing ISIS within six miles of the supply route….The Syrian regime and ISIS have historically leveraged each other's offensives in order to advance against rebel forces in the north of Aleppo City. Russian airstrikes, regime ground operations, and the most recent ISIS offensive threaten to incur major losses for rebel forces in Aleppo."
"Russian airstrikes in Syria, however, continue to be concentrated in rebel-held terrain in Aleppo, Idlib, and Hama Provinces, targeting positions across rebel front lines with the regime, ISIS, and Kurdish YPG forces. Russian airstrikes continued to target locations along the key rebel ground line of communication (GLOC) from northern Aleppo City to the Turkish border, coinciding with a recent ISIS offensive to sever the GLOC. Rebel forces, however, successfully slowed ISIS's advance and recaptured the town of al-Hamzat in northern Aleppo from ISIS on December 11, despite the concentration of Russian strikes in the area. Russian airstrikes also targeted rebel front lines near the Kurdish Afrin canton in northwestern Aleppo, a site of recent clashes between rebel and Kurdish YPG forces."
"Russia continues to use disinformation to present its air campaign as a constructive force in Syria ahead of the next wave of talks on the Syrian conflict. The Russian Ministry of Defense (MoD) claimed to provide air support to elements of the Free Syrian Army in an effort to "unite" the various efforts of regime and "other groups" in Syria on December 15. Alleged recipients of Russian air support include the "Desert Lions" and "the Democratic Forces," likely a reference to the U.S.-backed Syrian Democratic Forces (SDF) currently operating in Aleppo and Hasaka Provinces. The Russian MoD claimed its first airstrikes in Hasaka Province on December 16. However, local reporting has not yet substantiated these claims and, thus, ISW does not assess them at even a level of Low Confidence at this time. Russian warplanes meanwhile continued to indiscriminately target rebel-held areas in northwestern Syria, which are home to both hardline and "moderate" FSA-affiliated rebel factions from December 13-17. The Russian air campaign continued its efforts to weaken the Syrian opposition as airstrikes concentrated along rebel front lines with the regime, ISIS, and Kurdish YPG forces in Damascus, Hama, Latakia, and Aleppo Provinces."
"Russian airstrikes also concentrated across rebel frontlines with ISIS in Northern Aleppo Province, compounding pressure on Aleppo-based rebel factions. The majority of strikes targeted rebel positions from December 22 – 27, although Russian warplanes conducted a limited number of airstrikes in support the regime's anti-ISIS operations in Homs, Aleppo, and Deir ez-Zour Provinces."
The next few weeks show a slowdown in Russian airstrikes — perhaps for weather-related reasons, or perhaps to give time to monitor how the situation on the ground was changing. My analysis suggests that it was the latter, since Russia shifts focus in January. Having hammered the non-ISIS rebels and facilitated an ISIS advance, Russia suddenly realizes that there are several areas where ISIS is advancing too much — endangering positions held by the Assad regime.
Once ISIS offensives against regime positions were in check, the Russians quickly refocused on their main goal — destroying non-ISIS rebel groups that threatened the Assad regime.
Russia also began to arm Kurdish groups in northeastern Syria — groups which were primarily focused on fighting the same rebel units that Russia had been bombing for months. 
Again, we turn to ISW's reporting:
"Russian air operations shifted eastward on January 18-19, targeting ISIS-held terrain in Homs, ar-Raqqa and Deir ez-Zour Provinces following a major attack on Deir ez-Zour City by ISIS. ISIS launched an offensive against regime positions on the northwestern outskirts of Deir ez-Zour on January 17, seizing two villages and several military installations under the cover of a major sandstorm that reportedly grounded both regime and Russian aircraft. Russian warplanes subsequently shifted operations away from opposition-held terrain in Aleppo, Idlib, Hama, Homs, Damascus, and Dera'a Provinces in order to target ISIS-held positions along the Euphrates River north and south of Deir ez-Zour City on January 18. The shift in Russian air operations serves to forestall the immediate defeat of regime forces in Deir ez-Zour City, one of the last remaining regime outposts in Eastern Syria." 
"The Russian air campaign in Syria enabled strategic gains in the regime's longstanding effort to buffer its coastal heartland in Latakia from January 23 – 25. Russian strikes targeted opposition-held positions along the frontline in both Jebel al-Akrad and Jebel Turkmen mountain ranges in Northern Latakia, facilitating the regime's seizure of the town of Rabi'ah, the last major opposition-held town in the province on January 24. The regime's clearing operations in northern Latakia were enabled by Russian air support and were also reportedly guided by Russian advisers on the ground who likely contributed to the operation's success…
"Russian warplanes have demonstrated a concerted effort against ISIS since the group's advance on regime-held parts of Deir ez-Zour City on September 17; however, Russian indiscriminate targeting continues to incur high numbers of civilian casualties, and Russian operations aimed at degrading the armed opposition have continued unscathed. Russian warplanes targeted opposition-held territory in Aleppo, Idlib, and Dera'a from January 23 – 25. Russia provided military aid to Kurdish forces via helicopter in northwestern Aleppo on January 25. Russia's shipment of weapons to Kurdish forces northwest of Aleppo City marks a new stage in Russia's effort to strengthen ties with Kurdish elements, and will increase pressure on opposition groups operating in the area."
"Russia's four month long air campaign has set conditions for the encirclement of Aleppo.  Pro-regime forces backed by heavy Russian airstrikes severed one of two opposition supply lines into Aleppo City from the Turkish border on February 3 when they pushed northwest of the city to reestablish a regime supply line to the besieged regime towns of Nubl and Zahra'a. Iranian Revolutionary Guard Corps fighters and Iranian-backed Shi'a militia forces played a prominent role in the offensive, demonstrating the lethality of combined Russian air and Iranian ground operations against the opposition in Syria. Reports of Russian Spetnaz activity at unspecified locations in Aleppo Province likely indicate the involvement of these forces in the operation. The gains position pro-regime forces to encircle opposition-held portions of Aleppo City by severing the last remaining opposition supply line that runs east from the Turkish border into the city… Russia's air campaign has consistently targeted the outer location for the past three months, indicating that this is where pro-regime forces intend to complete the encirclement. This section of the supply line runs through rural terrain that Russian airpower can easily target and Iranian-backed ground forces can ultimately seize, whereas the inner location is more difficult as the terrain includes both topographic and urban barriers to rapid ground offensives. Pro-regime forces are meanwhile taking steps to buffer their forward line of troops (FLOT) to the north of Aleppo to make it possible to sustain the encirclement. Pro-regime forces will likely complete the encirclement of Aleppo in coming weeks and besiege the opposition inside the city in order to force Turkey and Saudi Arabia to concede to a negotiated settlement or ceasefire."
"Russia continues to target opposition forces and civilian infrastructure after brokering a "cessation of hostilities" agreement through the International Syrian Support Group (ISSG) on February 11. Russian air operations against the armed opposition have continued unhindered since the announcement of the agreement. Russian officials have reiterated that they have no plans to halt their air campaign against "terrorists," which they have broadly defined to include all opposition groups threatening the Assad regime, including some receiving U.S. support. The "cessation of hostilities" agreement will ultimately leave Russian and other pro-regime forces free to continue anti-opposition operations throughout Syria. Meanwhile, aid organizations accused Russian warplanes of targeting four hospitals and one school in Aleppo and Idlib Provinces on February 15 alone. The reported attacks are a continuation of Russian targeting of vital civilian infrastructure, likely in an effort to soften the resolve of the Syrian armed opposition. Russia also has ratcheted up its military power in Syria since the agreement, with the deployment of the advanced Tu-214R intelligence, surveillance, and reconnaissance (ISR) aircraft to the Bassel al-Assad International Airport on February 15. The Tu-214R will likely work in coordination with the new Russian Su-35S warplanes to conduct quick and accurate precision strikes. Its deployment is another indication that Russia and the regime continue to pursue a military solution to the conflict in Syria."
" Russian airstrikes concentrated in opposition-held areas of northwestern Syria on February 28, following a lull in Russian airstrikes on February 27. The ceasefire, however, is largely holding, despite accusations from both pro- and anti-regime elements of violations of the agreement. The Russian MoD reported nine violations of the ceasefire by "terrorist" groups, "moderate" opposition factions, and Turkey. Head of the opposition High Negotiations Committee (HNC) Riad Hijab accused Russian warplanes of conducting 26 airstrikes on February 28 targeting opposition factions that have announced their commitment to the truce. Hijab stressed that "negotiations will be unfeasible" amidst continued Russian use of cluster munitions and persistent violations of the ceasefire by the Syrian regime and its allies resulting in civilian casualties. Russian airstrikes have reportedly targeted the headquarters of U.S.-backed TOW anti-tank missile recipient Firqat al-Wasta in northern Hama Province on February 29. The likely continuation of Russian and regime air operations against mainstream elements of the opposition throughout western Syria under the guise of fighting terrorism will ultimately threaten the stability of any sustainable ceasefire agreement." 
As we can see, as soon as Russia was confident that ISIS no longer threatened their own positions, it went back to hammering the opposition. Having broken the rebel lines and negotiated a ceasefire, Russia then took advantage of the lower levels of fighting to pursue some of its secondary goals. Also, having helped to negotiate a ceasefire (one which never fully took hold and was quickly broken by the pro-Assad coalition), Russia took the opportunity to "withdraw" from Syria. As I've written, there was no real withdrawal, but the announcement of one made Russia look good in the international community, as did Russia's role in recapturing the historic city of Palmyra, a position rich in both symbolism and energy fields. 
"Russia reportedly withdrew approximately fifteen of its airframes from the Bassel al Assad International Airport in Latakia Province from March 15 – 16, following Russian President Vladimir Putin's announcement of a drawdown on March 14. Five Russian Su-34 bombers, four Su-25s, five Su-24s, and at least one Su-30 had left the airbase to return to Russia as of March 16…
"Russia has yet to withdraw many of its other aircraft from the base, including numerous short- and medium-range bombers. Putin has messaged his determination to defend both the airfield at Bassel al Assad and Russia's naval basing in Tartous as well as his intent to retain the S-400 air defense system in Latakia…"
"Russian airstrikes in Syria have notably decreased since Putin's announcement and partial drawdown. ISW was only able to confirm strikes in the vicinity of the ISIS-held town of Palmyra in central Homs Province with both high and low confidence from March 14 – 15. Pro-regime forces launched a renewed campaign to seize Palmyra in early March, backed heavily by Russian and regime fixed and rotary wing strikes… The combination of Russian airpower and likely Iranian reinforcement has brought Assad's forces within four kilometers of Palmyra as of March 16. The current "cessation of hostilities," which does not apply to ISIS targets and which has reduced overall levels of violence has likely allowed the regime to refocus efforts on clearing ISIS's presence in central Homs."
"Russian air operations pivoted once again to Aleppo as of April 6, following weeks of strikes primarily carried out in support of pro-regime ground operations against ISIS in central Homs Province. Pro-regime forces supported by Russian and regime airstrikes have resumed operations to encircle and besiege armed opposition forces in Aleppo City. Russian air operations have regularly targeted opposition-held terrain in Aleppo province throughout its air campaign in Syria, beginning condition-setting efforts for pro-regime operations to encircle and besiege Aleppo City as early as October 2015. Russian air support has been a pivotal component of pro-regime operations to encircle Aleppo City, bringing regime forces within five kilometers of besieging opposition forces inside the city as of February 2016."
"Russian airstrikes have both repelled opposition efforts to reverse gains made by regime forces south of the city and propelled regime advances in the city's northern industrial outskirts. Russia resumed regular strikes in the vicinity of Aleppo City on April 6 in response to an opposition offensive. This new wave of strikes in Aleppo, although not yet at the levels seen in the first five months of the Russian air campaign, ultimately places the already tenuous "cessation of hostilities" agreement at risk of collapse. The escalation of both Russian airstrikes and pro-regime operations appears to be driving additional upticks of violence elsewhere in northwestern Syria, particularly on key regime frontlines in northeastern Latakia and northwestern Hama Provinces on April 18. Renewed opposition operations in this area apply additional pressure to the regime's heartland on the Syrian coast."
"Russian airstrikes escalated against ISIS's positions throughout Syria to include areas in Homs, Deir ez-Zour, and Raqqa, following ISIS's resumption of large-scale operations against pro-regime forces in central Homs on May 3. These operations have been primarily focused on seizing strategic gas fields that serve as the regime's primary source of natural gas for areas in western Syria. ISIS seized the Sha'er Gas Field from pro-regime forces on May 5 and subsequently severed the primary regime ground line of communication (GLOC) between Homs City and Palmyra on May 10, inhibiting the ability of pro-regime forces to redeploy to critical frontlines with ISIS in the area. Russian airstrikes responded to this threat, targeting ISIS's positions in the Sha'er Gas Field and the nearby Mahr Gas Field. ISIS's operations also pose a threat to Russian's own military contingent in central Homs, which includes its newest military base near Palmyra as well as its reported rotary wing deployment in the regime's T4 and Shayrat airbases…
"Russia is using the series of strained and intermittent ceasefires in Aleppo to reset its operations against opposition forces in the area. Russian air operations have continued in Aleppo, which was once the primary focus of Russia's air campaign, albeit at decreased and sporadic rates. The Syrian regime has in turn barraged Aleppo with intense airstrikes beginning on April 22, making Russian airstrikes in the area difficult to discern. Regime and Russian strikes in Aleppo from April 22 – 30 killed and injured over 145, including a strike on a Doctors Without Borders hospital that killed over 60. ISW was not able to assess any Russian strikes with low confidence in Aleppo from April 30 – May 4, but airstrikes resumed targeting the Syrian opposition in the city on May 5. Russia has also reportedly begun to deploy additional assets to Aleppo, including ground forces to the Efrin Canton in northwestern Aleppo to support the Syrian Kurdish YPG and artillery units north of Aleppo City. The opposition meanwhile launched major operations against regime forces south of Aleppo City, securing the town of Al Eis on April 1 as well as Khan Touman on May 5 – 6. Delayed and limited Russian airpower was unable to reverse gains made during the opposition's offensive against the town of Khan Touman south of Aleppo led by al-Qaeda's Syrian affiliate Jabhat al Nusra and Salafi-Jihadist group Ahrar al Sham. The offensive was timed alongside a Russian-organized concert in the ancient ruins of Palmyra, which required a significant number of Russian attack helicopters and armored vehicles to secure the guests in attendance. Iranian forces, without the support of major Russian airstrikes, suffered heavy losses in the Khan Touman offensive. Pro-regime forces, however, resumed operations to encircle opposition forces in Aleppo City through its northern industrial outskirts on May 12 as the as the temporary 48-hour ceasefire expired. Opposition forces reportedly prevented pro-regime advances in the area despite Russian airstrikes."
"Russia has continued its air campaign against the Syrian opposition, despite its claims to temporarily suspend airstrikes against Syrian al Qaeda-affiliate Jabhat al Nusra and the opposition. The Russian Ministry of Defense announced a temporary pause in its air campaign against Jabhat al Nusra in order to give opposition groups time to distance themselves from the jihadist group on May 25 and again on May 27. The withdrawal of opposition forces from key frontlines jointly held with Jabhat al Nusra – particularly in Aleppo – would likely render core opposition-held terrain vulnerable to advances by pro-regime forces. Russia is conducting a concerted effort against opposition forces in Aleppo, following opposition gains against pro-regime forces in southern Aleppo throughout April and May 2016. Russian air operations have largely concentrated against positions along the opposition's last remaining supply route into Aleppo City from May 13 – 26, including against towns northwest of the city and areas in Aleppo's northern industrial outskirts. Pro-regime forces remain positioned to encircle and besiege opposition forces in Aleppo City by severing this supply route. Pro-regime forces continued low-level ground operations supported by Russian airstrikes from May 12 -17 to complete the encirclement through the city's northern industrial districts, although these efforts were unsuccessful."
"Russia has meanwhile continued to present itself as an effective partner in the fight against terrorism, while continuing to function as a destabilizing force in the Syrian conflict… Russian airstrikes continued to primarily target opposition forces in northwestern Syria from May 13 – 26, rather than terrorist organizations such as ISIS. ISW was only able to assess one Russian airstrike against ISIS for the two-week period from May 13 – 26 with low confidence, despite continued ISIS operations throughout Syria."
In the latest ISW assessment, the focus of Russian airstrikes has once again shifted. ISIS and the Kurdish YPG encircled non-ISIS rebels earlier in the month (that encirclement has been broken — for now), and while ISIS was advancing, Russia was focused on hitting the Free Syrian Army's Southern Front — the group described at the start of this article that is fighting both ISIS and Assad:
"The tempo of Russian air operations has dramatically escalated in Syria. The rate and breadth of Russian airstrikes nearly tripled from May 29 – June 2 in comparison to the previous five day period. ISW was able to assess a total of 29 Russian airstrikes with low and high confidence beginning on May 29 and only 10 locations from May 24 -28. This escalation marks a dangerous shift in the Russian airstrike pattern to levels only seen prior to the brokering of the Cessation of Hostilities agreement in late February 2016…
"Russia is clearly demonstrating its freedom of action in Syria. It has pivoted its air operations towards mainstream elements of the armed opposition across Western Syria. An anonymous U.S. intelligence official confirmed on June 3 that "Russia and [Syrian President Bashar al-] Assad have "primarily targeted the moderate opposition," despite their claims to the contrary. Russian air operations against the Syrian opposition expanded beyond the targeting of critical frontlines in Aleppo and once again began to target deep within opposition-held terrain in Idlib Province from May 30 – June 2. ISW was also able to assess two Russian airstrikes with low confidence in Dera'a Province on May 31, marking the first assessed Russian strikes in the province since February 25. The strikes targeted terrain largely held by factions within the U.S.-backed Southern Front coalition. Russia also continued its intense bombardment against the opposition in Aleppo in a likely condition setting effort for the pro-regime encirclement of Aleppo City, targeting key locations along the opposition's last remaining supply route into the city."
More updates from The Institute For The Study Of War can be found here:
Iswresearch
Set as default press image
ISW Blog
Intra-Shi'a tensions reached a boiling point in Iraq when Sadrist demonstrators defaced headquarters buildings of both rival Shi'a political parties and at least one Iranian proxy militia in Baghdad and southern Iraq. The demonstrations, which began on Ramadan on June 6, were small and not likely centrally coordinated; some demonstrators defaced the headquarters buildings of al-Ahrar Bloc, the Sadrist Trend's main political party.
Jun 17, 2016 21:00 (GMT)
The data is clear — ISIS has been dealt defeats, but largely at the hands of Western-backed rebel groups. Russian airstrikes have almost exclusively aided ISIS's expansion. The only exceptions to this rule are in isolated areas where ISIS either possessed valuable energy resources or where ISIS was a direct and immediate threat to Russian and Syrian government assets.
— James Miller