Michael J. Garcia, chairman of the investigatory chamber of the FIFA Ethics Committee , left, and Hans-Joachim Eckert, chairman of the adjudicatory chamber of the FIFA Ethics Committee, are shown in Zurich in July 2012. (Michael Buholzer/Reuters
Welcome to our new column, Russia Update, where we will be closely following day-to-day developments in Russia, including the Russian government's foreign and domestic policies.
Russian legislators finally received an answer to their queries from military authorities about soldiers killed in combat in Ukraine — which is that they can't say, it's a "state secret." And there is still no answer as to the origin of the gas leak spread across Moscow.

UPDATES BELOW
---
Kadyrov Announces Assassination of Georgian Terrorist Omar al-Shishani
Chechen leader Ramzan Kadyrov bragged today on his Instagram account about the assassination of the leader of the "Islamic State," Tarkhan Batirashvili.
 Translation by The Intepreter:
The enemy of Islam Tarkhan Batarishvili, who called himself Omar al-Shishani, is killed. The same will happen with everyone who gets it into his head to threaten Russia and the Chechen people. The same will happen to everyone who spills the blood of Muslims. Allah Akhbar!
Kadyrov did not say when or where Batirashvili was killed, but had given orders to track him down in September, TASS reported. 
Batirashvili, known by his name Abu Omar al-Shishani, was a commander for the Islamic State in Syria and former sergeant in the Georgian Army.
Batirashvili was previously arrested on illegal weapons charges and sentenced to three years in prison in Georgia. He was reportedly released early after serving 16 months in 2012 and left the country for Turkey, where Chechen rebels recruited him to the war in Syria. Starting in mid-2014, Batirashvili was a senior ISIL commander and Shura Council member located in Ar-Raqqah, Syria.

According to an interview on a jihadist website, Batirashvili said that prison transformed him; "I promised God that if I come out of prison alive, I'll go fight jihad for the sake of God."
We have not yet confirmed this claim.
Independent Editor Detained at Airport in Khabarovsk
Oleg Potapenko, editor-in-chief of the independent Russian news website Amurburg.ru, was detained at the airport in the Far Eastern city of Khabarovsk yesterday, November 12, RFE/RL reported. Potapenko had been on his way to Hong Kong.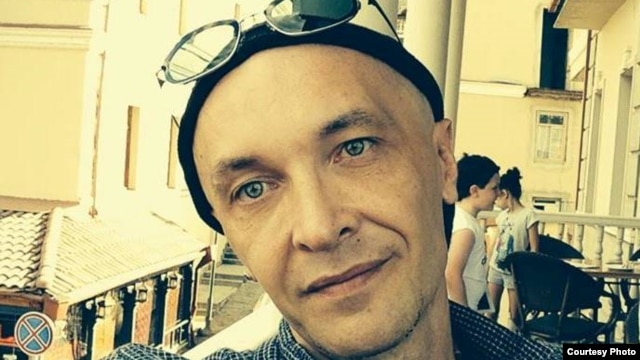 Potapenko said police confiscated their mobile phones, laptops, and tablets, saying they might contain classified information.

Potapenko, who is openly gay, was held for four hours and interrogated by police at Khabarovsk's airport in July upon his return from a forum of nongovernmental organizations in Georgia.
In July, Potapenko was detained on the tarmac immediately after his plane landed from Tbilisi, Svoboda, the Russian Service of RFE/RL reported. He was interrogated and his belongings searched for "extremist materials" although none were found. Said Potapenko at the time (translation by The Interpreter):
A four-hour study of my baggage led to nothing — no drugs, no materials of an extremist nature. Most likely it was a kind of psychological pressure. After all, in order to copy the files from my computer, they needed only a maximum of 20 minutes.
Amurburg.ru likely came under increased scrutiny for publishing the numbers of Russian soldiers in Ukraine.
OSCE Sees 100s Of Fighters Cross Russian Border Into Ukraine, And Trucks With Bodies Leaving
Since at least July there have been dead Russian soldiers who have returned to Russian after being killed in fighting in eastern Ukraine. These bodies have been shipped home in trucks marked "Cargo 200," the Russian military code for troops killed in action.
This week, with the fighting intensifying, the OSCE international monitors have spotted a vehicle marked "Cargo 200" returning to Russia:
On 11 November, the OM observed a van marked with signs "gruz 200" ["Cargo 200" which is a well-known Russian military code used for "military personnel killed in action"] crossing from the RF to Ukraine and returning several hours later.
The OSCE observer teams (OTs) also witnessed hundreds of armed men crossing the border:
During the reporting period, the OTs observed 665 men and women in military-style dress crossing the border in both directions. This is the highest number observed so far. These people have been crossing individually or in very small groups, but have recently also crossed in larger groups. On 7 November the OM observed a group of 24 persons in camouflage clothing that crossed by minibus from the RF to Ukraine at Donetsk BCP. These border crossings were made predominantly at Donetsk BCP in both directions. Several Cossacks were also observed by the OTs. The Cossacks are identified by their traditional fur hats, as well as by Cossack insignias. The observers did not see any of them carrying weapons.

As in previous weeks, the OM observed injured or sick persons crossing the border from Ukraine to the RF. The OM also observed the crossing of vans that were apparently assigned for the transport of deceased (see below).
Read their weekly report here.
FIFA Clears Russia and Qatar of Corruption Charges, But US Prosecutor Seeks Appeal
FIFA (Fédération Internationale de Football Association), the world
soccer organization, has cleared Russia and Qatar of charges of
corruption, AP reported.
Ever since FIFA awarded Russia and Qatar the next two World Cups
there have been allegations of corruption against these two countries.
Qatar beat out the US for the 2018 bid.
"The evaluation of the 2018/2022 FIFA World Cups bidding process is
closed for the FIFA Ethics Committee," Hans-Joachim Eckert, the German judge chosen to examine the allegations wrote in a
statement released by FIFA.
But Michael Garcia, the American prosecutor who led the investigation, disagrees with the findings:
"Today's decision by (Eckert)
contains numerous materially incomplete and erroneous representations of
the facts and conclusions detailed in the Investigatory Chamber's
report," Garcia said in a statement released by his law firm. "I intend
to appeal this decision to the FIFA Appeal Committee."
Garcia's call to publicize key details from 430 pages of
investigation has provoked clashes with FIFA President Sepp Blatter.
Blatter has said repeatedly that the details could not be released,
citing privacy concerns, the New York Times reported.
Questions about the integrity and validity of the hosting decision
have
been raised ever since the vote by FIFA's executive committee, says AP.
Aside from corruption allegations, there have been concerns about
awarding Russia, which was accused by opposition members of massive corruption in the $50 billion Sochi Olympics, another opportunity to host a world championship.
After Russia launched a war against Ukraine through support of
rebels in southeastern Ukraine, and wide consensus that they are
responsible for the shooting down of MH17, there were many calls not to
award Russia with the World Cup, and even some satirizing of Russia's design for its logo.
Translation: This is also done wonderfully )
But FIFA opposed calls to boycott Russia, Moscow  Times reported earlier this year, and its bid was accepted.
England rejected charges from the FIFA judge of damaging the integrity of the bidding process.
In an interview with Gazeta.ru, Russian Sports Minister Vitaly Mutko said (translation by The Interpreter):


I can say I never doubted that such conclusions would be made Russia led its election campaign honestly within the framework of the principles and rules of FIFA, and has justly received the mundiale [World Cup].
Our basic arguments were serious government support of the project, government guarantees, a stable social and political situation in the country, the popularity of soccer, the rich history of this form of sport, and the legacy which the preparation toward the hosting of the world championship will leave. It is important that such a championship is being held for the first time in Eastern Europe.
Russian Sports Minister Vitaly Mutko
Prime Minister Dmitry Medvedev has pledged $19 billion for the World Cup, amid fears that this price tag might quadruple the way Russia's original bid for the Sochi Olympics did, said Moscow Times.
Gazeta.ru discussed the allegations against England and Qatar at length, but never mentioned the fact that Garcia has vowed to appeal the judge's decision.
Russia ranks 127 out of 177 on Transparency International's Corruption Perceptions index, but Qatar ranks 27. The United Kingdom ranks 14.
— Catherine A. Fitzpatrick