Rescue ships looking for survivors of the Dal'ny Vostok, which sank in the Sea of Okhotsk, with 56 reported dead and 13 missing. Photo by Kamchatka Region Department of Russian Emergencies Ministry
Welcome to our column, Russia Update, where we will be closely following day-to-day developments in Russia, including the Russian government's foreign and domestic policies.
The previous issue is here.
A Russian trawler, Dal'ny Vostok, has capsized in the Sea of Okhotsk, leaving at least 54 dead, 15 missing and 61 rescued. Initial reports indicate that the captain's navigation error may have caused the accident.
UPDATES BELOW
Special features:
– Alexey Navalny On the Murder of Boris Nemtsov
–Theories about Possible Perpetrators of the Murder of Boris Nemtsov
–Novaya Gazeta Releases Sensational Kremlin Memo: 'It is Seen as Correct to Initiate Annexation of Eastern Regions of Ukraine to Russia'
See also our Russia This Week stories:

– Can We Be Satisfied With the Theory That Kadyrov Killed Nemtsov?
– All The Strange Things Happening in Moscow
– Remembering Boris Nemtsov, Insider and Outsider (1959-2015)
– Ultranationalists Angry over 'Capitulation' of Minsk Agreement
Please help The Interpreter to continue providing this valuable information service by making a donation towards our costs‏.
---
Russian Ministry of Foreign Affairs Illustrates Moscow's Foreign Policy Objectives in Syria, Yemen, Ukraine, And Beyond
Alexander Lukashevich, spokesperson for the Russian Foreign Ministry, has given a wide-ranging press briefing today, but it's full of interesting points, a few of which we'll discuss below. 
Gazeta.ru Reporter Investigates Cemetery in Rostov; Concludes No Mass Graves of Russian Soldiers Killed in Ukraine
On March 30, we reported that bloggers had found evidence from satellite photos on Google Earth that corroborated pictures taken by other bloggers last November of what appeared to be large numbers of fresh graves in Rostov's Severnoye (Northern) Cemetery.
There was much speculation that the graves might contain Russian soldiers killed in combat in Ukraine who were not able to be identified. As we noted then, the satellite photos matched the pictures, but more research was needed to prove that those buried were Russian soldiers.
Now Andrei Koshik of Gazeta.ru, has traveled to the cemetery to investigate the graves and has interviewed the director of the cemetery as well as veterans' groups and a representative of the "militia" or Russian-backed fighters in Donbass.
He has concluded that there was no secret mass burial of soldiers killed in Ukraine, although there might be some combatants from the war in Ukraine interred there.
The reason the story got started about a new area of graves appears to
be a decision by authorities to exhume old graves and move them to make
way for a road — a road that in fact never got constructed.
Gazeta.ru is owned by Alexander Mamut and is more critical than many online news sites in Russia today and yet does not go far out of the bounds of what is permissible under increasingly-heavy Kremlin control of the media.
The story has a lot of interesting points but never directly addresses the main contention of the bloggers who found something suspicious in the burials — that they were all made between the months of July and September 2014, exactly at the time of the Battle of Ilovaisk and other clashes. So no doubt the issue will continue to be debated.
Valery Zykov, the director of the Rostov cemetery told Koshik that it would be against the law to burial large numbers of people in a city cemetery without the proper paperwork — "I could go to jail for that," he said.
Precisely because it is a big, public city cemetery with half a million people already buried in it, it would be hard to sneak anything past the management who have to account for each plot. 
And as an official in the mayor's office points out, if the Russian army or the militants in the Donbass were faced with the task of what to do with hundreds of bodies, they would be more likely to bury them in the woods out of sight so as not to attract attention rather than bring the corpses across the border into a highly-visible cemetery.
Zykov showed Koshik the area of fresh burials that evidently were photographed by bloggers and said this section — 31a — was for unknown persons not identified at morgues who were then buried here. Koshik said he could see the  letters  «НМ» and «НЖ» which stand for "unknown male" and "unknown female," but he also saw a wide variety of estimated ages — 40-50, 60-70, 40-50 on some signs — and a range from 30-80, which meant that they weren't all of combat age as reported by bloggers back in November 2014.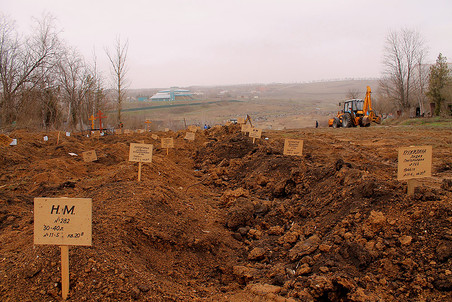 Koshik was shown another section of graves of unknown soldiers from the first Chechen war. There were several hundred buried there.
Aleksandr Kozhin, chairman of the Rostov branch of the All-Russian Society for the Preservation of Monuments of History and Culture provided background to Koshik (translation by The Interpreter):
"At that time [in Chechnya] there was a war in which the government officially participated. It's today that we say that the army isn't fighting, but we admit there are volunteers and 'vacationers.' In my understanding, that's barbaric. That war we called the 'counter-terrorist operation' – it mirrors the war now in Ukraine. So on the railroads — there is a spur in the direction of Taganrog — a lot of refrigerator cars piled up with human remains which had come from the Chechen war. They didn't know what to do with them, the DNA laboratory couldn't cope with them. So at the level of the government, a decision was made to bury them here. We have to give them their due, it wasn't in a mass grave but each one separately."
Kozhin made the point that the Donbass fighters would not want to bury their comrades in secret, but would want them to have honors.
"The other day there was a story with a guy who was in a search organization, he was 25-26. He sincerely believed in the idea of the 'Russian World.' I don't know how long he fought but he was killed. His comrades from the search organization asked the administration of the village of Matveyev Kurgan if they could bury his remains in the Honor Row. I don't know how the issue was decided."
Koshik also interviewed Valentina Cherebatenko, head of an independent group called Women of the Don which is involved with draftees and monitoring the situation in the Donbass. She said she had no information about any suspicious graves.
Vladimir Artsybashev, deputy head of the administration of the city of Rostov (the mayor's office) also told Koshik that the Rostov cemetery was filling up, they were running out of space, and that's why they were narrowing the roads there. He said that unclaimed bodies are buried if relatives cannot be found, and gave a figure of 436 such persons within the last year, in this city of one million. As he told Gazeta.ru (translation by The Interpreter):
"If you purely theoretically imagine the situation which the Ukrainian media are describing, burying soldiers would be more logical closer to the border, in remote villages, where no one will see the graves. That is incredibly hard to do in Rostov — there are no closed cemeteries here, everything is freely accessible. There is a decision of the local Duma and a decree from the administration under which we bury only residents of Rostov here, or people who died in the city if their bodies are not collected by relatives. It could be supposed that a militiaman went from Ukraine through Rostov and died here. Then we would have the right to bury him here. No such statistics are kept but if there are such cases, they are isolated instances, theoretically, this is possible."
Artsybashev said the report of the new graves were the result of a decision to construct a new road  extension to the new Suvorovsky micro-district in 2014, for which 500 graves had to be exhumed. But after the law was scrutinized, the project was dropped because nothing new can be built on the grounds of the cemetery. This account seems to imply that no exhumation took place.
Koshak also interviewed Oleg Melnikov, a field commander in the self-proclaimed "Donetsk People's Republic" who said Russian soldiers who were killed were buried where they died if their relatives could not be reached or in an emergency.
An example was in Slavyansk last summer, when the Russian-backed fighters were surrounded by Ukrainian forces. He said that soldiers were then buried just under the name of their commanders, i.e. his people would be under the letter "M."
Melnikov said he knew of one case, a 22-year-old policeman from Moscow named Pavel, who died fighting in Ukraine, and whose body the separatists then returned to his relatives; "the Interior Ministry helped in every way," he commented.
While an admission that Russians do fight and die in the war — and officials even know this — it wasn't a mass phenomenon.
"I really doubt that they will make nameless graves in Rostov. If I wanted to hide bodies — and of course, we don't do that — then why not bury them in Donetsk and Lugansk?"
One answer might be that just as Soviet military officials didn't leave the bodies of their comrades in Chechnya, but brought them by rail to Rostov, so might the Russian military today prefer to bury the soldiers for which they were responsible in the military district closest to where they fought.
But Koshak was unable to find any evidence that any mass burial took place last year. Other Donbass fighters he interviewed said they returned bodies to relatives. Vladislav Brig, a representative of the DNR Defense Ministry said the Donetsk Ombudsman's office was responsible for contacting relatives and sending the bodies of Russian volunteers home. He said the bodies were brought out "with a certain regularly as they accumulated."
Last year, we published excerpts of an article by Yelena Kostyuchekno of Novaya Gazeta who followed up on stories published by Ekho Moskvy and Novaya Gazeta of Russian soldiers killed in Ukraine. Kostyuchenko followed one war widow as she tried to collect her husband's body after he died at the Donetsk Airport battle of May 26, 2014. Kostyuchenko found that the Southern Military District still maintained a morgue in the officers' village of Voyenved near Rostov, but that they denied that they handled corpses of those killed in Ukraine. Ultimately, however, after contacting various officials and fnally the FSB, the soldier's wife was able to claim his body at Voyenved.
— Catherine A. Fitzpatrick
54 Dead in Russian Trawler Accident in Sea of Okhotsk; Rescuers Still Hunting for 15 Missing
The death toll of crew members who have drowned now stands at 54 in the sinking of the Russian freezer trawler Dal'ny Vostok in the Sea of Okhotsk, 330 kilometers off the coast of Magadan.
According to the Far East Investigation Department of the Investigative Committee, the trawler sank at 23:21 Moscow time on April 1 or 4:12 am Sakhalin time on April 2 (latitude 56.49 north by longitude 150.41 east). Citizens of Russia, Ukraine, Latvia, Myanmar (Burma) and Vanuatu were on the ship. Most were residents of Sakhalin and the Primorye region of Russia.
The captain of the trawler, Aleksandr Pritotsky, 48, was considered one of the best captains in the Far East and had set records for catching fish, a representative of the ship owner said. But a source  told LifeNews, a TV station known for its close relationship with law-enforcement and intelligence, that the zeal to compete for higher yields may have caused the captain to take risks with fishing equipment.
Currently 26 fishing boats are on site assisting with the rescue. RIA Novosti reports that according to a source, there is little liklihood that there are any more survivors in the freezing waters, as their wet suits would enable them to survive only 15-20 minutes. Some of those rescued are currently in serious or critical condition and all suffered exposure.
The rescued fishermen are being taken to Magadan for treatment, and the bodies of the victims are being brought to Sakhalin. The owner of the ship is Magellan Ltd, which has pledged to provide material assistance to the families of those who died or were injured.
The Investigative Committee has opened up a case on charges of violation of transportation safety rules in using water transport leading to the death of 2 or more persons, Interfax reports, citing Oksana Polshakov, an IC investigator. Investigators plan to question both the owners and the crew members.
Likely the reason for the accident was violation of the rules for handling a 100-ton sweep-net. The ship sank within 15 minutes of experiencing problems, and did not manage even to send an SOS signal.
A representative of Magellan told RIA Novosti that the trawler had been totally fit for the voyage and was in good working conditions. "The trawler went through repairs in late 2014 so there can be no question that it sank due to technical malfuntions," he said.
LifeNews has published the passenger manifest which shows 76 Russian citizens and 54 foreigners.
— Catherine A. Fitzpatrick