Protesters in Kafranbel, Idlib province, Syria hold a banner in solidarity with the victims of terrorism in Paris | https://www.facebook.com/kafrev
As the world once again is focused on ISIS in the wake of Friday's terrorist attack in Paris, and as the G20 meets to discuss, among other things, global security, many are reexamining the situation in Syria and Russia's role in the war on terror.
The previous post in our Putin in Syria column can be found here.
---
Heavy Fighting Reported In Latakia's Suburbs As Russian Airstrikes Pummel Advancing Rebels
The Local Coordination Committees of Syria (LCC)
reports
heavy fighting between rebel groups (non-ISIS) and forces belonging to the military of Bashar al Assad (the Syrian Arab Army, SAA) in the Jobar mountains of Latakia. Russian warplanes are also conducting airstrikes,
according to the LCC
, in two locations — Jabal Akrada in northern Idlib province, and Jabal Turkman in Latakia. The latter is crucial as just yesterday there were reports that the rebels had advanced here:
Today, the Russian state agency ITAR TASS claims that Jabal Turkman has been recaptured by the Syrian army. Al Masdar, which openly supports the Assad regime, reports:
The battle for Ghammam in northern Latakia has been a long and bloody fight between the Islamist rebels and the Syrian Armed Forces as this strategic town inside the Turkmen Mountains has exchanged hands between the two opposing parties at least four times since the Syrian Arab Army's 103rd Brigade of the Republican Guard launched an offensive to capture it in early October.

Over the weekend, the Islamist rebels from the Free Syrian Army's "1st Coastal Brigade" and the Syrian Al-Qaeda group "Jabhat Al-Nusra" launched a counter-attack to reclaim this imperative town that was captured by the Syrian Arab Army's 103rd Brigade and the Syrian Social Nationalist Party (SSPN) last week.

With the recent transfer of the Syrian Arab Army's 103rd Brigade to Jabal Al-Akrad (Kurdish Mountains) in northeastern Latakia, the Islamist rebels from Jabhat Al-Nusra and the Free Syrian Army took this opportunity to recapture the town; however, this assault proved costly for the aforementioned Islamists as they lost over 50 combatants and failed to capture Ghammam.

Following this failed military endeavor for the Islamist rebels, the SAA's 103rd Brigade sent reinforcements to counter Jabhat Al-Nusra's assault and recapture the Ghammam Water Pump Facility and Tal Al-Yakdash in Ghammam's northern countryside.
It's not clear, then, who controls these towns, but neither side has a clear advantage at the moment. Still, the fact that Russia and Assad are struggling for control with rebel groups in this area is a clear indication that the rebels are still putting pressure on the front at Latakia.
Our map of the area, with Jabal Turkman highlighted:
Meanwhile heavy fighting continues south of Aleppo — fighting between
rebel groups and the pro-Assad coalition of Hezbollah, Iran, and Iraqi
Shiite militias; the rebels and ISIS; and the regime and ISIS: 
Meanwhile, while Russia is busy assisting Assad's offensives in Latakia and Aleppo, ISIS and Kurdish forces are fighting heavy battles north of all Raqqah. Just 15 minutes ago the LCC posted that there are fierce clashes near Ain Issa, with reports that ISIS is making advances.
See our interactive map for a better understanding of these locations.
— James Miller
NATO must change its priorities after the terrorist attack in
Paris, Sergei Ryabkov, deputy foreign minister told reporters in Ankara
yesterday, according to Novaya Gazeta and RIA Novosti (translation by The Interpreter):
We hope that the events in Paris will likely put everything
in its place and somewhat change the scale of priorities of our
colleagues in Washington and other NATO capitals.
Russia has repeatedly criticized Western leaders for supporting
moderate rebels and advocating the removal of President Bashar al-Assad,
deflecting any criticism from the US and EU about Moscow's failure to
actually target ISIS since bomb strikes were begun September 30.
President Barack Obama met with Vladimir Putin on the margins of the G20 summit yesterday. The Russia's Rossiya 24 TV channel
characterized the meeting
as "20 minutes" with translators only; RT
said
it was "more than 30  minutes" and the US media said it was "35 minutes."
NBC reported that the two leaders "could be seen in an intense huddle" and noted a White House statement:
"President Obama and President Putin agreed on the
need for a Syrian-led and Syrian-owned political transition, which would
be proceeded by UN-mediated negotiations between the Syrian opposition
and regime as well a ceasefire," a White House official said.

"As
the diplomacy continues, President Obama welcomed efforts by all
nations to confront the terrorist group (ISIS) and noted the importance
of Russia's military efforts in Syria focusing on the group."
Putin showed
satellite images and other photos to world leaders today, claiming
wide-scale sale of oil by ISIS fighters for a monthly revenue of $50
million, citing Iraqi intelligence that the oil is sold for $35 a barrel
or as low as $10 a barrel, RBC reported.
He said some of the financing for ISIS was coming from G20
countries and joint efforts through a UN Security Council resolution had
to be made to cut off the flow of funds
"We very much need that assistance and support on the
part of the United States, European countries, Saudi Arabia, Turkey and
Iran in order to make the process irreversible."
RIA Novosti published an infographic today of
the war in Syria saying ISIS numbered from 50,000 to 200,000, with
5,000-7,000 of its fighters estimated to have come from Russia and other
countries of the former Soviet Union.
It also claimed that $2.3 million a day (about $70 million a
month) was made from speculation of oil sales on the black market,
significantly more than the $50 million Putin indicated in his
statement; that 3,153 people had suffered from terrorist act committed
by ISIS and "armed conflicts of the army with radical groups," including
1,466 who had been killed and 1,687 were wounded.
More than 200,000 civilians had been killed since the start of
the conflict in 2011, but RIA Novosti failed to explain that its ally
Assad was responsible for most of these deaths.
After the terrorist attacks on Paris Friday night November 13,
Russia was the first to report that ISIS had taken responsibility for
the attacks, although not providing any details, and blamed the West for
fueling ISIS.
— Catherine A. Fitzpatrick
France Steps Up Bombing Against ISIS As Russia Still Focusing On Other Rebel Groups
Immediately following the terrorist attack in Paris on Friday, France announced a major escalation in its efforts to combat ISIS in Syria and Iraq, with a focus on Al Raqqa, a stronghold of ISIS in eastern Syria. CNN reports:
On Monday, France targeted a command center, a recruitment center, an ammunition storage base and a training camp in the city, the French military said.

On Sunday, the air force struck similar strategic targets in multiple sorties, reinserting France, a partner in the U.S.-led coalition striking ISIS from the air, into the battle against ISIS.

A group of anti-ISIS activists in Raqqa reported 24 bombs dropped and 30 explosions overnight into Monday. Mostly the suburbs were hit, but in the city, the stadium and the museum were also struck, said Raqqa is Being Slaughtered Silently.

ISIS uses the museum and the stadium as jails. Its headquarters are also in the stadium, the activists said.

On Sunday, 12 aircraft dropped 20 bombs on ISIS positions in Raqqa, destroying all targets, France's Defense Ministry said.
Monday, France announced a new wave of operations against ISIS:
France's response to this incident contrasts sharply with Russia's
response to the downing of a civilian aircraft which ISIS has taken
credit for. It has been 17 days since Metrojet Flight 9268, a Russian
flight from Egypt to St. Petersburg, crashed in the Sinai peninsula.
While countries around the world have suggested that ISIS was
responsible for the crash. Russia has so far not come out with a
definitive theory, and Russian state-controlled media has even blamed
the West for the incident:
The Atlantic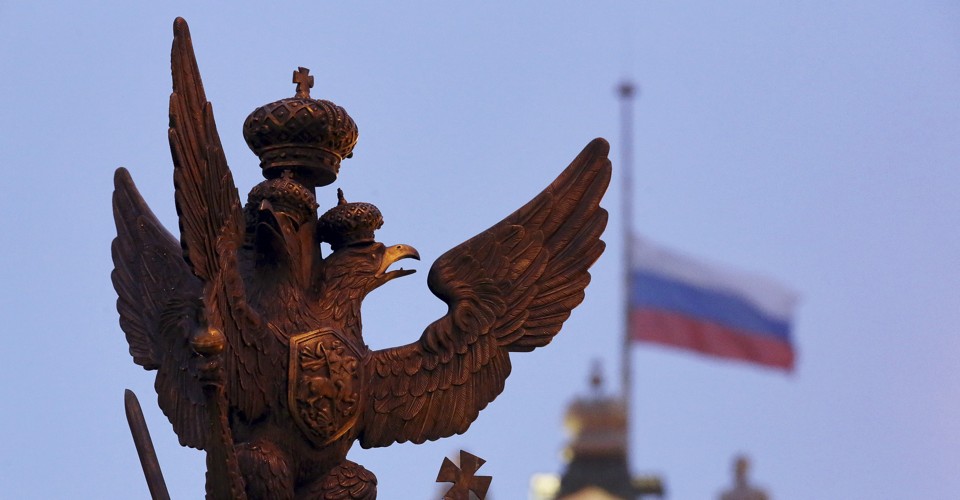 Russian Media Veers Into Conspiracies on Egypt Plane Crash
Please consider disabling it for our site, or supporting our work in one of these ways Subscribe Now > The crash of Metrojet Flight 9268 in Egypt on October 31, which killed all 224 people on board, was more than the worst aviation disaster in the country's history.
Nov 16, 2015 21:15 (GMT)
The latest assessment of Russia's bombing campaign in Syria from The Institute for the Study of War covers November 4-15, well after the Metrojet crash on October 31. However, according to ISW and others who have analyzed Russia's bombing campaign, anti-Assad rebel groups other than ISIS, some of which have fought openly against ISIS, have been the primary targets of Russian airstrikes in Syria. Furthermore, many of the groups Russia is bombing are the same which the West is supporting.
ISW reports:
Russia continues to prioritize the preservation of the Assad regime rather than the defeat of ISIS through its air campaign in Syria. Russian airstrikes primarily supported regime ground operations against the Syrian armed opposition from November 13 – 15, concentrating in the southern countryside of Aleppo and the northern countryside of while pro-regime ground forces attempted to advance. ISW assessed Russian airstrikes against only one ISIS-held location with low-confidence during the reporting period. Meanwhile, the French Ministry of Defense announced

20 airstrikes

against ISIS in ar Raqqa on November 15 in retaliation for the violent string of terrorist attacks carried out by ISIS in Paris on November 13. Russia will likely leverage the Paris attacks to drive its efforts to form a new counterterrorism coalition in the Middle East. Russia will continue to present itself as a decisive partner against ISIS in Syria to the international community, despite the relatively low number of Russian airstrikes targeting core ISIS terrain.
The Russian air campaign in Syria is accelerating the radicalization of the Syrian armed opposition. The brutality of the Assad regime against civilian populations throughout four years of armed conflict has driven rebels into partnerships with Syrian al-Qaeda affiliate Jabhat al-Nusra, a powerful anti-Assad ground force. Russia's air campaign uses similarly indiscriminate tactics against civilians. U.S. officials have confirmed the Russian use of cluster munitionsagainst populated locations in Hama and Idlib Provinces. Open source reporting indicates the use of cluster munitions in Aleppo Province as well. Russian airstrikes have reportedly killed over 254 civilians from September 30 – October 26 alone, according to the Syrian Network for Human Rights. Russian airstrikes reportedly targeted at least 12 medical facilities throughout Syria, according to statements from Doctors Without Borders on October 29. Local sources also reported the use of white phosphorus during Russian airstrikes in Idlib Province on November 12. Russia's violent intervention is already driving the unification of rebels under powerful jihadist and hardline elements of the armed opposition. Three rebel groups made up of foreign fighters pledged allegiance to Jabhat al-Nusra from September 23 to October 3, and three groups merged under hardline Islamist Ahrar al-Sham beginning in early September 2015 following reports of increased Russian presence in Syria.
Iswresearch
ISW Blog: Russian Airstrikes in Syria: November 4 – 15, 2015
Key Takeaway: Russia continues to prioritize the preservation of the Assad regime rather than the defeat of ISIS through its air campaign in Syria. Russian airstrikes primarily supported regime ground operations against the Syrian armed opposition from November 13 – 15, concentrating in the southern countryside of Aleppo and the northern countryside of while pro-regime ground forces attempted to advance.
Nov 16, 2015 20:58 (GMT)
If Russia is concerned about ISIS, why hasn't it stepped up its campaign?
In fact, Russia's response to the terrorist in Paris also sharply contrasts with the international response to this tragedy, even from countries which are Russian allies.
Soon after the attack, Putin reached out to French President François Hollande. France 24 reports:
In a telegram to French President François Hollande, Russian President Vladimir Putin said the attacks were "the latest testimonial to the barbaric essence of terrorism which throws down a challenge to human civilisation".

"It's obvious that an effective fight against this evil demands a real unity of the forces of the international community. I would like to confirm the readiness of Russia for the closest cooperation with our French partners in investigating the crime that took place in Paris.
At the G20, Putin simultaneously deflected the ISIS question while insinuating that the rest of the world is not doing enough to stop the terrorist group. He even said some G20 countries are funding ISIS. This from the Russian state propaganda outlet, Sputnik:
"I provided examples related to our data on the financing of Islamic State units by natural persons in various countries. The financing comes from 40 countries, as we established, including some G20 members," Putin told reporters following the summit.

…

"It's not the time to debate who is more effective in the fight against ISIL, what we need to do is consolidate our efforts," president Putin added.
The Russian state-controlled media was even less conciliatory, outright blaming the West for the Paris attack:
Putin is conferring with world leaders at the G20 conference, and ISIS will likely be a major discussion point. What we know, however, is that Russia is not fighting ISIS in Syria, Russia and Assad have thus far failed to uphold their international agreements in their alleged efforts to end the fighting there, far-right groups in Europe will likely get a bump after this attack and many of those groups are openly pro-Putin, and the current status quo is clearly not deterring terrorism.
Additional reading:
Furthermore, Russia has now deployed at least some of the components of an advanced anti-aircraft weapons system in Latakia. The presence of these systems could severely limit the range of options the international community has in Syria.
— James Miller