Valeriy Vakhnenko, who was reportedly killed yesterday. Photo: facebook.com/Hot.Nova.Kakhova
Ukraine Day 954: LIVE UPDATES BELOW.
Yesterday's live coverage of the Ukraine conflict can be found here.
An Invasion By Any Other Name: The Kremlin's Dirty War in Ukraine
---
British Man Who Fought With Russia-Backed Forces In Ukraine Held On Terror Charges In UK
The BBC reports that a British man was remanded in court on two charges of terrorism relating to his participation in the Ukraine war on the side of Russia-backed forces.
Benjamin Stimson, 41, of Oldham, Greater Manchester appeared before Westminster magistrates over offences under Section 5 of the Terrorism Act 2006.

He has been remanded in custody to appear at the Old Bailey on 7 October.

They are believed to be the first terrorism charges in the UK relating to the conflict.

Mr Stimson is accused of involving the intention of committing acts of terrorism and engaging in conduct in preparation for giving effect to his intention, and with the intention of committing acts of terrorism and assisting acts of terrorism.
Stimson has an account on the Russian VKontakte social network. He has posted several photos of himself in military gear wearing separatist insignia and handling weapons.
Stimson's posts indicate he is politically hard-left. Here he is standing beneath the flags of separatist "Novorossiya" and the Communist Party of the Russian Federation.
He said on Facebook
that his photo was taken in Debaltsevo, Ukraine.
He is also acquainted with notorious pro-Russian propagandist Graham Phillips:
Stimson may be the same man interviewed in eastern Ukraine in October last year by the BBC's Tom Burridge:
BBC News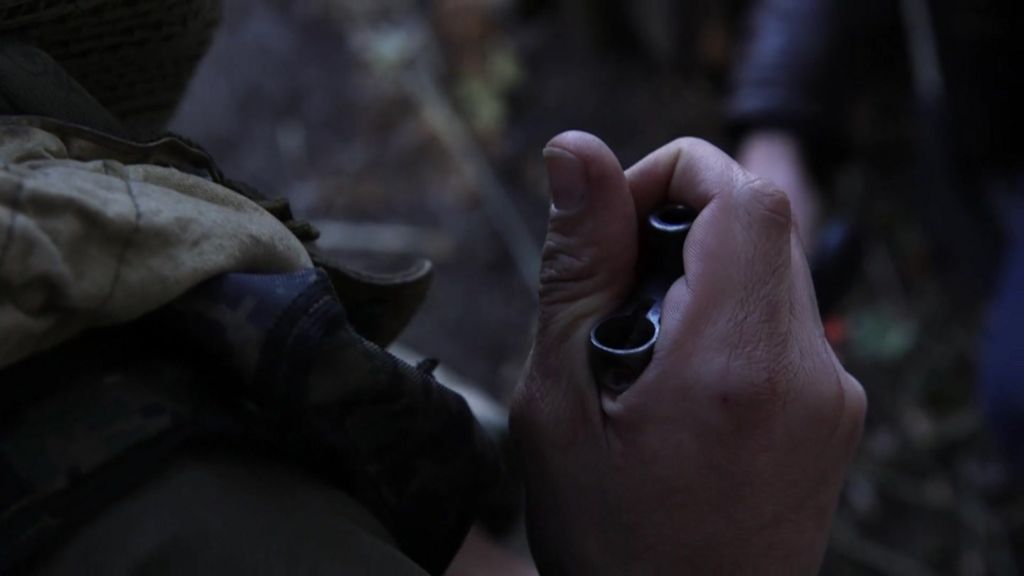 Set as default press image
Ukraine conflict: The Brits fighting with pro-Russian rebels – BBC News
His Manchester accent is unmistakable. His yearning for British food is too, as he declares that he "could murder a steak". Eastern Ukraine is not his first conflict. He claimed he was involved in Bosnia, and says he thought about joining the Kurdish Peshmerga in northern Iraq.
Sep 28, 2016 14:30 (GMT)
— Pierre Vaux
Ukraine Reports 35 Attacks Yesterday; Unconfirmed Reports Of One Soldier Killed
The Ukrainian military reports 35 attacks by Russia-backed forces yesterday, including the use of heavy mortars and armored vehicles.
According to this morning's ATO Press Center report, there were 23 attacks to the west and south of separatist-held Donetsk, six to the north or east, and another six in the Lugansk region.
The military claims that Ukrainian positions in Avdeyevka, north of Donetsk, were shelled with 82 and 120 mm mortars, as well as coming under fire from grenade launchers, machine guns and snipers.
There were corresponding reports on social media last night:
Translation: Donetsk. Schetinina. Can hear salvos from the direction of [separatist-held] Yasinovataya [just southeast of Avdeyevka].
On the Azov coast, the ATO Press Center reports that Ukrainian troops in the village of Shirokino came under fire from BMP infantry fighting vehicles, in addition to grenade launchers and machine guns.
While Colonel Andriy Lysenko, spokesman for the Ministry of Defense, told reporters today that there had been no Ukrainian military casualties within the last 24 hours, there are unconfirmed reports that one Ukrainian soldier was killed yesterday.
Translation: Yesterday on the Svetlodarsk line a soldier from the 54th Brigade, of the Pravyi Sektor company, my friend Patron, was killed. Sleep peacefully. #GlorytoUkraine #Heroesdon 'tdie.
Translation: Today a real man, a beloved father and husband, a patriot – Valeriy Vakhnenko "Patron" – was killed while fulfilling his duties. Such grief. At war since 2014.
While some of the reports say that Vakhnenko was killed near Svetlodarsk, east of Gorlovka, a post on a Facebook community group from his home town of Nova Kakhova, in the Kherson region, says that he was killed on the front line near Stanitsa Luganskaya, northeast of separatist-held Lugansk city.
There is no official confirmation of Vakhnenko's death so far. 
According to the ATO Press Center, Russia-backed forces attacked positions near Stanitsa Luganskaya yesterday with grenade launchers and small arms.
The town is one of three "disengagement areas" proposed in a draft deal signed earlier this month at the Minsk peace talks. 
Yesterday the governor of the Lugansk region, Yuriy Harbuz, said that withdrawing Ukrainian troops from the front line in this area would lead to the loss of the town to Russia-backed forces. 
Last night, Harbuz told Hromadske TV that residents of Stanitsa Luganskaya were preparing to protest against the proposed withdrawal of troops.
Meanwhile the Russia-backed separatists in Lugansk accused Ukrainian forces in Stanitsa Luganskaya of attacking their positions on the banks of the Seversky Donets river last night with BMP-2s, grenade launchers and machine guns.
— Pierre Vaux