Photo: Nazar Kravchuk
Yesterday's live coverage of the Ukraine conflict can be found here.
Please help The Interpreter to continue providing this valuable information service by making a donation towards our costs.

For links to individual updates click on the timestamps.
For the latest summary of evidence surrounding the shooting down of flight MH17 see our separate article: How We Know Russia Shot Down MH17.
An Invasion By Any Other Name: The Kremlin's Dirty War in Ukraine
---
Occupying Authorities Bar Crimean Ukrainska Pravda Journalist Entry To Her Homeland
Anastasia Ringis, a journalist for Ukrainska Pravda, has been barred entry to her Crimean homeland by Russian border guards.
Officers of the FSB's border service at the Chongar checkpoint told Ringis, who was born in Gurzuf on the Russian-occupied peninsula, that she was prohibited from entering Russian territory until 2020.
Ringis' family still lives in occupied Crimea.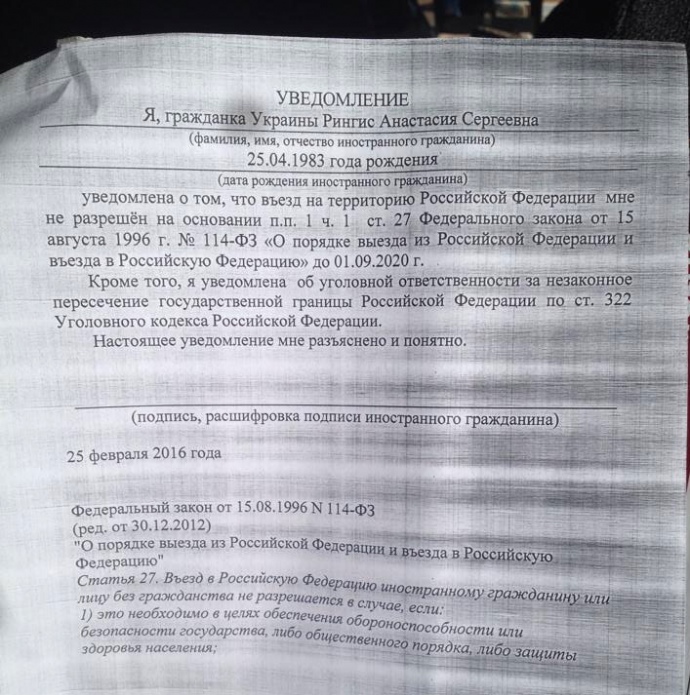 The FSB document given to Ringis refers to a Russian law barring foreign citizens or those without state citizenship entry to Russia for reasons of public order or health.
— Pierre Vaux
Ukraine Claims Win In Zaytsevo Battle While Russian-Backed Fighters Reportedly Pull Back From Shirokino
According to this morning's ATO Press Centre report, Russian-backed fighters fired dozens of mortar rounds at Ukrainian positions near Zaytsevo, Pervomayskoye, Nevelskoye, Marinka, Gnutovo and Chermalyk. 
Meanwhile the 'defence ministry' of the self-declared Donetsk People's Republic (DNR), claims that Ukrainian forces shelled the northern and western outskirts of Donetsk and Gorlovka 59 times with 82 and 120 mm mortars. 
Particularly heavy fighting was seen near the village of Zaytsevo, just north of separatist-held Gorlovka. According to the Ukrainian military, an assault by Russian-backed fighters began last night and was finally repelled this morning after hours of fighting.
Roman Bochkala, a reporter for Ukraine's Inter television channel, wrote on his Facebook page this afternoon that one Ukrainian soldier had been lightly wounded in the fighting.
Bochkala said he could confirm government claims that Ukrainian soldiers had seized a strategic height and captured Russian weaponry in the aftermath of the battle, including RPO-A Shmel thermobaric missile launchers.
Bochkala wrote (translated by The Interpreter):
The battle was fought by soldiers of the 17th battalion of the 57th Brigade (Kirovohrad). The 42nd battalion covered them. I've been hanging out with them now. The lads managed to eliminate an enemy fortified site. This was an enemy "secret."

The enemy was sure that the Ukrainian soldiers didn't know about it. But the world is not without good people. They pointed it out. They hit with grenade launchers and went forward… They used small arms. 

The "vacationers" were forced to flee hurriedly. There were no losses on our side, thank God. One lightly wounded. 
It was not the local separatists that put up resistance, but Russian military personnel. This was testified to by their tactics and actions.  

The ATO Press Centre published photos of one of the Shmel systems, which are not in the Ukrainian arsenal, and said that the commanding officer and soldiers who seized the weaponry would be receive awards:
In fact this is the second gain claimed by the Ukrainian military in 24 hours.
Yesterday evening, military spokesman Aleksandr Kindsfater told the 112 television channel that Ukrainian troops were now in control of all of the village of Shirokino, east of Mariupol.
According to Kindsfater, Russian-backed fighters pulled out of the east of the village "several days ago."
"On leaving, the militants mined practically every house. They set dozens of tripwires, mines, traps. The terrorists aim, apparently, was to inflict maximum harm on the servicemen of the Ukrainian army and the civilian population, who want to return to their homes."
— Pierre Vaux
Azov Activists Block Inter Channel HQ As Station Accused Of Supporting Kremlin
Members of the Azov Civil Corps, a Ukrainian nationalist activist group associated with the Azov Regiment, have blocked the entrance to the Kiev headquarters of the Inter television channel.
While many men are wearing camouflage uniform, it is uncertain how many of the protesters are actually serving members of the National Guard unit.
The Azov press office released a statement saying that the aim of the protest, which is supposedly to be mirrored across Ukraine, is to shut down Inter for the day.
Hromadske reports that while Azov says they are prepared to allow staff already inside the building to leave, Inter employees have claimed that the protesters are not letting anyone out. 
The channel is, Azov claims, producing propaganda for the Russian state.
Slogans sprayed on the shutters of the Inter building read:
"Inter – Megaphone of the Kremlin"

"Kremlin Propaganda Out"

"Stop Inter"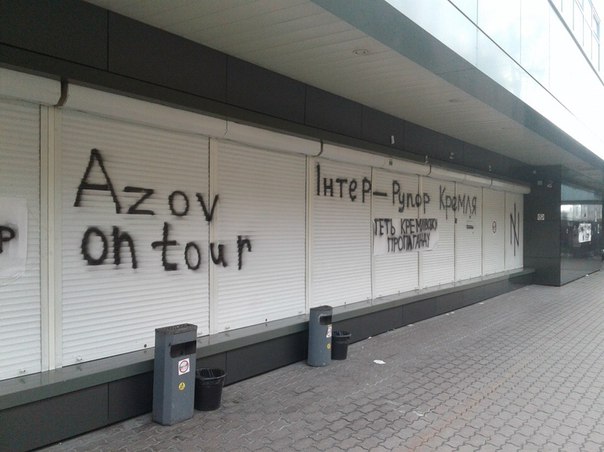 The Azov statement says:
We are not against freedom of speech, we are against Kremlin censorship on Ukrainian television!

"There are a lot of guys working at Inter who are really good journalists, but they are all under Kremlin censorship," say our activists.
Hromadske reports that the protesters are demanding a meeting with the management of the television channel.
Inter is owned by Dmytro Firtash, a Ukrainian oligarch now living in effective exile in Austria who is suspected of close links with the Yanukovych government, organised crime and Russia's Gazprom.
He is sought by the United States government in relation to bribery charges but an extradition request from Austria was rejected last year. 
Yesterday, Maria Stolyarova, a programme editor at Inter and a Russian citizen, was deported from Ukraine due to a scandal ensuing from comments she had made during a live broadcast from a ceremony to commemorate those killed during the Maidan protests two years ago.
During the broadcast, Stolyarova was heard telling editors to "finish up this bullshit."
Stolyarova was subsequently fired and soon the Ukrainian Security Service (SBU) became involved, accusing her of having made a number of statements in the past that were contrary to the national interest. 
The Fourth Estate news site published screenshots culled from Stolyarova's Facebook page. Many of them, including statements calling for the army and riot police to suppress the Maidan protests or supporting Russia's annexation of Crimea, can indeed be verified as they are still up on her Facebook 
There were also accusations that Stolarova had been links to the Vostok Battalion, a Russian-backed unit that played a key role in fighting around Donetsk in May, 2014.
In June that year, Stolayrova gave an interview to Russia's pro-Kremlin RenTV and spoke, in tears, of the deaths of Vostok fighters killed by the Ukrainian army after they repelled them from Donetsk Airport on May 27. She attested to her presence at several key engagements with the Battalion, including an ambush on Ukrainian Donbass Battalion fighters near the village of Karlovka on May 23.
Stolyarova was actually asked about this by the Ukrainian Dusia media site in November last year.
The site posted a screenshot of a photo uploaded by Stolyarova to Facebook, showing her posing with soldiers. The caption to the photo says:
"The very polite Vostok Battalion! My favourite guys in Donetsk!"
It should be noted that this photo, if real, precedes the Karlovka attack, which was the first prominent appearance of Vostok. 
However the photo can no longer be found on her Facebook page. 
Dusia asked Stolyarova to comment on the photo:
"I have never concealed the fact that I worked on Russian television. As a journalist I cannot be positive nor negative towards the Vostok Battalion. I do not hide the fact that I am acquainted with them, and that they helped me to make a film when I worked in Russia."
Stolyarova was also asked what she thought about the trend for employees to be fired because of posts on social media:
"It seems to me that as long as the country is living on Facebook posts, nothing good will happen in society. I say this not as a person with a Russian passport, but as a journalist with 18 years of experience. While they're busy hunting for fleas on social media, those up top don't stop taking bribes and the government doesn't stop producing corruption. Digging into old posts on social media is a diversion of attention from wider issues."
— Pierre Vaux