American actor Steven Seagal meets Vladimir Putin at a 2016 ceremony granting Seagal Russian citizenship -- Sputnik
Ukraine Day 1173: LIVE UPDATES BELOW.
Yesterday's coverage of the Ukraine conflict can be found here.
An Invasion By Any Other Name: The Kremlin's Dirty War in Ukraine
---
Heavy Fighting Reported In All Sectors, Ten Ukrainian Soldiers Wounded
At a briefing on Friday morning the Ukrainian military's Anti-Terrorism Operation (ATO) reported heavy fighting across all sectors:
Over the previous 24 hours, no Ukrainian soldiers were killed but ten were injured — 6 in the Lugansk region and 4 in the southern town of Pavlopil, just northeast of Mariupol (map).
The Ukraine Crisis Media Center reports that the heaviest fighting was in the Donetsk region:  
The situation remains tense in Donetsk sector: a total of 16 Russian proxies' attacks were recorded yesterday, nine of them involved mortars. "Between 10:00 and 15:00 militants were firing mortars, grenade launchers and small arms upon Avdiivka and Shakhta Butovka positions. As a result, two civilian women were wounded and three houses were damaged in Avdiivka," reported Ukrainian Ministry of Defense spokesperson on ATO Colonel Andriy Lysenko at a press briefing at Ukraine Crisis Media Center. After 19:00, Russian proxies undertook four armed provocations in Zaitseve, Maiorsk, Novhorodske and Verkhniotoretske respectively. Moreover, they attacked Ukrainian positions at Svitlodarsk area with mortars, firing about 110 rounds over 24 hours. In Luhanske, militants were using 120-mm mortars until the dawn. 
Steven Seagal Banned From Ukraine
The famous American action movie star, and friend of Vladimir Putin's, Steven Seagal, has been banned from Ukrainian territory for five years. 
The Telegraph reports:
The Under Siege star, whose grandmother was from Vladivostok, has been branded a national security threat after he was granted Russian citizenship last year and voiced support for Russia's seizure of Crimea. 

Ukraine's security service said it had banned him from the country for five years, according to news site Apostrophe, which published a letter from the service saying he had "committed socially dangerous actions … that contradict the interests of maintaining Ukraine's security". 
The Telegraph
Set as default press image
Steven Seagal banned from Ukraine after being branded national security threat
Steven Seagal has joined fellow actor Gérard Depardieu on a blacklist of cultural figures barred from entering Ukraine. The Under Siege star, whose grandmother was from Vladivostok, has been branded a national security threat after he was granted Russian citizenship last year and voiced support for Russia's seizure of Crimea.
May 06, 2017 07:05 (GMT)
Ukrainian Tied To Michael Flynn Controversy Stipped Of Citizenship
Andriy Artemenko, whose alleged and controversial "peace plan" was given to the Donald Trump administration and was reportedly forwarded to ousted Trump National Security Advisor Michael Flynn, has been stipped of his citizenship. RFE/RL reports:
Artemenko's "peace plan," which calls for holding a national referendum on leasing Crimea to Russia for a period of 30 to 50 years, made headlines in February when he was quoted in a New York Times report as saying he had given the document to associates of President Donald Trump who then passed it to someone who put it on Flynn's desk.

The news caused a scandal in Kyiv, and Artemenko was ejected from the Radical Party as a result. Ukrainian investigators later opened a treason case over his actions.

[…] 

Artemenko's plan never made it to Flynn, who was forced out in February after it was revealed that he misled Vice President Mike Pence about his contacts with Russia's ambassador to the United States during the election campaign. He is currently under formal investigation by the Pentagon over apparently undisclosed Russian payments. 
RadioFreeEurope/RadioLiberty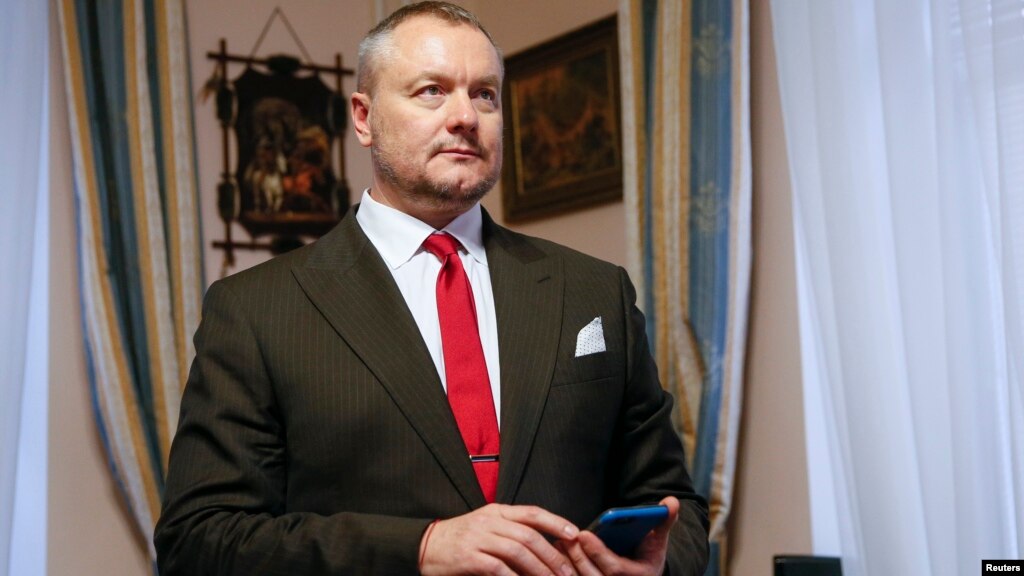 Set as default press image
'Peace Plan' Lawmaker Stripped Of Ukrainian Citizenship By Presidential Decree
Andriy Artemenko, a Ukrainian lawmaker whose plan to resolve the three-year-old conflict in Ukraine reportedly wound up on the desk of then-U.S. national security adviser Michael Flynn, has been stripped of his citizenship by presidential decree, the State Migration Service says.
May 06, 2017 07:11 (GMT)
— James Miller