Ukraine Day 1135: LIVE UPDATES BELOW.
Yesterday's live coverage of the Ukraine conflict can be found here.
An Invasion By Any Other Name: The Kremlin's Dirty War in Ukraine
---
Nine Ukrainian Servicemen Killed In A Week; 7 Wounded in 24 Hours
As of Tuesday morning's briefing from the Ukrainian Military's Anti-Terrorist Operation (ATO) nine Ukrainian servicemen had been killed in the last week — two just today. 
But the violence continued on Tuesday.
From the morning briefing, via the Ukraine Crisis Media Center:
Russia-backed militants slightly reduced the number of heavy weapons use in all three sectors down to 230 against 267 the preceding week. The total amount of enemy cease-fire violations was also lower, 561 against 618. Nevertheless, militants continued using all available weapons, including those banned by Minsk agreements, stated Vilyen Pidgornyy, Ministry of Defense spokesperson during a press briefing at Ukraine Crisis Media Center. "Last week, the enemy actively used tanks and opened mortar fire in a bid to cover their armored units and destroy antitank units of Ukrainian Armed Forces. Additionally, enemy snipers were more active in the nighttime last week, which particularly indicates that Russian proxies have access to sophisticated sniper optics and equipment", he followed. 

[…]

Last week, 9 Ukrainian servicemen were killed in action and 31 servicemen were wounded in action. "On March 26, military helicopter Mi-2 collided with power lines and crashed in the area of Malynivka village, near Kramatorsk, Donetsk region. Three crew members and two passengers died. All deceased were officers of Ukrainian Armed Forces", Vilyen Pidgornyy stated. As per intelligence reports, the total number of casualties amongst Russian proxies is 30 killed and 57 wounded over the week.
The Russia-backed separatist press did not confirm this figure, although today there was a report on the pro-separatist Novorosinform news site that one separatist soldier from the so-called "people's militia" of the self-declared "Lugansk People's Republic" had been killed in battle. The report also said that Ukrainian forces had shelled separatist positions 10 times using 82-mm, 120-mm and 152-mm mortars as well as a BMP, AGS and SPG and small arms. 
Translation: People's Militia Dispatch: 10 shelling in 24 hours, one soldier killed.
In its 6:00 am dispatch, the ATO reported 2 Ukrainian soldiers were killed, 4 were wounded and one was concussed (the same as Col. Motuzyanyk reported).
In its dispatch at 18:00, the ATO reported another 2 Ukrainian soldiers were wounded in the previous 12 hours, bringing the total for this 24-hour period to 7 wounded. There were 30 attacks from Russia-backed forces during the day.
Unian also reported that two Ukrainian soldiers had been wounded.

Unian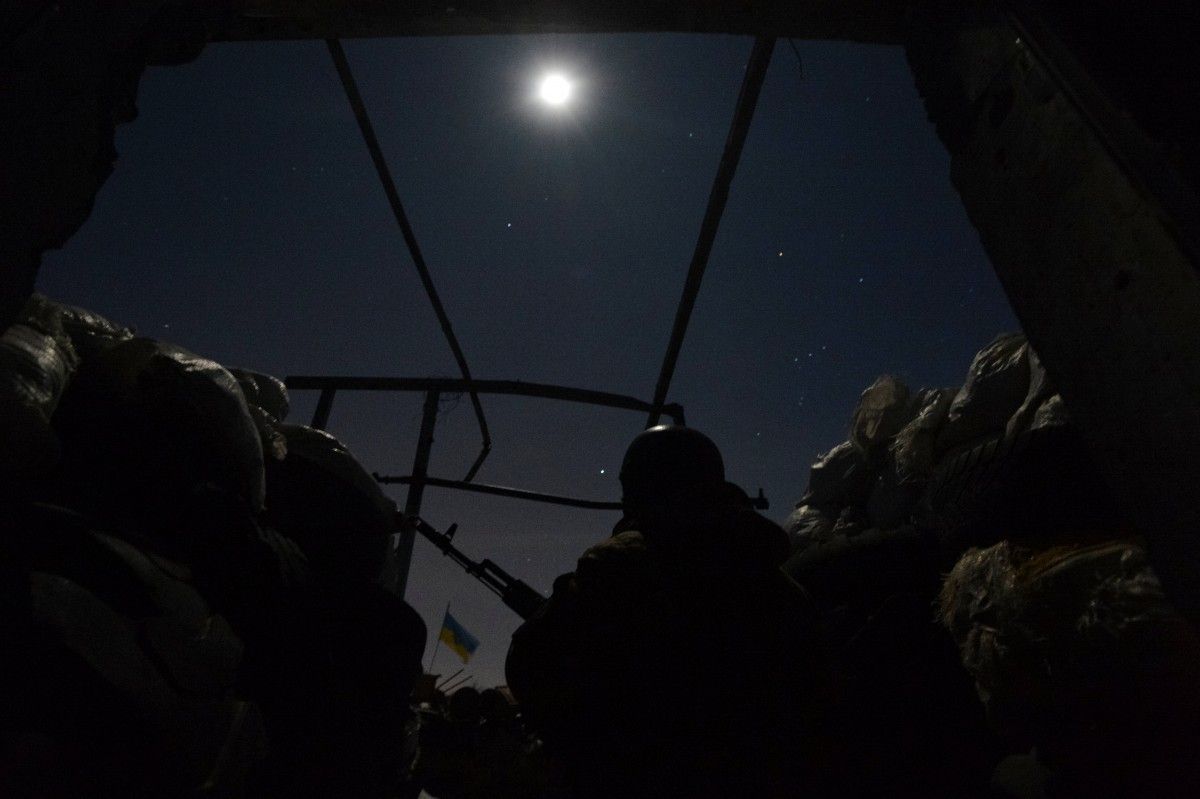 Set as default press image
Two Ukrainian soldiers wounded in Donbas on Tuesday
"Shelling of ATO positions continues. The Russian occupation forces have opened fire 30 times since the beginning of the day, in particular using heavy weapons," the ATO HQ said in an update as of 18:00 local time on March 28.
Mar 29, 2017 07:47 (GMT)
The ATO reported that on the Donetsk line, 120-mm mortars were used to attack Avdeyevka, Troitskoye and Luganskoye; 82-mm mortars were used on Avdeyevka as well, and also on Opytnoye and Troitskoye.
A BMP fired near Luganskoye and heavy machine guns and grenade-launchers were fired on Peski, Luganskoye and Troitskoye.
On the Mariupol line, 82-mm mortars were fired near Taramchuk; a ZU-23-2 anti-aircraft system was fired on the marines at Shirokino. Grenade-launchers and machine guns were used to attack Vodyanoye; grenade-launchers were fired on Pavlopol. Snipers were active at Gnutovo and Vodyanoye.
On the Lugansk line, 82-mm mortars were fired on Novozvanovka and grenade-launchers at Novoaleksandrovka. The ATO forces returned fire.
Due to the increase in civilian traffic across the line of contact, the ATO reported that it is adding an hour to the times when the checkpoints in the ATO operate, so the schedule is now 7:00 am to 19:30. 
Note: The Interpreter has lost its funding!
Donate to these authors!