Armor belonging to Russian-backed forces, reportedly destroyed by Ukraine's military near Debaltsevo, February 2015 | Information Resistance
Ukraine Day 1035: LIVE UPDATES BELOW.
One Ukrainian soldiers was injured in the last 24 hours.
Yesterday's live coverage of the Ukraine conflict can be found here.
An Invasion By Any Other Name: The Kremlin's Dirty War in Ukraine
---
Alarming Escalation As Five Killed On Ukraine's Battlefields; Largest Private Bank To Be Nationalized
A battle is raging in Ukraine that may be the hottest and most alarming fight the country has witnessed in over a year. The epicenter of the fight appears to be near Debaltseve, east of Gorlivka, just a little more than 45 kilometers northeast of Donetsk. Specifically, it appears that Russian-backed militants are attempting to seize the town of Svitlodarsk. Since much of the last year has been marked by extremely minimal changes in territorial possession, this sudden escalation could be a sign that a new campaign may be on the horizon. 
At least five Ukrainian servicemen have been killed today, according to Unian.
"Our positions near the village of Novo-Oleksandrivka, which is in the Luhansk sector, came under fire from rocket-propelled grenades and heavy machine guns. Since 05:50 [local time on Sunday], mercenaries of the Russian occupation force had been trying to oust our vanguard troops from their positions in the area of Svitlodarska Duha after long preparation fire from heavy artillery and mortars," the ATO HQ reported on Sunday.
That information, however, was based on a briefing from the Ukrainian military's headquarters for the Anti-Terror Operation (ATO) that took place during the day. Reports suggest that the fighting has only intensified.
An article published by Unian.info at 22:55 local time on December 18 says that at least 26 men are wounded:
By Sunday evening, the intensity of shelling had increased, and the number of wounded Ukrainian soldiers had grown to 26 men, zn.ua reported with reference to TV news service TSN journalist Yevhenia Tsvetanska, who is near to Dnipro-based Mechnikov hospital. Wounded Ukrainian soldiers participating in the Anti-Terrorist Operation in eastern Ukraine are admitted to this hospital, as it is the largest clinic in the immediate vicinity.

Four wounded soldiers are still on the battlefield as they cannot be evacuated because of heavy artillery fire. Doctors in Dnipro have been informed that they should be ready to handle new wounded soldiers. Meanwhile, Ukrainian journalist Yuriy Butusov wrote on Facebook on Sunday evening with reference to his own sources that a joint detachment from various units of the 54th mechanized infantry brigade of the Armed Forces of Ukraine had been repelling new attacks at Svitlodarska Duha.

The adversary deployed several batteries of 152mm, 122mm and 120mm artillery systems that are banned under the Minsk peace agreements on Donbas.

Unian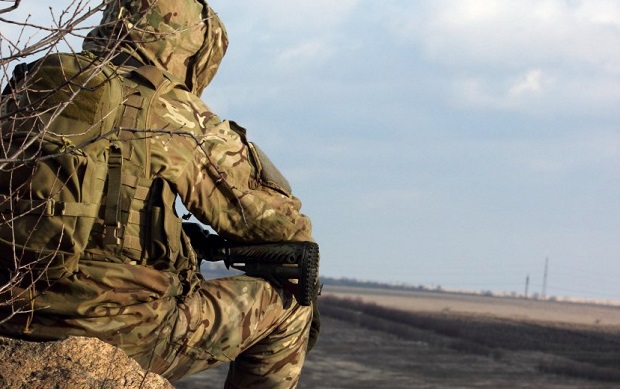 Set as default press image
Number of Ukraine WIA's grows to 26 as Svitlodarska Duha shelling continues – media
The number of Ukraine's wounded in action (WIA) has grown to 26 men on Sunday, December 18, as the combined Russian-separatist forces resumed attacks near the militant-occupied town of Debaltseve at the so-called Svitlodarska Duha stretch after they had been defeated earlier that day, according to Ukrainian media outlet, zn.ua.
Dec 19, 2016 08:35 (GMT)
As of five hours ago from time of writing, there were still reports of heavy shelling heard in Gorlivka.
Today's fighting follows a day of intense fighting that focused not on the northwestern front but on the southern one. Saturday's heaviest fighting was near Mariupol, on the coast of the Azov Sea: 
Interpretermag
Set as default press image
2 Ukrainian Soldiers Wounded as Russia-Backed Forces Attack 52 Times, Focusing on Mariupol Area
Two Ukrainian soldiers were wounded in artillery fire near the village of Nevelskoye, according to the Ukrainian Defense Ministry.
Dec 19, 2016 08:45 (GMT)
Ukraine's largest private bank nationalized
The battle in Donetsk region was not the only explosive news on Sunday. The National Bank of Ukraine (NBU) and the Council for Financial Stability announced that, in order to "ensure stability in the country's financial system," the NBU was obtaining 100% of the ownership shares of PJSC PrivatBank. 
Bloomberg reports:
The fate of Privatbank has loomed large over central bank efforts to stabilize the financial industry following a recession brought on by revolution and a separatist conflict. The cleanup drive is part of a wider reform effort to breathe new life into Ukraine's economy, though many initiatives are behind schedule. The decision marks an end to attempts by controlling shareholders Igor Kolomoisky and Gennady Bogolyubov to shore up the lender.
The Wall Street Journal has a slightly different read of the situation — that the National Bank of Ukraine may have been hesitant to nationalize Privatbank sooner in order to avoid angering its main shareholder, Igor Kolomoisky:
Ukraine has been cleaning up its banking sector in the last two years, shuttering several dozen ailing lenders in a rare success for the country's pro-Western leadership. But it has long held off from Privatbank, which was controlled by powerful tycoon Ihor Kolomoisky and accounts for around one-third of all deposits in the country, despite concerns that it needs billions in additional capital.

Mr. Kolomoisky, a billionaire who owns one of the country's most popular television channels, has helped fund pro-government units who fought Russian-backed separatist in the country's east since 2014. The tycoon was governor of the eastern Dnipropetrovsk region until President Petro Poroshenko ousted him in 2015 amid a struggle for control over the state oil company, which is partly owned by Mr. Kolomoisky.

The government said the bank's owners had requested nationalization. There was no immediate comment from the bank or its owners late Sunday. 
Last 'Cyborg' freed from separatist captivity
The "Cyborgs" made history when the small group of Ukrainian soldiers, massively outgunned and outnumbered, held the Donetsk Airport for months while they were under almost constant siege by Russian-backed forces.
Today, the last known Cyborg who was still in captivity, Taras Kolodiy, has been freed. Ukraine Today reports:
As UNIAN reports, Ukrainian President Petro Poroshenko has announced that Taras Kolodiy, the last survived from among the Ukrainian soldiers who defended Donetsk airport, also known as "cyborgs," has been freed after almost two years' captivity by Donbas militants.

"The SBU chief has just reported about the release of our 'cyborg' – Taras Kolodiy. He is free after almost two years in captivity," Poroshenko tweeted on Sunday, December 18. The president thanked all those who had been engaged in Kolodiy's release. "We have made a St Nicholas present to all the country", wrote Petro Poroshenko. He already called to Taras Kolodiy and his mother to congratulate them. 
uatoday.tv
Set as default press image
Ukrainian "cyborg" freed from captivity
Ukrainian priests participated in talks on Kolodiy's release. December 18, 2016, Ukraine (Source: facebook.com/iryna.gerashchenko) Last survived defender of Donetsk airport Taras Kolodiy freed after almost two years' captivity As UNIAN reports, Ukrainian President Petro Poroshenko has announced that Taras Kolodiy, the last survived from among the Ukrainian soldiers who defended Donetsk airport, also known as "cyborgs," has been freed after almost two years' captivity by Donbas militants.
Dec 19, 2016 09:26 (GMT)
The Russian state news agency TASS reports that Patriarch Kirill, the head of the Russian Orthodox Church and a close ally of Vladimir Putin, played a key role in Kolodiy's release:
According to the press service, Patriarch of Moscow and All Russia Kirill was asked to help release the man by Metropolitan Onufriy of Kiev and All Ukraine after the serviceman's relatives had asked for his assistance. "His Holiness Patriarch Kirill of Moscow and All Russia upheld the plea of His Beatitude Metropolitan Onufriy and contacted people who could solve that matter," the press service said.

"Taras Kolodiy's release is the result of the Church's peacekeeping efforts towards the settlement of the conflict in Ukraine and proves the high authority of the Ukrainian Orthodox Church," the press service said.
— James Miller