Ukrainian soldiers put up a cross in the courtyard of a destroyed apartment building this week where six of their comrades were killed in a battle earlier this year.
Yesterday's live coverage of the Ukraine conflict can be found here.
Please help The Interpreter to continue providing this valuable information service by making a donation towards our costs.

For links to individual updates click on the timestamps.
For the latest summary of evidence surrounding the shooting down of flight MH17 see our separate article: How We Know Russia Shot Down MH17.
---
1 Ukrainian Soldier Dies in Attacks by Russian-Backed Fighters; Avakov Announces Security Step-Up
"It has just been reported to me that our demining division in Avdeyevka was attacked. One Ukrainian soldier was killed, and eight were wounded. The shelling was made from an 82-mm mortar-launcher, which under the Minsk agreements should have been withdrawn."
Poroshenko also spoke of the terrorist attack in Paris last night in which 129 people were killed.

"But I do not see a connection between the escalations in the east of the country with the activization of Islamic terrorists. But we do see an escalation inside the country, we see the risks and threats of an intrease in terrorists act in Ukraine, and the appropriate measures are being taken in this regard, and security mensions are being tighened."
Interior Minister Arsen Avakov announced that Ukrainian troops were being put on increased alert, after the terrorist attack in Paris, and increased fighting in southeastern Ukraine:
"In accordance with decisions made at a coordinating meeting chaired by the president of Ukraine, key infrastructure facilities (airports, train stations, bus stations, metro stops, highways and strategically-important bridges, facilities in the military-industrial complex, diplomatic missions, places of mass gather of people are now moved to a reinforced regimen of protection."
Avakov also noted that in order to ensure security, all personnel have been activated from the Interior Ministry, National Police, National Guard, State Emergencies Service and State Border Guards.
He urged citizens to be understanding as law-enforcers make demands on them to stop and show their documents and cars.
Translation: In Starognatovka, a secret cache was found with weapons and explosives in the home of a [separatist] fighter.
Conflict bloggers have been reporting increased movement of armor and are trying to pin down the locations: 
Translation: Is there a chance to identify where this was taken? Supposedly in Donetsk/Makeyevka. Maybe there were already photos from there.
Meanwhile, Unian reports that American assistance in the form of radar equipment has been delivered.

Unian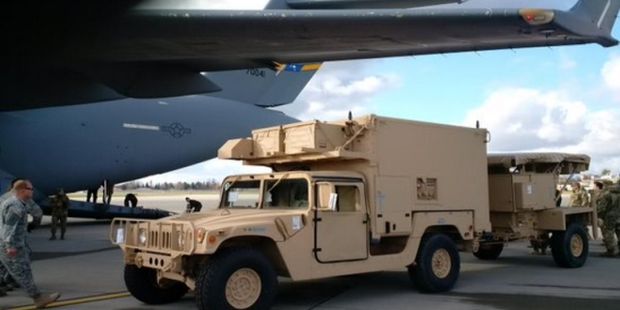 В Украину прибыли американские контрбатарейные радары (фото)
Об этом сообщает посол США в Украине Джеффри Пайетт в Twitter. По его словам, радары прибыли во Львов. Читайте также США "модифицируют" контрабатарейные радары для ВСУ, чтобы они не могли ответить на обстрелы РФ – WSJ Стоит отметить, что количество радаров не называется. Напомним, Порошенко сообщал, что США передадут Украине военные радары уже в середине ноября.
Nov 15, 2015 02:45 (GMT)
Translation: The radars have arrived in Lvov!
Amb. Geoffrey Pyatt is the US envoy to Ukraine.
But as the Wall Street Journal reported on October 21, the radars have been modified to prevent their use to return fire from within Russia:
Advanced radar systems being shipped to Ukraine to counter artillery strikes by pro-Russia separatists have been modified to prevent them from peering into Russia, according to U.S. officials.
The modifications drew fire from a leading Republican critic of the Obama administration, who called it a misguided attempt to mollify Russian President Vladimir Putin.
President Barack Obama signed an order on Sept. 29 to give Ukraine two radar systems worth $10 million each. U.S. officials said this week that the systems would arrive at Ukraine's Yavoriv training ground by mid-November.
U.S. Army officials said they hope the radar would provide Ukraine with a new capability for stopping artillery and rocket attacks launched by separatists. Other officials said the transfer also would send a message to Kiev that Washington's support for its security forces remains strong.
Known as AN/TPQ-36 counter-artillery radar with a range up to 15 miles, the systems will be given to front-line Ukrainian army troops to use.
— Catherine A. Fitzpatrick