Ukraine Day 1162: LIVE UPDATES BELOW. An American medic was killed and two other members of the OSCE Special Monitoring Mission in Ukraine, a German and a Czech were injured when their vehicle ran over a land mine on Sunday.
Yesterday's coverage of the Ukraine conflict can be found here.
An Invasion By Any Other Name: The Kremlin's Dirty War in Ukraine
---
On Sunday one OSCE monitor was killed and another two were injured as their car ran over a landmine in the Lugansk region of Ukraine, which is occupied by Russian-backed fighters.
Interpretermag
Set as default press image
American Medic Killed, Two European Members Injured as OSCE Special Monitoring Mission Vehicle Runs Over Land Mine in Eastern Ukraine
An American medic was killed and two other members of the OSCE Special Monitoring Mission in Ukraine, a German and a Czech were injured when their vehicle ran over a land mine.
Apr 25, 2017 05:59 (GMT)
At the Monday morning briefing the Ukrainian military's Anti-Terrorism Operation (ATO) reported that there had been 34 ceasefire violations over the previous 24 hours. One Ukrainian serviceman was killed and two others were wounded over that period of time. 
The Ukraine Crisis Media Center reports that the Ukrainian military wanted to make two things clear — the OSCE monitors who were injured and killed over the weekend, and the ceasefire violations which the OSCE continues to monitor, are all the fault of the Russian-backed militants:
"All the responsibility for this incident rests with militants, as this area has been controlled by self-proclaimed 'Luhansk People's Republic' since summer 2014. Article 6 of the Memorandum of September 20, 2014 envisages demining of front territories, which is yet another evidence of the enemy's non-compliance with the Minsk Agreements. Ukrainian authorities support thorough investigation of the circumstances of the OSCE vehicle explosion and prosecution of culprits," elaborated Ukrainian Ministry of Defense spokesman on ATO Colonel Oleksandr Motuzyanyk at a press briefing at Ukraine Crisis Media Center.

Speaking of the operative situation, Russia-backed militants were violating the ceasefire along the entire frontline. They conducted eight, 11 and 15 attacks correspondingly in Luhansk, Donetsk and Mariupol sectors. "One Ukrainian serviceman was killed in action yesterday, and two more were wounded," reported the spokesman. 
The Russian government, however, has its own point of view, that the destruction of the OSCE's car was a "provocation," a curious claim if indeed the car was damaged by a landmine: 
RT International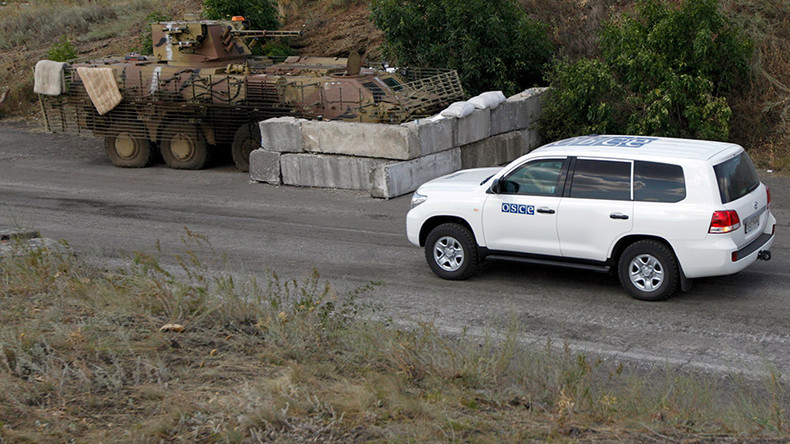 Set as default press image
OSCE patrol car blast 'likely a provocation' to undermine peace process in E. Ukraine – Moscow
Moscow has called the explosion of a car belonging to the OSCE's Special Monitoring Mission to Ukraine (SMM), in which a US citizen was killed and several others injured, a provocation aimed at disrupting peace efforts and reigniting the smoldering conflict.
Apr 25, 2017 05:51 (GMT)
Unian.info has published a report released by  military analyst and MP Dmytro Tymchuk which claims to lay out a timeline of the events of the explosion which hit the OSCE's car. According to that timeline, journalists from the Russian propaganda outlet RT arrived just three minutes after the blast, and many hours before the separatist police force arrived: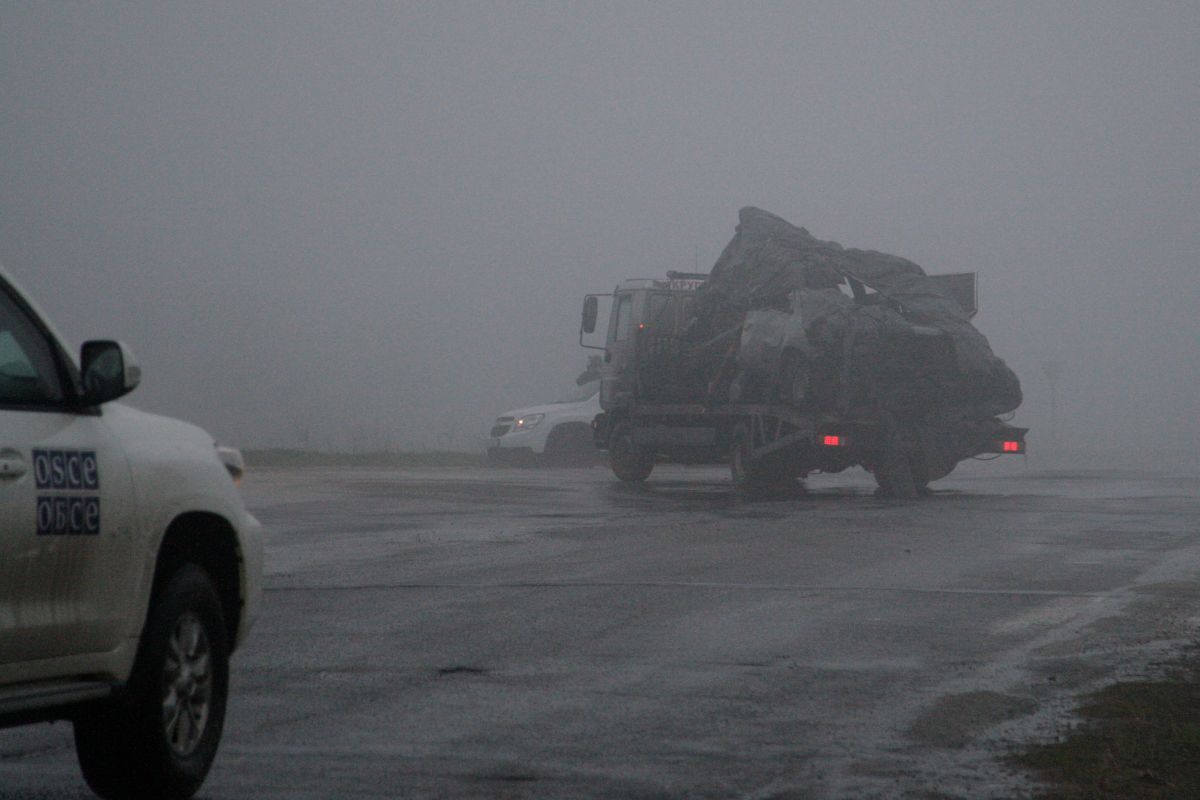 Set as default press image
RT crew arrive at site of OSCE car blast in just three minutes – NGO
Head of Information Resistance Group, military analyst and MP Dmytro Tymchuk published on Facebook a chronology of events on Sunday, following an explosion on a mine of an OSCE SMM patrol vehicle near the village of Pryshyb in the militant-controlled area of Luhansk region.
Apr 25, 2017 05:55 (GMT)
We have yet to confirm that report, however.
Unian.info also reports that later on Monday Russian-backed fighters launched an assault on the town of Marinka, west of Donetsk, which resulted in damage to civilian homes. 
"Houses are reported to have been damaged. At the moment, there is no report about casualties – either civilian or military ones," the ATO HQ said in a statement on Facebook.

"Emergency services are now verifying information about types of weaponry used by the enemy. According to early reports, these were 82mm mortars, infantry fighting vehicles' guns and grenade launchers," it said. What is more, the ATO HQ said that the Russian occupation forces had shelled the Ukrainian-controlled Maryinka checkpoint earlier that day.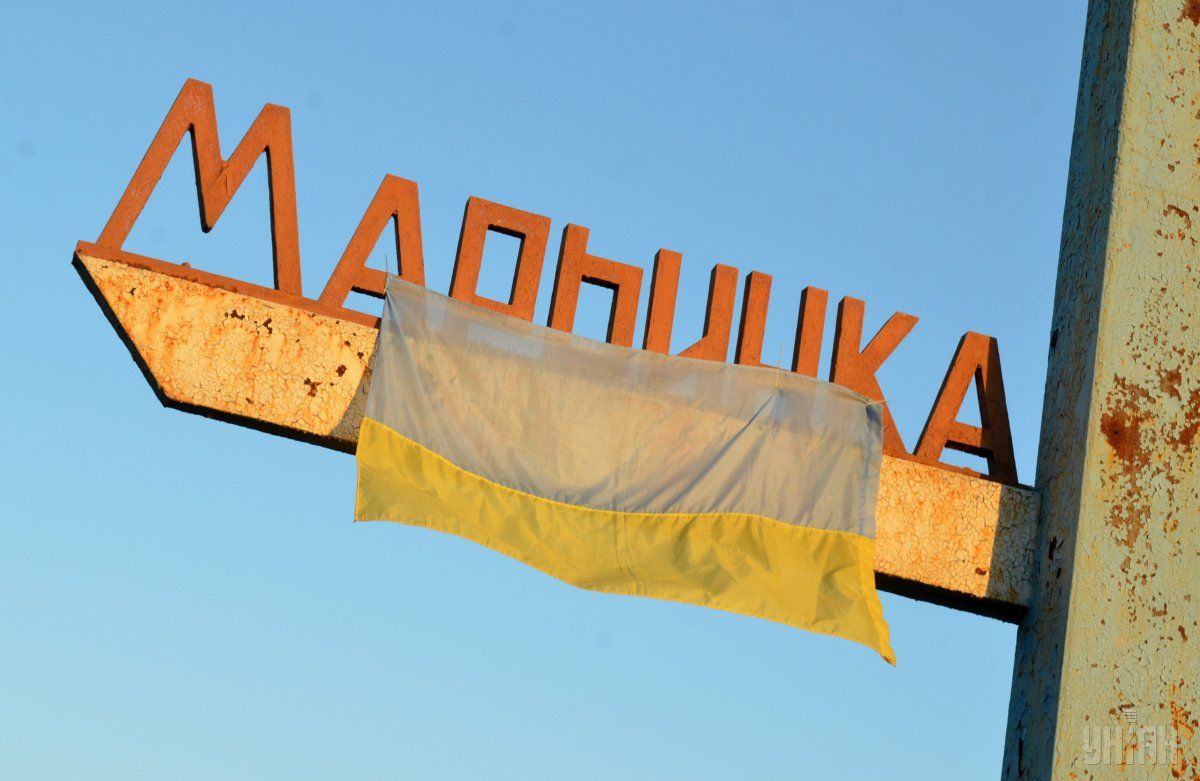 Set as default press image
Russia's hybrid forces attack Maryinka, damage civilians' houses
Residential quarters of the Ukrainian-controlled town of Maryinka in Donbas, Ukraine's east, have come under fire when Russia's hybrid forces mounted an attack on Ukrainian troops stationed near the town on Monday evening, according to the press center of the Anti-Terrorist Operation (ATO) Headquarters.
Apr 25, 2017 05:58 (GMT)
— James Miller