Sergei Roldugin, Vladimir Putin and Dmitry Medvedev in 2009. Photograph: Dmitry Astakhov / Eyevine
LIVE UPDATES: A vast trove of documents have been leaked from a Panama-based offshore services firm, revealing a large network of schemes involving Russian officials and close associates of President Vladimir Putin.
Welcome to our column, Russia Update, where we will be closely following day-to-day developments in Russia, including the Russian government's foreign and domestic policies.
The previous issue is here.
Recent Analysis and Translations:
– Getting The News From Chechnya – The Crackdown On Free Press You May Have Missed
– Aurangzeb, Putin, Realism and a Lesson from History
– Why the World Should Care About the Assassination of Boris Nemtsov
– How Boris Nemtsov Was Murdered: Investigation by Novaya Gazeta
– How Stalin Returned to Russian Contemporary Life – Meduza
UPDATES BELOW
---
Russian Opposition Leader Navalny Says 'I Told You So' On Panama Papers On Putin Cronies His Fund Had Exposed
As the world's media provides saturation coverage on the exposes of the Panama Papers, there is one country where all three major TV broadcasters as well as much of the state print media are silent: Russia.
As BBC noted, Russian state TV has had nothing to say about a leak that most of all implicates their head of state, President Vladimir Putin.
One of the figures in the list of accusations about offshore accounts is Putin's spokesman, Dmitry Peskov, who continues to deny any involvement.
As we have reported and as The Guardian noted, a large portion of the scandals trace back to President Vladimir Putin and his cronies, although he is not named per se.
As The Guardian has pointed out, the Panama Papers leak is bigger than the WikiLeaks/Cablegate files exposed by Chelsea (Bradley) Manning and bigger even than the number of documents given to journalists by fugitive NSA contractor Edward Snowden, although he and his associates may possess or have access to more.
Both those leaks had very little about Russia and its allies and if anything ensured that the attention stay on the US regarding issues of privacy and espionage against US allies notably Germany although ultimately the claim that the US tapped German Chancellor Merkel's phone was not proven.
Both those leaks had very little material about Russia and its allies and if anything ensured that the attention stayed on the US regarding issues of privacy and espionage against US allies notably Germany although ultimately the claim that the US tapped German Chancellor Merkel's phone was not proven.
By contrast, the 11.5m documents and 2.6 terabytes of information drawn from the Panama law firm Mossack Fonseca's internal database mainly finger Russia and its allies although some Western figures such as UK Prime Minister David Cameron's father are also implicated
His tweet was picked up in early US coverage of the leak.
But as an editor of Bild, which has covered the story broken by Suddeutsche Zeitung,  Snowden was selective in his comments.
While as we reported, Ukraine's President Petro Poroshenko is named among some 140 world leaders and prominent individuals who used offshore accounts, he appears to be the only leader to provide a prompt explanation regarding the sales of Roshen, his chocolate company, and an amount of $2,270 – a fraction of the billions associated with Putin. Ukrainian MPs have urged a probe into the allegations against Poroshenko; this type of call will be unlikely to come from the Russian parliament, which can be predicted to go on saying the disclosures are only "an information war."
But while Russia's state media and docile parliament may be silent or defensive, the opposition has scrambled to link the papers to their past work and ask further questions. Novaya Gazeta has a lengthy report with background data on all those named related to Russia.
One person who can rightly say "I told you so" today is Alexey Navalany, the Russian opposition leader and founder of the Anti-Corruption Fund (FBK) who for years has covered some of the same corrupt figures such as the Rotenberg Brothers and cellist Sergei Rodulgin, using the open sources available to him and his own team's research of offshore accounts. For his efforts, he and his colleagues have been subjected to a barrage of officially-sponsored persecution, including specious lawsuits that has forced some of them to flee abroad. Navalny, who has been under house arrest for one sentence, which was later suspended, since garnering 30% of the vote in the Moscow mayoral elections in 2013, has had his web site blocked and has been removed under pressure from the few remaining independent news sites such as Ekho Moskvy.
He maintains a web site hosted outside Russia and an active Twitter account. 
Translation: The disclosure of Putin's offshores – the revenge of a furious woman. 
Navalny takes his Russian-language readers through the highlights of the Panama Papers revelations as he sees them.
First, he points out that Mossack Fonsecka, the firm whose files have been leaked is only one of the offshore corporate firms used by Russian officials and mobsters – who are sometimes the same people. And the story, as big as it is, isn't "the tip of the iceberg" but only "a small part," as Navalny puts it.
Even so, this small part is quite enough to bring impeachment — although the same forces that made such corruption possible would hardly allow the docile Russian parliament to begin such a procedure.
For Navalny, Sergei Roldugin — an old friend and the godfather of one of Putin's daughter — is a key figure. He is alleged to be involved in hiding some $2 billion. A cartoon by the Russian satirist Elkin shows how far Russia has descended from its ostensible Leninist ideals (whose methods ensured this outcome):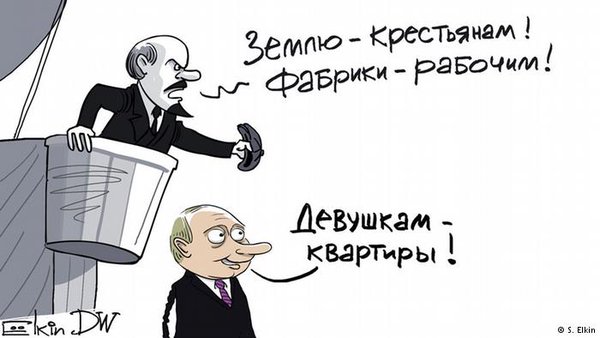 Translation: Lenin: "Land to the Peasants! Factories to the Workers"! Putin: "Apartments to the Girls!"
Says Navalny (translation by The Interpreter):
"Putin's idea was to hide his personally-stolen money in the most unexpected place, with one of the most unexpected personages — a prominent musician and cellist, a man who is loyal and honest (to his boss) and judging from everything, fairly modest in his everyday life. There are no red Ferraris here or other stupidities.

But this clever plan had its weak side. A musician, even the most talented and most popular in the world, simply can't have so much money. Government banks don't give loans of hundreds of millions of dollars to cellists. 

Olgarchs do not give loans (and hardly then forgive them later) to cellists and [forgive] debts of billions of rubles. The managers of Rosneft and Sberbank do not turn over obviously criminal deals in order to enrich the offshore of a musician on another million or so dollars."
Roldugin cannot say anything coherent about 'his' offshore empire. And really, what can you say here, it's a 'delicate question.'"
(Translation by The Interpreter, quotation from Novaya Gazeta, emphasis from Navalny):
"Guys, honestly, I can't give any commentary now. I must take a look and understand what can be said and what can't be said. I simply fear giving an interview. When I refused to give an interview to some Germans an interview, they wrote that Putin had so intimidated his acquaintances and friends that they are afraid to talk. That's the form they display me as. I understand that there are very important things here. Do you do business or not do business? Where's the money from? Whose is it? I do know that. These are delicate things."
But as Navalny points out, for him it's not so much Roldugin who is the most interesting in the Panama Papers but a description of the workings of "the main corrupt scheme of the country — the scheme to enrich Putin and his family personally."
Most of the cash comes from securities and loans. Rosneft's shares are sold; in a day, a contract to sell the shares is concluded with Roldugin's firm and immediately then immediately torn up. Roldugin gets a kill fee under the terms of the contract of $750,000 — "nice," says Navalny.
Severstal, a steel copmany owned by Aleksei Mordaashov, gave Roldugin's company a $6 million loan — then immediately forgave that loan. Similar stories are repeated with Kerimov and the Rotenberg brothers, including Arkady's son Igor, who owns the Platon toll-payment system which has become the bane of truckers who have massively gone on strike over it.
As Navalny nonchalantly points out, when the controversial Platon system is raised — a case he and others have exposed as private gain at the expense of the public and truck drivers — the beneficiary "can be boldly stated — it's Putin."
Navalny lists "our old friends" the Russian Commercial Bank, a Cypriot subsidiary of VTB which gave Roldugin's offshore loans which were never returned. They opened up a credit line of $650 million for the Panamanian company and thus ensured "more or less unlimited access to the cash." Sberbank, through its subsidiary Troika, was also involved in a fictitious sale of shares which were bought back the next day by the previous owners.
As Navalny is fond of pointing out, the issue of these off-shore deals would not be so pointed were it not for Putin's own crusade against "offshorization" of other companies — with very mixed success.
"We must end the off-shore legacy of this era of wild privatization," he lectured officials – by which he meant not only the loans-for-shares companies created under the Yeltsin Administration, but more recent ones under his own regime.
Navalny points out that the technique used with Roldulgin's accounts is similar to that used to create what has been called "Putin's Palace" in Gelendzhik in southern Russia, which was one of the first capers of Putin's  entourage to be exposed involving his friend Shamalov, the father of Kirill Shamalov, the husband of Putin's daughter Katerina.
As the Panama Papers document, schemes that ultimately involve "filling Putin's wallet" have implicated Kerimov, Mordashov, Kostin, VTB's management, Sechin, and the leadership of Rosneft and Sberbank, all previous targets of Navalny's which he says "should without a doubt be brought to criminal liability and put on existing sanctions lists." Says Navalny:
"There is documentation of laundering of money and the giving of bribes to an official. It would be one thing if they gave bribes out of their own pockets, but now, they're giving it out of the cash from state banks and companies."
Navalny believes a lot of this cash was spent on Putin's family, notably the Igor sky resort outside St. Petersburg formally owned by Kovalchuk where the wedding of Katerina Tikhonova (she uses a different last name than her father's) to Kirill Shamalov took place. The event was closed off to reporters.
Roldugin's offshore funds were also spent on KAMAZ, AVTOVAZ and Video International, all companies which "can be assured the current economic crisis will not affect them because the president keeps special watch on them," says Navalny. Navalny noted that Video International, a company that "largely controls the advertising market in Russia" has a shareholder structure that is "under seven seals," as the Russian folk expression has it. But thanks to the Panama Papers, we now know that Rodolgin's offshore owns 20% of the shares of Video International, says Navalny. We will recall that the founder of Video International was Mikhail Yuryevich Lesin, found dead in November 2015 in a Washington, hotel and said to have died from "blunt force trauma."
"At a minimum it can be maintained that Lesin could not help but know that the major shareholder of his baby was President Putin," says Navalny.
Navalny also calls attention to a detail in the reporting by the Guardian, which was "for some reason not mentioned on Novaya [Gazeta]'s special-project site detailing the Panama Papers.]" In 2012, Putin's entourage began to get nervous and stopped using Mossack Fonseca. They moved all their dealings from Panama to the British Virgin Islands. This new offshore created then was related to Lesin's companies.
Navalny cites from The Guardian:
For unclear reasons after October 2012, Sandalwood was closed down and its operations switched to another offshore entity register in the BVI called Ove Financial Corp.
One of the companies linked to Ove Financial Corp belonged to Mikhail Lesin, Putin's media tsar and former press minister.
So the popular version of the story that "Lesin didn't know anything" or "Lesin had nothing to tell" after he fell from official grace in 2015 for mysterious reasons just doesn't hold up, says Navalny.
Pondering Lesin's death, which is still a mystery (and no, he didn't in fact miraculously live or even use his passport to leave the country), Navalny writes:
"I understand this all looks like a cheap detective novel, but it's really all like that. A corrupt official who had helped place Putin's personal cash decided to go to the US, where he bought a bunch of real estate but for some reason under strange circumstances he died of a blunt instrument in a hotel."
Navalny then cites one of Putin's prominent speeches on "de-offshoritzation" on state Channel 1:
Another character in the Panama line-up is Dmitry Peskov and the off-shore company of his wife Tatyana Navka.
It was registered in 2014 when Navka, an Olympic Champion ice dancer had already started a relationship with Peskov; their daughter was born in 2014 but the exact date of their marriage registration is not known, says Navalny, although Wikipedia says it is August 1, 2015.
Navalny's group had uncovered the fact that Nayavka gave Peskov as a wedding present a $620,000 watch (described as valued at $670,000 by Wikipedia, but the difference may be due to the difference in ruble-dollar conversion rates at different times).
But as Novaya Gazeta reported:
"In a conversation with Novaya Gazeta, Tatyana Navka said "I don't have any offshore companies or accounts. There were any foreign companies at all. To our question, is it possible that someone used the documents (a photo of the foreign passport and the payment for the apartment) without her knowledge, 

Tatyana replied: "I don't know who could have done that. I myself would like to get to the bottom of that."
Did the Panama Papers tell Navalny anything he didn't know already?
As it turns out, yes: he learned that Maxim Liksutov, Moscow's minister of transport who has sued him for libel doesn't just own commuter trains and the metro but "his portfolio is more diversified" — he also trades in methanol. 
Navalny has written "long and hard" about Aleksandr Babakov, "one of the poorest deputies in the State Duma" to judge from his declarations, but who has a "castle outside Paris and an apartment near the Eiffel Tower."
The Panama files reveal him as a "major player on the Ukrainian energy market – VS Energy."
His offshore is AED International Ltd. registered in the British Virgin Islands, and he owned 100% of the shares from April 2007 to September 2011; he then transfered the company to his 23-year-old daughter. Says Navalny:
"We were all wondering — why didn't the Ukrainian government, who put Babakov in the sanctions list, didn't take any actions against him. Now it is understood — undeclared Panama offshores have been discovered with Petro Poroshenko."
It isn't determined that there is a connection between Babakov and Poroshenko but Poroshenko's offshore is being investigated.
While Western coverage of the scandals frequently remind readers that offshore accounts are not illegal, in Russia there is legislation significantly restricting them and a campaign to end them. Navalny points out that Novaya Gazeta has reported that United Russia deputies are in the list (as we reported earlier):
Viktor Zagelsky, connected to Bariton Consultants and Mikhail Slipenchuk of EuroImpex Group as is Boris Dubrovsky, governor of Chelyabinsk Region (Spaceship Consulting, S.A. in Panama)
Andrei Turchak, who was involved in the brutal beating of blogger Oleg Kashin is also in the Panama Papers' list (Burtford Unicorp, Inc. in the British Virgin Islands) as is Mikhail Slipenchuk, governor of Chelyabinsk Region
Navalny is most triumphant in pointing out that the relatives of the pillars of the regime who speak the most loudly about patriotic values are in the Panama Papers: Aleksei Patrushev, secretary of Nikolai Patrushev, head of the Russian National Security Council, who registered Misam Corp. in the Virgin Isles; Sergei Chemezov, the head of Rostekh, the largest Russian state arms manufacturer, , as his Viktor Zubov, the former deputy interior minister, whom Navalny had connected to the Oboronservis affair through a transfer of real estate to his niece.
Another deputy interior minister, Aleksandr Makhonov, was found to have 5 active offshore companies. 
"Even Senator Geremeyev — the uncle of that Geremeyev who organized Nemtsov's murder — was found to have an old offshore" as were several other officials — "too many to remember" — including Kozhin, former deputy of the presidential administration's depart of administration and the son of Aleksei Ulyukayev, economic development minister and his wife.
Navalny notes:
"Once again, we're talking about a leak from ONE registration company. And only in Panama, which is not even the most popular offshore jurisdiction."
He said he and his colleagues would study the documents exposed by the OCCRP and would announce the legal actions they plan to take soon.
— Catherine A. Fitzpatrick 
Panama Papers: 4 Serving Russian Officials Tied To Offshore Schemes
As we reported earlier, reports by the ICIJ (International Consortium of Investigative Journalists) and OCCRP (the Organized Crime and Corruption Reporting Project) on the Panama Papers, leaked from the Panamanian Mossack Fonseca offshore services firm, reveal an extensive network of offshore schemes involving Sergei Roldugin and the Rotenberg brothers – close friends of President Vladimir Putin.
But the investigation has also brought to light the activities of four serving Russian officials.
Aleksandr Makhonov, deputy minister of internal affairs, was still, as of a report published on August 13, 2013, still the owner of 50 percent of Nortwest Management Inc, an offshore entity registered in the British Virgin Islands (BVI). No records in the Panama Papers indicate a change of ownership since that date.
This was in spite of a Russian law that came into effect in May, 2013, barring Russian officials from engaging in business activities or owning foreign financial instruments, including shares.
Makhanov became owner of half of Nortwest in 2012, before joining the Interior Ministry (MVD) as the head of the Department for Information Technologies, Communication and Information Security. He was promoted to deputy head of the MVD in 2015.
According to the OCCRP report, Nortwest is parent to several other offshore firms, through which Makhonov owned shares in Nemo Telecom, a relatively successful London-based Internet television streaming service. In addition, via a chain of offshores, In addition, not only is Nortwest is the beneficiary of Digital Commerce, a Russian company which manages subscription payments for Nemo, but it also owns N Trading, the Russian distributor of the Nemo Box HD device which allows access to the service.
As President Putin's press secretary Dmitry Peskov is the familiar face of the Kremlin, he is also the deputy chief of the Presidential Executive Office. Peskov was the subject of media scrutiny last August when anti-corruption activist Alexey Navalny noted the value of the watch he wore during a ceremony to celebrate his wedding to figure skater Tatiana Navka.
Telegraph.co.uk
Set as default press image
Vladimir Putin's spokesman in luxury watch scandal
This montage published on Alexei Navalny's blog shows Mr Peskov's wedding and a close-up of the watch The watch – a chunky, rectangular item featuring a stylised skull – is visible on Mr Peskov's right wrist in a photograph from Saturday's wedding. Alexei Navalny, an anti-corruption crusader and opposition leader, identified it as a Richard Mille RM 52-01.
Apr 04, 2016 13:44 (GMT)
Peskov's official annual income only equated to around $147,000 at the time, but his watch, one of an edition of only 30 ever made, cost over $600,000.
This was followed by criticism over a trip on a luxury yacht in the Mediterranean.
RadioFreeEurope/RadioLiberty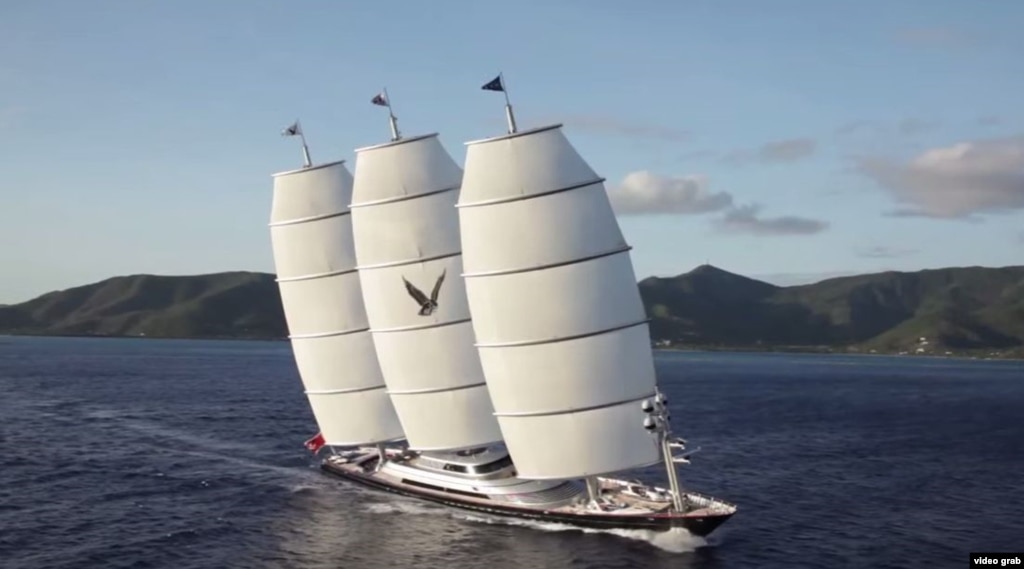 Set as default press image
After Wristwatch Scandal, Putin's Spokesman Grilled Over Luxury Yacht
Fresh in the wake of a scandal about a wristwatch reportedly worth hundreds of thousands of dollars, Kremlin spokesman Dmitry Peskov appears to be in hot water again over his taste for the good life. Or to be more precise: in the temperate, cobalt-blue waters of the Mediterranean.
Apr 04, 2016 13:47 (GMT)
According to documents found in the Panama Papers, Carina Global Assets Ltd was registered in the BVI in 2014 with Tatiana Navka named as the company's beneficiary. 
Attached to the application was a copy of Navka's passport. It also showed that Carina Global Assets planned to manage more than US $1 million of assets. The company will "purchase investments on behalf of the beneficial owner" as stated in separate documents describing Navka's offshore entity. 
While Peskov and Navka's lavish marriage was widely reported in the media in August last year, the Sobesednik news site first reported in July that the weeding had already taken place at a more discreet, civil ceremony.
This would mean that Peskov had violated the 2013 law on foreign asset ownership, as either Navka should have given up her control of Carina, or Peskov resign from his post within three months of their marriage.
Instead, Carina Global's assets were only dissolved in November last year.
Amazingly, Peskov had explicitly condemned the use of offshore schemes in a Kommersant interview in 2011: 
"Overall, this immensely supports corruption practices. Although there are no direct violations of law, it is obvious that these schemes are used for money laundering."
Viktor Zvagelskiy is a deputy in the State Duma and a member of President Putin's United Russia party. He is also an "effective beneficiary," as the OCCPR puts it, of the BVI-registered Bariton Consultants Ltd, as well as the owner of Panama's Delcroft Real Estates Inc.
In violation of the 2013 law, Zvagelskiy was still an owner of Bariton in March, 2014:
Zvagelskiy acknowledged involvement in Bariton but denied involvement had continued.
From the OCCRP report:
Zvagelskiy confirmed to Novaya Gazeta that he was affiliated with Bariton and held a power of attorney, but said he had never signed any documents on behalf of the company.

"I bought the company in 2006 or 2007 for a particular project," he said. "I had a foreign partner who proposed to buy a piece of land in the Moscow region. And the one condition was to do it through a foreign company. It was totally legal that time."

Zvagelskiy said he did everything he could to cancel his involvement with Bariton Consultants at the end of 2012.

But the documents tell a different story. In 2014, the mediator acting of behalf of the shareholders of Bariton, in a letter to Mossack Fonseca, confirmed that the beneficiary owners had not changed since 2007.

Zvagelskiy also said he did not have a clue about Delcroft Real Estate, the seсond company the Mossack Fonseca documents say he owns. "I dug into the documents, but didn't find anything about Delcroft Real Estate," he said.
Another United Russia MP, Aleksandr Babakov, was the sole owner of the BVI-registered AED International Ltd until September 2011, when control was passed on to his daughter, just before he would have had to make his ownership public in a pre-election declaration.
While it is not illegal for Babakov's daughter to own the offshore firm, it is worth noting that, on paper, Babakov is one of the poorest members of the State Duma:
According to the latest available data, in 2014 his family's income was 4.5 million rubles (US$ 128,000), and two years before that the family earned only 2 million rubles (US$ 64,000) a year. Year after year, Babakov's declarations state that he does not own any apartments or vehicles. As official figures show, his wife also lives a modest life. However, documents from the Mossack Fonseca database as well as other official registries show that the Babakov family owns both foreign companies and luxury real estate abroad.

Official documents of AED International indicate Babakov may be one of the actual owners of VS Energy, a large holding company that manages energy assets.

The Mossack Fonseca database shows that since 2010, AED International has been managed by V.D. Nominees, which serves as nominal directors or founders in clients' entities. The database shows that Vilis Dambins and Valts Vigants, two of the company's employees, manage the firm on behalf of Babakov and the Ukrainian registry of legal entities shows the Latvians among the four owners of VS Energy as of November 2015. Most likely they are proxies hiding the real beneficiaries.

In 2011, Babakov transferred  100 percent of AED International's shares to his daughter, Olga, who had just turned 23. In the documents Olga Babakova listed an apartment in London as her permanent  address. The 100-square-meter two-bedroom apartment is located in the chic and prestigious district of Knightsbridge, right next to Hyde Park. The property, however, does not belong to the Babakov family but to a real estate company. In 2010, the apartment was offered for rent at £ 5 thousand a month (US$ 7,725), which exceeded Alexander Babakov's monthly income.

Moreover, according to the state registries of France, the Babakov family owns a  luxury mansion not far from Versaille, a former residence of the French kings. In the official record of the company managing this property Babakov family listed as their residence a Paris apartment next to the Eiffel Tower (previously reported by the Anti-corruption Foundation in 2013).
— Pierre Vaux
Panama Papers Reveal Trail Of Money Circling President Putin
As readers will by no doubt be aware already, the International Consortium of Investigative Journalists (ICIJ) and the Organized Crime and Corruption Reporting Project (OCCRP) have collaborated with hundreds of journalists around the world to publish data from a vast leak of documents obtained from Mossack Fonseca, a Panamanian offshore services provider.
Considerable media attention has already been directed at revelations concerning Sergei Roldugin, a professional cellist and "best friend" of President Vladimir Putin, who has been revealed as the owner of three offshore companies at the heart of an extensive network, spanning from Russia to Cyprus, Belize and the British Virgin Islands (BVI).
Visualisation by the ICIJ
The Guardian's Luke Harding explains how this network appears to have been used to move Russian state funds out of the country and back into Putin's inner circle.
the Guardian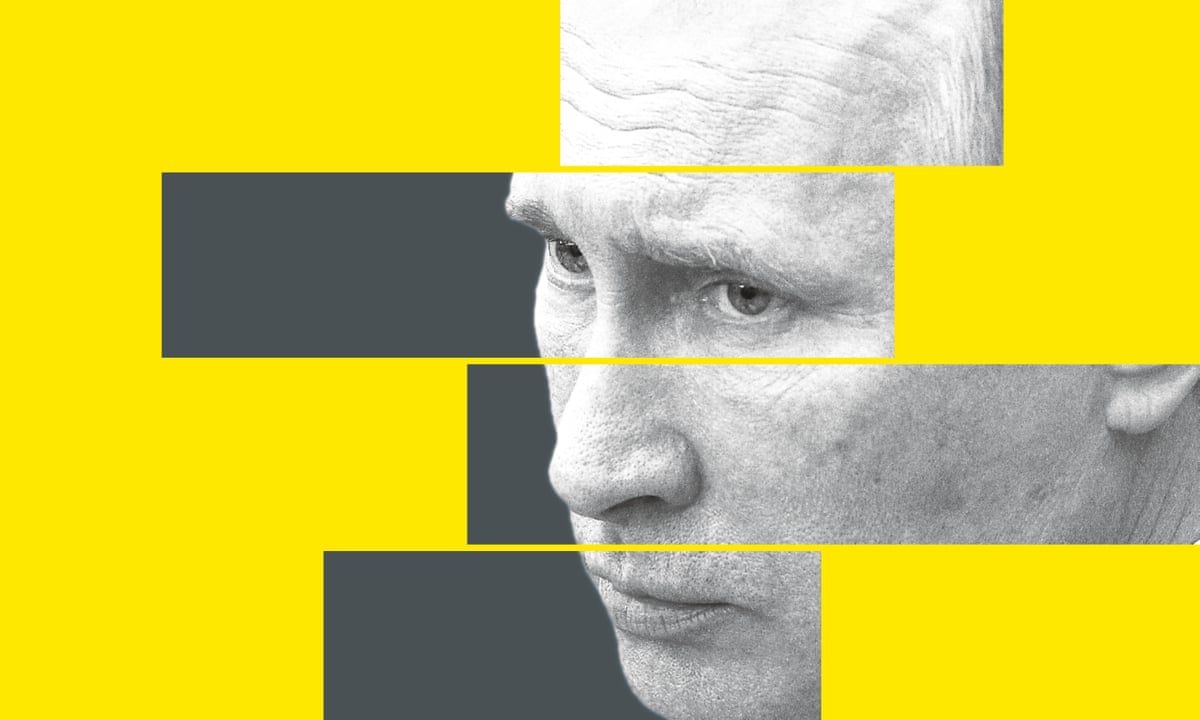 Set as default press image
Revealed: the $2bn offshore trail that leads to Vladimir Putin
A network of secret offshore deals and vast loans worth $2bn has laid a trail to Russia's president, Vladimir Putin. An unprecedented leak of documents shows how this money has made members of Putin's close circle fabulously wealthy.
Apr 04, 2016 09:54 (GMT)
Roldugin was the owner, from 2007 until 2012, of the BVI-registered Sonnette Overseas, in which he was represented by two Saint Petersburg businessmen, Oleg Gordin and Aleksandr Plekhov. These two men, in turn, owned shares in another BVI-registered entity, Sandalwood Continental.
Sandalwood Continental made a total turnover, between 2009 and 2012, of around 2 billion US dollars, the source of which was, as the OCCRP puts it, "simple stock and contract manipulation of Russian state companies."
For example, in 2010 Rodulgin's Panamanian company, IMO, agreed to buy Rosneft shares from another offshore company (Dino Capital S.A.). The lawyers handling Roldugin's business sent two contracts to Mossack Fonseca on the same day. One was for the purchase of stock, and the other cancelled the first contract. According to the contract, Rodulgin would earn US$ 750,000 if the deal did not go through, which he in fact did since both contracts were executed at the same time.

There were similar deals with other companies affiliated with Roldugin according to email exchanges in the Mossack Fonseca data. These operations allowed the president's old friend to make millions of dollars out of thin air. The technique is a tried-and-true scam used in Russia for years to launder money, pay bribes or reward friends. (Curiously, a similar approach, non-performance of contracts for purchase and sale of shares, was used by the fraudsters in the Magnitsky case, to create fictional obligations and then steal the profit tax from the budget).

In some cases the agreements did not involve a cancellation penalty but a stock trade, but in every one of these cases reviewed by Novaya Gazeta, the cellist earned a profit from the trade, which is highly unusual. His company bought stock in Russian companies and the next day sold the same stock back to the same people, but at a serious profit, which allowed them to make $400,000-500,000. Roldugin's contracting partners always lost in these operations.

Roldugin's managers seemed to know ahead of time how the market would act, and how the price of a stock would change. But it wasn't due to their skill.

Novaya Gazeta talked to experts who said that, in reality, many of these deals may not have ever been done. Instead, deals like this are often just fake paper trails to explain payments from other sources.

Some of these companies were initially connected to the Troika Dialog investment fund, which was controlled and run by Sberbank after the bank bought the Troika Dialog investment bank. Troika and Sberbank declined to comment.
One of the most strikingly corrupt transactions was the issuing of a credit line for at least $650 million to Sandalwood by the Cypriot RCB bank, which is controlled by Russia's state-owned VTB.
From the OCCRP report:
The documents say that from 2010 through 2012, a credit line for a minimum of US$ 650 million was opened for Sandalwood Continental. The deal gave the offshore almost unlimited access to cash for any purpose.

At the same time, credit agreements were signed in such a way that even Mossack Fonseca lawyers pondered the question of whether the bank would get that money back. Mossack Fonseca employees exchanged worried emails questioning whether such a contract should be signed especially when there was no clear understanding of the purpose of the loan and no collateral was put up.

"These Loans do not seem to have a commercial background. There is no adequate security mentioned, something that normally would be written in the agreement," said financial crime expert Pieth. In most of the loan contracts in the data, there's no mention of security or collateral for the loans. Roldugin's company, without any risk, received hundreds of millions of dollars from a subsidiary of a Russian state bank.
As Luke Harding writes, these funds found themselves back to Russia:
Some of the cash obtained from RCB was also lent back onshore in Russia at extremely high interest rates, with the resulting profits siphoned off to secret Swiss accounts.
A $6m yacht was purchased by Sandalwood and shipped to a port near St Petersburg.

Cash was also handed over directly to the Putin circle, this time in the form of very cheap loans, made with no security and with interest rates as low as 1%. It is not clear whether any loans have been repaid.

In 2010 and 2011, Sandalwood made three loans worth $11.3m to an offshore company called Ozon, which owns the upmarket Igora ski resort in the Leningrad region. Ozon belongs to Kovalchuk and a Cypriot company. Putin is the resort's star patron and a reputed resident.

Eighteen months after the loans, the president used Igora as the venue for the wedding of Katerina. Her groom was Kirill Shamalov, the son of another of Putin's old St Petersburg friends. News of the ceremony, from which cameras were banished, only emerged in 2015.
Guardian graphic
Andrei Kostin, CEO of VTB, told Bloomberg news today that the report that his bank had not made unsecured loans to Rodulgin, claiming that the journalists working on the story "don't have the information on financial transactions."
He also called suggestions that President Putin himself was involved in the schemes "bullshit." 
Bloomberg.com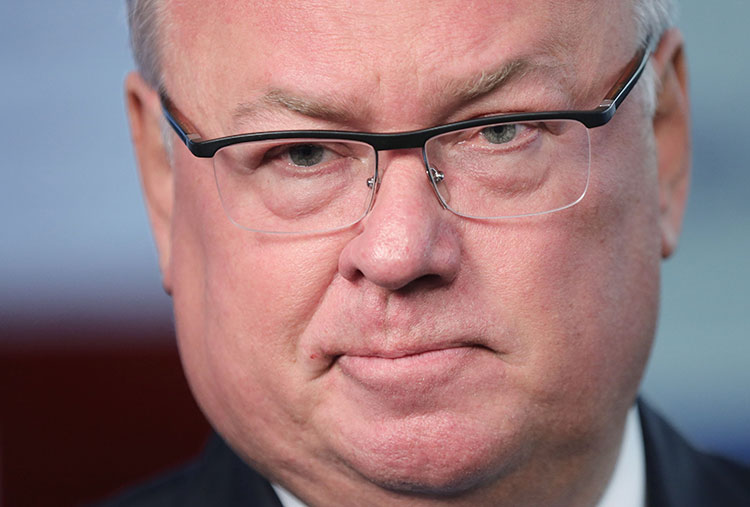 Set as default press image
VTB Chief Says Putin Isn't Linked to $2 Billion Offshore Loans
The head of a major Russian state-owned bank dismissed as nonsense reports that President Vladimir Putin is linked to as much as $2 billion in offshore transactions allegedly involving people close to the Kremlin leader. "Mr. Putin was never involved.
Apr 04, 2016 10:39 (GMT)
This is not, of course, the first time that VTB has been accused of nefarious practices.
In September, 2012, Alexey Navalny's Foundation for Fighting Corruption and the Henry Jackson Centre's Russia Studies Centre published a damning investigation (edited by The Interpreter's future editor-in-chief, Michael Weiss) into VTB's activities:
Henry Jackson Society
Fit for International Financial Markets? A Closer Look at VTB Group's Practices
By The Foundation for Fighting Corruption and the Russia Studies Centre at the Henry Jackson Society A pattern of mismanagement and questionable business practices by the VTB Group-and specifically VTB Bank- should raise serious concerns about the viability of the financial institution for investors and the banking sector as a whole, and the potential hazards that it brings to the European financial markets.
Apr 04, 2016 10:42 (GMT)
Mark Pieth, Professor of Criminal Law and Criminology at the University of Basel, told the OCCRP that the loan schemes were reminiscent of those used in 2007 and 2008 by another friend of Putin's, the former communications minister, Leonid Reiman, who was suspected by EU law enforcement agencies of money laundering.
Roldugin-linked companies were also able to purchase significant shares in both the truck and automobile manufacturers KamAZ and AvtoVAZ, via agreements with the Troika Dialog investment fund, which held controlling stakes.
 From the OCCRP report:
In 2007 Troika handed over all the rights for managing Avtoinvest Ltd. to an offshore company named Avto Holdings Ltd. According to the agreement, Avto Holdings got the right to participate in Avtoinvest shareholders meetings, appoint and dismiss the director and to take 95 percent of the dividends. Basically, one of the main KamAZ stakeholders gave control away to an unknown offshore. And 15 percent of that unknown offshore belonged to the cellist Roldugin through his company, Sonnette Overseas.

Avto Holdings also had a secret 10-year option agreement to buy 100 percent of Avtoinvest for just $100,000 allowing them to control the lagest KamAZ stakeholder.

Similar agreements between Troika and offshore companies affiliated with Roldugin existed regarding the stock of AvtoVAZ, which manufactures the iconic Lada car. These agreements were different just in dates, names of the companies, stakes and sums of money. But the point remained: offshore companies affiliated with Putin's friend had privileged rights to control large stakes in strategic Russian enterprises, to receive dividends, and to buy these stakes for laughable sums.
Also appearing amongst the providers of funds to Roldugin's offshore entities is another close friend of Putin, Arkady Rotenberg. Rotenberg is a regular recipient of huge state construction contracts, notably including works for the 2014 Sochi Winter Olympics and the Kerch Bridge linking Russia with occupied Crimea.
Here is Putin with Rotenberg at the construction site of the bridge last month:
Amongst the Panama Papers are contracts, dated on April 25, 2013, stating that Sunbarn Limited, another company controlled by Aleksandr Plekhov of Sonnette Overseas, would receive a loan from Rotenberg for $185 million over 10 years at 2 percent interest.
Both Arkady, and his brother, Boris Rotenberg, are linked to several other entities in the Mossack Fonseca data.
The ICIJ reports:
Arkady and Boris Rotenberg were owners of at least seven companies registered in the British Virgin Islands, six with the help of Markom Management, a company that stayed in touch with Mossack Fonseca on behalf of the Rotenbergs. Arkady Rotenberg was connected to four of the companies and Boris Rotenberg to three of them . The companies often acted as interlocking shareholders alongside Markom, which was formerly SP Management. The firms were involved in everything from investing in a major pipeline construction company (through Causeway Consulting from Arkady Rotenberg) to buying equipment for the construction of an Italian villa in Tuscany for Arkady's son Igor Rotenberg (through Highland Ventures Group from Boris Rotenberg). Arkady Rotenberg was also the owner of Honeycomb Holdings Ltd., according to the financial database Orbis . By summer 2015, Markom began to redomicile most of the Rotenbergs' companies in Cyprus.
Having received a request for comment ahead of publication last week, Dmitry Peskov, President Putin's press secretary, refused to comment on the allegations, instead claiming that Western intelligence agencies were embarking on an "information attack" against Putin to destabilise Russia.
The Kremlin went public with this on March 28 to pre-empt the report:
This same line was repeated today by VTB's Kostin, who said that the report was part of a "big campaign" against Russia.
The quantity of data in the Panama Papers is vast, with doubtless far more information to emerge. 
But, as we will report later today, there is already further evidence tying several government officials to offshore schemes that are illegal under current Russian legislation.
— Pierre Vaux