Mikhail Khodorkovsky speaking at Stanford University on April 13, 2015
Welcome to our column, Russia Update, where we will be closely following day-to-day developments in Russia, including the Russian government's foreign and domestic policies.
The previous issue is here.
UPDATES BELOW
Special features:
– Alexey Navalny On the Murder of Boris Nemtsov
–Theories about Possible Perpetrators of the Murder of Boris Nemtsov
–Novaya Gazeta Releases Sensational Kremlin Memo: 'It is Seen as Correct to Initiate Annexation of Eastern Regions of Ukraine to Russia'
Please help The Interpreter to continue providing this valuable information service by making a donation towards our costs‏.
---
Letter Sent by Nemtsov to FSB in May 2014 Asking for Inquiry into Kadyrov's Troops Could be Motive for Murder, Says Colleague
Ilya Yashin, head of the RPR-Parnas opposition party, published a letter today on his Facebook page dated May 30, 2014, signed by Boris Nemtsov, and addressed to FSB head Aleksandr Bortnikov, asking for an inquiry in the information that a group of Chechen, fighters had crossed the border into Donbass to fight in the war in Ukraine on the side of the Russian-backed separatists.
This could not have happened without the personal participation of Ramzan Kadyrov, he wrote.
Yashin says the letter could have served as a motive for the murder.
Yashin noted reports today that Ruslan Geremeyev, a fighter from the Sever Battalion, had left Russia and added that he had information that he had gone to Dubai. Kadyrov and Adam Demlikhanov were in the UAE last week. Yashin said that no efforts had been made by the Investigative Committee to investigate Geremeyev; last week there were reports that investigators were blocked.
As Yashin points out the trail from the current suspects to the Delimkhanov brothers, one of whom is the commander of the battalion where Dadayev server, is clear, but the motive  has not been clear. But the discovery of the letter provides an explanation. Says Yashin:
One of the most likely theories is that it was precisely this inquiry and indication of the role of Kadyrov in the war in Donbass that became a motive for those people who organized the murder of Boris Nemtsov.
It's not clear why, if the killers were motivated by this letter, which was not published at the time, that they waited nine months.
The letter doesn't contain any information that wasn't already in the press; in fact, Nemtsov cites in the letter articles in News.ru and RBC.ru referring to the the Chechens in Ukraine. Essentially, Nemtsov issues a challenge to the FSB asking why they are not opening a criminal investigation for an "unlawful armed group" illegally crossing the border with illegal weapons, since Kadyrov denied the armed men were part of the Interior Ministry.
— Catherine A. Fitzpatrick
Navalny Associate Alburov Sentenced to 240 Hours of Community Service over 'Art Theft'; Prosecutor Asked for 3 Years' Suspended
As we have been reporting, Georgy Alburov, a colleague of opposition leader Alexey Navalny, is facing trial on charges of "art theft."
Since last summer, authorities have cobbled together a case against Alburov, who has exposed the fancy dachas of top officials living behind their means, involving a street artist's sketch which he tore from a wall and gave to Navalny.
At his trial today, he was sentenced to 240 hours of community service.
The prosecutor had sought a 3-year suspended sentence for him, the Russian judicial news service RAPSI reports.
RAPSI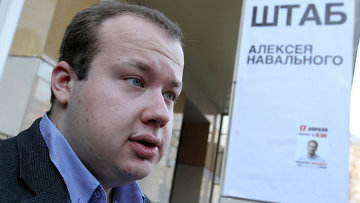 Prosecutor seeks suspended sentence for Navalny's associate accused of painting theft
MOSCOW, April 14 (RAPSI) – Prosecutor Stepan Volodin is seeking a three-year suspended sentence for Georgy Alburov, an associate of the opposition stalwart Alexei Navalny, accused of theft of a painting, RIA Novosti reports Tuesday from the Oktyabrsky District Court in Vladimir.
Apr 14, 2015 13:29 (GMT)
Translation: Georgy Alburov: final speech (video and complete text). Watch it yourself and pass it on to another.
Alburov said he didn't believe that the case would really come to trial as it seemed so absurd — indeed, the FSB was involved in his case although the value of the work wasn't more than 100 rubles (about $8). The artist, a janitor who draws in his spare time, didn't mind that his works were taken but only filed a complaint when authorities pressured him.
"This case is not at all about the drawing," he said in his final speech, calling the case "a total scandal and humiliation for the entire justice system."
The Interpreter has excerpted some of his final statement, in which he challenged the judge and  prosecutors for participating in the farce:
"Most likely each one of you has some justification in your head – 'there's no smoke without fire,' or 'he really must have done something," or "it means he annoyed someone.'

Yes, I won't hide it, I really did annoy them. All my activity in recent years has been activity to investigate the facts of corruption in the highest echelons of the government. We conducted dozens of investigations. And this correspondence that has surfaced — Prokopenko's correspondence — he's the right hand of Vyacheslav Volodin, deputy chairman of the administration of the president. It can be seen perfectly well from this what a sharp stick, what an irritating factor we all were for them.

The judge interrupted him saying Prokopenko's correspondence was not related to the case and was not investigated and therefore could not be mentioned. The reference is to Kremlin correspondence leaked by the hacker group Shaltai Boltai in which it was revealed that Timur Prokopenko and other officials planned to fabricate cases against Navalny and his colleagues and took other actions to control press coverage of Navalny.
Allow me to continue. This entire case — after all, it illustrates that for them, for this thieving government, this thieving system which is established in Russia, for them it is important that a million criminal cases be brought against Navalny and the Anti-Corruption Fund. And 100 million programs could be aired on NTV about how Navalny's friends have stolen something once again. In order to conduct searches and scare the girls from the Anti-Corruption Fund which is under surveillance from the FSB, they send emails and do surveys and the FSB listens in on them.

Of course, there is all done to frighten donors, frighten staff, frighten all of us. But we're not afraid. I am prepared to become the suspect in 100 criminal cases but I will not stop doing what I'm doing. Because otherwise there is no sense, it would mean it was all in vain. It would mean we are on trial in vain and are gathered here in vain. It would mean they had won.

The government which is now in Russia, these are the real political labor migrants who come to Russia to steal, but their families, their property, their bank accounts they keep abroad. For them, Russia is a place where they can steal, can get something, and then connect their future, the future of their families abroad. We are fundamentally opposed to this.
We think these people should go to jail. They should bear criminal responsibility for their deeds and we must not be in the courtroom, they should be.
The term Alburov used in Russian was "political gastarbeiter", a German term borrowed in Russian which means "guest workers" or labor migrants. In Germany, the term is associated with Turkish workers, and in Russia the term is associated with Central Asian migrants. Although the Russian stereotype is that poor migrants are thieves, Alburov's point is that in fact it's rich officials who keep money and families abroad.
Alburov was interrupted a few more times after that, as the judge objected to him making a statement about corruption — the real reason he was on trial.  He concluded by saying that despite their experience, he and his colleagues still believed in participating in elections in order to bring about a change for the better in the government.
— Catherine A. Fitzpatrick
Geremeyev, Reported 'Organizer' of Nemtsov Murder, Said to Leave Russia
Ruslan Geremeyev, the officer in the Sever Battalion who was reportedly the organizer of the Nemtsov murder, has left his native town of Dzhalka, Rosbalt.ru reports. A source says he has likely left Russia.
Last week, investigators from the Investigative Committee who traveled to Chechnya were unable to gain access to Geremeyev. Says Rosbalt:
Dzhalka is the native town of Adam Delimkhanov, a senator in the Federation Council and Alimbek Delimkhanov, the commander of the Sever Battalion. The police blockade of the village is removed, the guards have disappeared from the house where Geremeyev was supposedly located. He is no longer in Dzhalka, and there is no information that he has gone to another town.
Everyone says that he left the Russian Federation.

TV Rain had earlier reported on the back story to the Chechens involved in the Nemtsov investigation.
TV rain reporters traveled to Ingushetia and Chechnya to research the story. They recounted a conflict between Adam Delimkhanov, "Kadyrov's right-hand man" and Magomed Daudov, known as "Lord" (who was said to convince the sister of Dadayev to report him to the authorities in another press account.)
After the TV Rain report came out, Kadyrov published on his Instagram feed a collage of two pictures of himself with Delimkhanov and Daudov. The first picture was made at a mosque during collective Friday prayers, and the second outside. In both pictures Kadyrov stands with Delimkhanov on ihs right and Daudov on his left.
The TV Rain story describes meeting with the human rights advocate Heda Saratova, who made no secret of the fact that contacts with journalists had to be reported to the Chechen administration, and that she had to cooperate with the administration in order to try to resolve cases of those imprisoned or disappeared. She put the reporters in touch with all the families of the suspects, all of whom said they were shocked that their relatives were implicated in the Nemtsov murder.
Said the TV Rain reporters (translation by The Interpreter):

The family and relatives will never believe that their children could turn out to be hired killers. It seems the administration of Chechnya is interested that journalists come away from the public with precisely these kinds of interviews.
The only family who wouldn't talk to them was the Dadayev family, perhaps because they were already cited as saying he was not alone in Moscow, and that incriminated him.
A man who asked not to give his real name and hid his face from the cameras, who was called "Yusup," a former fellow serviceman of Dudayev's said that Dadayev had been in Moscow together with Ruslan Geremeyev. He said that he had left the service but that he had been offered some sort of private security job in Moscow and that this was "normal."
TV Rain said their information was that he had gone to Moscow six months before the murder, and that he left the service only on February 28 (this is also given as February 26, one month after going on leave January 27).
"Yusup" believed that "someone wants to get revenge" against the Sever leadership, because its leader is Alibek  Delimkhanov, his cousin is Adam Delimkhanov, and Kadyrov said he was his closest aide and even successor. Here's what he told TV Rain :
"A Hero of Russia, a good, courageous guy. He always commanded, always was on the missions, he commanded himself, there were many times when he went ahead first. A bold, very courageous commander. There were these special assaignments where a group of devils [militants] would appear, there would be combat actions, raids, they'd be for 3 days sometimes, a month, or a week, different times."

TV Rain said human rights advocates told them that the sweeps for such "devils" often became simply an excuse "for punitive actions against those who were disliked." And there were many such raids on the account of the Sever regiment.
To discredit the Sever regimen was to discredit the right hand of Kadyrov, Adam Delimkhanon. Regardless of whether people from Sever killed Nemtsov or not, setting them up was the goal of another close comrade-at-arms of Kadyrov, the chief of his administration, Magomed Daudov, with the call-sign "Lord," But that's a story that people in Chechnya will only speak about off the record.
TV Rain did not explain why these figures might be at odds, but it seems that if they were in Kadyrov's loyal troops and were protected, then someone had to have betray them to enable their arrest as suspects in the Nemtsov murder. Kadyrov then seems to have gone out of his way to signal that both these figures were his trusted aides.
— Catherine A. Fitzpatrick
Nemtsov Memorial Back on Bridge
Lawyer Visits Nemtsov Murder Suspect Dadayev in Levortovo, Learns He Was in Grozny School Storming
Zaur Dadayev, the chief suspect in the murder of opposition leader Boris Nemtsov, has agreed to take a lie-detector test, Kommersant reported.
Shamsudin Tsakayev, the lawyer hired by Dadayev's relatives believe that the petition for a lie detector test will be supported not only by the investigation but by the representative of the Nemtsov family who are also interested in establishing the truth, says Kommersant.
Dadayev met his lawyer for the first time in Lefortovo Prison yesterday April 13, since until now he has not been permitted a visit. He spent about two hours with him and provided more details about his background.
Tsakayev said Dadayev served in law-enforcement for 10 years, starting out in the Anti-Terrorist Center which was turned into the Security Service by Akhmat Kadyrov, the previous president of Chechnya who was assassinated in 2004, and the father of Ramzan Kadyrov, the current president of Chechnya.
Dadayev transferred to the Sever [North] Battalion of the Interior Ministry Interior Troops after the Anti-Terrorist Center was dismantled. He was awarded an Order of Courage and also received numerous medals and citations. As Kommersant reported (translation by The Interpreter):

He took part in dozens of special operations — the last major one of them was the freeing of the Press House and school seized in December of last year by militants in Grozny. He personally stormed the school.
This is a new piece of information and it means that Dadayev would be personally appreciated by Kadyrov, whose own relative was among the 18 Chechen policemen killed in this operation. The school was empty at the time the terrorists occupied it, and 11 of them were killed in the gunfights.
The lawyer also established that Dadayev is still in the Internal Troops. Earlier, the RF Internal Troops said that he had been fired "in early March" and according to another account from Ingushetia's Interior Ministry commander, Dadayev had submitted his resignation and gone on leave, which meant that on the day of the murder, he was no longer an officer.
But according to the lawyer, when he went to Moscow, he told the commander of his battalion, Aslimbek Demlikhanov, that he would like to leave military service, but all his documents remained in the unit, including his foreign passport — which meant that technically he was still in the force.
Dadayev also told his lawyer that he had lived in two apartments at No. 3 and No. 46 Veyernaya Street. One of them was bought and the other was rented. He said the other suspects only "episodically" came to these apartments but did not spend the night there as there was no room. He gave the purpose of his visit to Moscow as one of business: he was studying the market for security services since he planned to go into business. Kommersant reports:
The accused [Dadayev] told the lawyer that the detention in Ingushetia came as a complete surprise to him. Furthermore, as Mr. Dadayev claimed at a recent session at the Moscow City Court, the special operation conducted March 5 (yesterday Viktor Ivanov of the Federal Narcotics Control Service ([FSIN] reported that first his agency detained the officers and then turned them over to the FSB) was reminiscent rather of an abduction. According to Mr. Dadayev, he was forced to sign a confession of the murder of Mr. Nemtsov with the help of torture and threats. "My teeth hurt to this day from the effects of the electric shock," he complained in particular to his attorney.
He had no complaints about his current confinement in a two-person pre-trial cell with a television and a radio, although he said he had to write complaints about his case by himself. He  asked for fresh fruit and condensed milk.
Tsakayev said after thoroughly questioning Dadayev, he came to the conclusion that he was innocent. He said his confession contains many inaccuracies, contradictions and factual errors. For example, he said that he caught up to Nemtsov on the Bolshoi Moskvoretsky Bridge, and had a Makarov pistol in his pants with a silencer about 15 cm in length, and that he jammed the still-hot pistol with the silencer in his pants, although this would have led to a burn.
Vadim Prokhorov, attorney for the Nemtsov family, said that a confession was not enough, that it had to be backed up by other evidence, and that he was skeptical about the use of the poligraph.
— Catherine A. Fitzpatrick